A short real NEO home movie shot in the backyard of the filmmaker, Evelyn Kiefer Roulet, on historic Roxbury Road, in East Cleveland, Ohio, of her rooster and four chickens - featuring her annoying rooster crowing - co-starring Claes Wolfgang Roulet.
East Cleveland has a history of agriculture, before development as the first suburb of Cleveland, Ohio - site of the home of John D. Rockefeller, in Forest Hills Park, less than a mile away.
It has probably been over 100 years since chickens lived on this street, or anywhere near here. There are, however, several pit bulls... one barking now, at 2:15 AM.
The rooster will crow again, in a few hours... around the time the man living behind him goes to work.
Does he mind the rooster crowing? Does the Pit Bull owner mind? May we all coexist in this alien urban environment?
So far, yes... and the lovely chickens deliver over two dozen fresh eggs a week.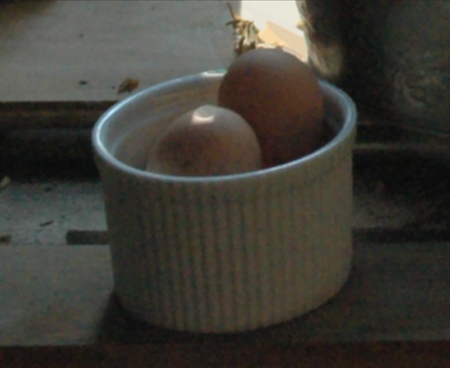 realNEO Home Movie 1
Good Morning Real NEO
Starring Claes Wolfgang
1 annoying rooster
4 lovely chickens
Filmmaker Evelyn Kiefer Roulet
Editor/Producer Norm Roulet
Location 1894 Roxbury
East Cleveland, Ohio
real NEO
Date 2010-01-17
Time 1:30 PM
Format 1080i
Camera JVC Everio 60GB
Tags: "home movie" realneo "Evelyn Kiefer Roulet" "Roxbury Road" "East Cleveland" "Urban agriculture" chickens rooster crowing "John D. Rockefeller" suburb Cleveland Ohio