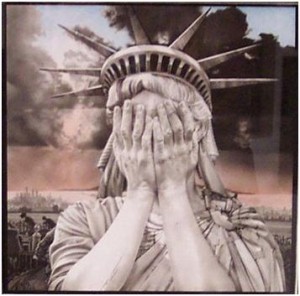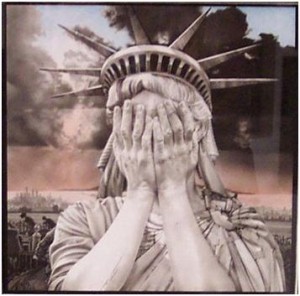 [2] As the ever optimist I tend to see only the good that can happen when someone does something to make things better, or to improve on a situation or plan. After years of being stabbed in the back, misled, lied to and meeting so many two faced people professing to be friends and helpers I have come to the conclusion there is nothing to be optimistic about.
Lady Liberty is ashamed of what we have become, patriots participating in infighting with each other over power, control, egos, childish mentality and down right mean spirited at times. Character bashing seems to be the most practiced game at the moment, constant harping on past events, never seeing what is right before their faces.
This country is ready to fall apart, duct tape and super glue won't hold it together much longer. People who are book smart lack the common sense to band together and really work together without the petty egos and one upmanship that goes on now.
We started a project several months back and have so far had everything throw out about us that could be classed as anti patriotic. We are a cult? We are the next Waco? We are out to scam the patriots? We are a commune taking everyones supplies for ourselves? We are Racists? We are anything that would tend to make people feel a little scared of becoming involved. We have had so called friends try to help us by taking our domain name and opening a new site under that name all in the hope of helping us by padding their own pockets, we have had friends go on air and talk about how we are plotting the overthrow of the government, on and on with the gossip which only grows among some with a brain that really isn't functioning very well.
With all the gossip and trashing and bashing we are still here, working every day towards a way of life that will sustain our families while detractors are busy tearing down projects instead of preparing, they will be the first to be at our gates asking for help. It is time for everyone to stop with the jealousy and frustration that prevades the patriot community. Stop looking for trolls and interlopers. They will show themselves soon enough without anyone spending any time on trying to flush them out.
Time is short and we all need to work together and prepare for the worst that can possibly come. Just in the past week we have all seen our grain harvest being manipulated by government reporting agencies and silently being shipped over seas, our wheat is non-existant and dwindling quickly, our stores have a 3 day supply of food and trucking companies are shutting down. Even the main stream news is talking about the Fema camps, weather modification and the fall of the dollar.
Get away from populated areas, get out of town, gather your supplies and make sure you and your family have a warm place to weather the storm that is coming. We are working every day building our place, planning gardens, getting ready to live through what ever is in our future. Every day someone will call and tell me how stupid this all is and how foolish we are in thinking we can survive. Stupid maybe but we will not lay down quietly and hold out our hands for what ever the government has to give us.
You can bet there will be some serious conflicts in DC. Obama is losing his gloss and people are seeing him for what he is, even democrats are rebelling against his form of government, do you think the people are going to quietly allow their family to go hungry while waiting for that great change? My best guess is that by the end of July and the Dog days of August the heat in the air won't be just from the weather.
Remember the old saying:
HELL HATH NO FURY LIKE A SCORNED WOMAN?
HOW ABOUT;
HELL HATH NO FURY LIKE A SCORNED NATION !
Contact us to secure your space.
grannywarrior [at] gmail [dot] com
or visit;
http://www.freedomisnotdead.org [3]
ANTI-SPECIESISM:
SPECIESISM:
1. A PREJUDICE OF ATTITUDE OF BIAS TOWARD THE INTERESTS OF MEMEBERS OF ONE'S OWN SPECIES
AND AGAINIST THOSE OF MEMBERS OF OTHER SPECIES.
2. A WORD USED TO DESCRIBE THE WIDESPREAD DISCRIMINATION THAT IS PRACTICED
BY HOMO SAPIENS AGANIST THE OTHER SPECIES.
SAVE OTHER-OUR SPECIES
SOS-FRE
FROM RESEARCH EXPERIMENT
QUEST, MINISTRIES, GUY TEMPELTON BLACK, PASTOR, and YOGI YOGA BEAR, SERVICE K-9 (guy's partner)
753 BRAYTON AVE., CLEVELAND, OHIO 44113-4604 USA, V:216.861.7368, F:216.861.7368
UNITED STATES ARMED FORCES VETERAN (VOLUNTEER) PEACE, ANTI-WAR, DEFENSIVE
faith based non-profit corporation no. 389646, 501(c)(3), SINCE 1965,
DONATE TO QUEST
"When I despair, I remember that all through history the way of truth and love has always won. There have been tyrants and murderers, and for a time they seem invincible, but in the end, they always fall — think of it, always." - Mahatma Gandhi
http://www.disclosureproject.com [6] TRUTH - EXTRA-TERRESTRIAL