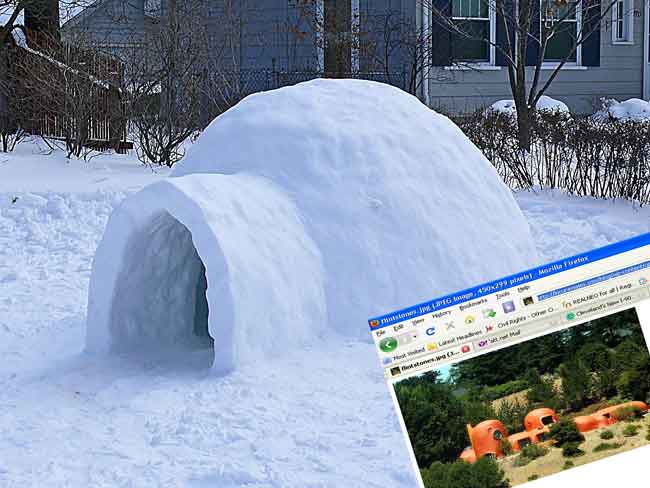 The recent snows in the North East Ohio area have stimulated children (and perhaps adults, in the case of the very cleanly expressed example in the image above) to creative play involving no commercial components.
Ice has about zero strength in tension, so this igloo [1] relies solely on compression of the snow for its stability. If this dome/parabolic shape were used for lightly reinforced thin skin concrete structures in re-building efforts in Haiti, would the resulting structure have adequate seismic resilience and be hurricane tolerant?
Construction of a concrete igloo could be very inexpensively done with the use of inflatable forms and shotcreting [2]. Even dirt can be used for the form - and then removed from the inside of the igloo after the concrete has been applied and cured.
Can you imagine a Caribbean "village" of igloos all painted in bright topical tones!
Links:
[1] http://en.wikipedia.org/wiki/Igloo
[2] http://en.wikipedia.org/wiki/Shotcrete
[3] http://li326-157.members.linode.com/system/files/igloo.jpg
[4] http://li326-157.members.linode.com/system/files/igloo-and-flintstone-house.jpg