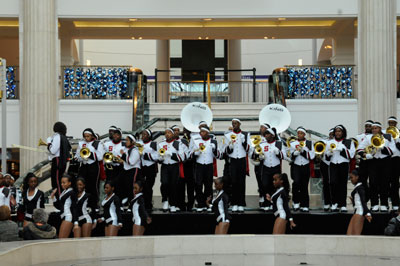 Parade at Tower City Center [1]
Thursday, April 15
5:00 p.m.
Shaw High School Marching Band

Voted "Best Marching Band" by Cleveland Magazine in 2009, the Shaw High School Mighty Cardinals continue to pile up awards and accolades. The group stunned parade spectators in the 89th Annual Turkey Day Classic Parade in Montgomery, Alabama last November where they received "Best Band" award, and they were invited to return to New Orleans for the Mardi Gras Parade in February. This popular, high-energy band kicks off the 31st Annual Tri-C JazzFest with a rousing parade through Tower City and into Public Square where they will entertain fans with their special brand of music.
To purchase JazzFest tickets by phone, please call 216-241-6000 or
1-866-546-1353.
You can also:

For group tickets, special packages or more information, please call
216-987-4444
Tower City Center
50 Public Square
Cleveland
,
OH
44113
United States
Links:
[1] http://www.towercitycenter.com/
[2] http://www.playhousesquare.com/Events/EventsViewAll.aspx
[3] http://maps.google.com?q=41.499968+-81.695001+%2850+Public+Square%2C+Cleveland%2C+OH%2C+44113%2C+us%29
[4] http://li326-157.members.linode.com/system/files/Shaw-HS.jpg