I've been printing out many of the unique panorama photo collages of real NEO that I have created over the past six years, which I have displayed as headers on realNEO, as I plan to sell editions of some favorite images to raise money for realNEO. I'm currently producing a series from many shoots at Whiskey Island, in memory of my friend Ed Hauser.
They are stunning, printed in their full glory. Composed of often dozens of high resolution images, these panoramas are 100s of megapixels in size and, printed at 300x300 ppi resolution, they are around 8 feet long... and some may be printed up to 36 feet long, while still holding a strong image.

In a word, my work offers "unique" perspectives on Northeast Ohio... always made with a sad tip of the hat to Masumi Hayashi, who was a beloved local photographer who worked in collage, in a unique and very different way. In her memory, upon her death, on realNEO I wrote [1]: "I was admiring one of her photo collages in the lobby of Thompson Hine, just two days ago, and commented to our associate Phillip Williams that I hope Masumi doesn't consider my use of photo collages an intrusion on her technique, which is completely different but could be viewed as similar."
That is called showing an artist respect.
As an artist and professional photographer, educated in fine art by great artists at the Cleveland Institute of Art and Tulane University, for over a decade, I am proud of my unique talent and artistic accomplishments, and consider my photo collages unique work I enjoy sharing with the public. And, I believe they offer financial value that may benefit our cooperative.

I work hard and invest in expensive equipment to perfect and execute my artistic technique, and consider it unique... I've even built special computers to advance my work.
As millions of people have seen my panorama collages on realNEO, over many years, and countless-many have complimented my work here, I know I have brought artistic value to cyberspace, in my unique way.
As I now am printing and intend to sell these images, for social good, I am concerned there are a few places where the originality and uniqueness of my technique is not respected.

In a misuse of my technique that people say I should take as a compliment, the Cleveland Plain Dealer has aped my work several times in their print publication, causing comments about their theft of my intellectual property on realNEO.
It is recognizable when hacks copy an artist! I don't take this as a compliment, as the current leaders of the Cleveland Plain Dealer have been disrespectful of realNEO, my work, and my family.
I recently came across another misuse of my collage technique that is as troubling - this is in a presentation by the Kent State University Cleveland Urban Design Coalition that I consider a more direct hack of the value of my work.... especially as I have had issues with their leadership regarding planning in East Cleveland, and for local foods in general, and their hack of my technique is used to promote something I do not support, being casino gambling.
I became aware of their hack of my technique in a presentation I found when I followed a link from an odd article on Cleveland.com - "Cleveland Coalition invites the public to brainstorm design of the Rock Ventures casino in Cleveland on Friday [2]" - by the insincere Steven Litt [3], promoting an odd casino design activity that is facilitated by Kent Urban Design [4], at Cleveland State University today... all packaged as the work of the "Cleveland Coalition, a group of young professionals with an intense interest in the city's future"... the only such person identified being someone named Graham Veysey, who is linked-in [5] to many people who have not been supportive of my work in town.
Litt references "Cleveland Coalition" anchored at an insincere and inauthentic website [6] that is nothing more than vaporware - where the presentation offending my work is found... in the CRG: Event #2 Participants Package [7] for today's event at CSU - download 5.2 MB PDF here [8]... you'll see where my panorama technique is aped extensively... a snapshot of three of their presentation panoramas is below: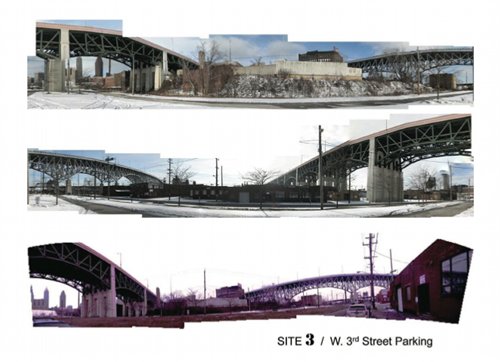 Considering a misuse of my technique is embedded in a document connected to so many people who have not supported my work, related to an economic development strategy I do not support, I take great offense to this presentation.
I consider my work pioneering and unique in the medium and region and look forward to demonstrating that in person, by sharing large scale physical photographs of our realNEO header panoramas with anyone interested. In the coming months, I will show them in some public space around town, and invite other realNEO members to add their work to the show, offering that work for sale to benefit realNEO.
As I see the value of my artistic work important to the future of my family and realNEO, I will appreciate those who use this technique here to acknowledge if realNEO has inspired that, to add to our value rather than diminish that.
And, to those hacks who I know are not supportive of my work, do not ape me or my work any more.