Etch A Sketch artist, in the beginning: George Vlosich III
Throughout my one-year-younger-than-Etch-A-Sketch life, my perceptions of the Earth we live on have changed from a native-born sense of permanence - that my home planet will always be here and the same for all people, forever - to a learned understanding of evolution - recognizing Earth is changing, in natural ways - to a self-taught recognition of ecological devastation - realizing man is harming Earth at an unprecedented pace, beyond all past change-models - to a feared concern Earth is like an Etch-a-Sketch, designed to erase all invasive marks upon it in a sudden cleansing, leaving a fresh canvas, without significant remnants of past artists and their creations.
Man is as insignificant as dinosaurs, in such a mechanical environment, ultimately designed to be created-upon, erased, and redrawn over all time.
What determines when the current evolution of art and artists is through, and the final state of creation has been realized, and it is time for Earth to wipe the slate clean?
How much climate change is required to cause eruption of how few volcanoes necessary to end life on Earth, as we know it?
Are comet-storms how planets are wiped clean?
Question of the Day: Is Planet Earth like an Etch-a-Sketch, and are there ways to make the art of our times permanent?
The Etch-A-Sketch theory has strong representation in Ohio, as Etch-A-Sketch is a product of Ohio Art [1], and one of the world's greatest Etch-A-Sketch artists lives here - George Vlosich III, featured with this posting and on his website here [2]:(note, he designs cool Cleve-theme t-shirts, etc., as well...)
GV Art + Design is a creative boutique specializing in original artwork and design. We have had the opportunity to work with some of the biggest names in sports and entertainment. In addition to original artwork, our services include everything from print and web design, logos, photography and apparel. GV Art + Design also offers something no one else in the world can: original one-of-a-kind pop art on the Etch A Sketch that has captured the attention of the world [3].

About this unique artist and his art:

Since 1989 - at just ten years of age - George Vlosich III has been perfecting his talent on the Etch A Sketch. Each is an original work of art that takes 70-80 hours to create. Once finished, the piece is then preserved to stand the test of time. Every creation is uniquely different, and cannot be duplicated. George has Etched many of the world's greatest athletes and celebrities and his work has been described as "the one continuous line that continues to amaze the world." As you travel through Etched in Time enjoy your journey and the adventures of George Vlosich III. George is proud to have paved the way for others to follow in his footsteps, but what continues to set George apart is his amazing story, his incredibly detailed etches, his worldwide publicity and his uncompromising passion to take his Etches to places no one ever thought possible.

For inquiries on events and original artwork contact GV Art + Design at: contact [at] gvartwork [dot] com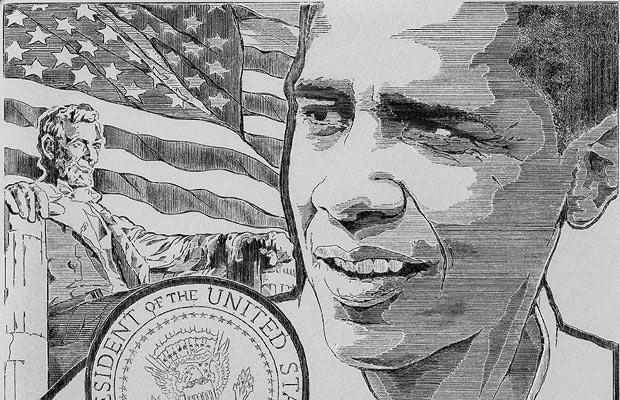 Etch A Sketch art: portraits of Barack Obama by George Vlosich III