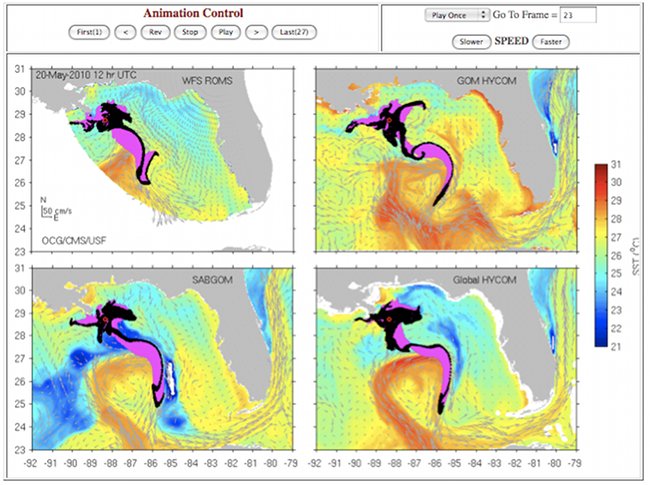 If you want to feel your heart sink in your chest, consider the forecast above shows the Deepwater oil flow is expected to round Cuba and the tip of Florida and head north into the Atlantic, within a week or so, and think of the Keys to the Future. The current progress of the flow of oil from the Deepwater drilling disaster in the Gulf of Mexico is following the forecast worst case expectations - and the amount of oil being spilled seems to be at the worst case level - and the efforts to stop the leak are nearly at worst case conditions... changing daily. This means Florida is in deep trouble, and oil will be flowing up the Eastern Atlantic coast next week.
Not much has changed since my write-up on this crisis on realNEO, May 5th - the worst possible situation keeps getting worse, as expected - "Whatever comes will flow west of Dry Tortugas and towards Cuba before it comes back north [1]" - consider where the oil flow was headed back then, and how far we've come since...

How far have we come since? See the latest animation here [2]...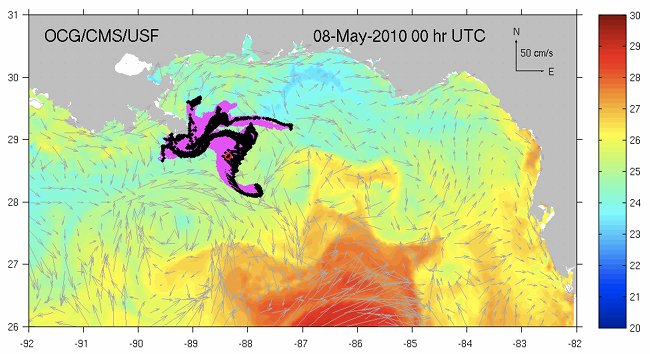 "Filaments of the Loop Current are within tens of kilometers of the oil spill," said Robert H. Weisberg, an oceanographer at the University of South Florida who has been modeling the movement of the spill [3]. Once the current catches the spill, he said, "the speed of the current is such that it only takes a week before oil will be at entrance of the Florida straits and another week until it gets as far as Miami.… Whether the oil gets into the Florida Bay or the Everglades depends on what local winds are doing when oil is flowing past."

Weisberg said he could not predict the exact timing. "But it appears to be imminent," he said. "It looks like it is going to happen sooner rather than later...The Loop Current moves very fast." As for the oil's trajectory, he said, "Whatever comes will flow west of Dry Tortugas and towards Cuba before it comes back north." For the oil to get into the vicinity of shallow water in the Florida Bay, Weisberg said, the current "would have to take oil into passes from south to north. It is difficult to get a lot of oil into the Florida Bay."