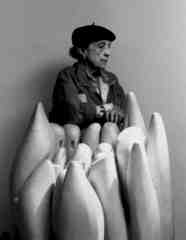 I was saddened to learn today one of the most powerful and exciting sculptors of my lifetime, Louise Bourgeios, passed away May 31, 2010, at age 98. Certainly best known in Cleveland for a series of massive spiders she had exhibited in Playhouse Square, in 2002, her influence on artists and contemporary art was felt worldwide, and her work shall be loved forever.
The Plain Dealer reports, about her passing: "The museum set a record when it paid $1.4 million in 2002 for her "Blind Man's Buff" sculpture, which looks like a rotting tree stump that has sprouted multiple breasts." There is not an image of this work on the CMA website, but it offers this description [1]:
Blind Man's Buff is a tongue-in-cheek reference to the children's game in which one player is blindfolded and designated as "it." He must find the other players using only the sense of touch. Made from polished marble with ambiguously rounded forms, the surface of this sculpture invites the viewer's touch, juxtaposing the softness of the curves with the roughness of the wooden base. Eyes and sight are a common theme in Bourgeois's sculpture, possibly confronting the blind eye her mother turned to her father's affair with an English governess. She delves into the past to address issues of love, betrayal, anxiety, and sexuality while exorcising her childhood demons through the physical act of chipping away at a block of marble. Copyright: © VAGA, New York, NY
I found an image elsewhere... amazing work... I wonder if it is on display right now...: I'd like to visit...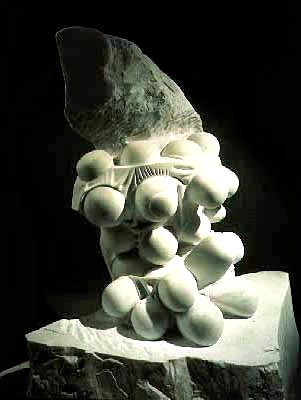 Below are some related thoughts from the NYTimes...
Louise Bourgeois, Influential Sculptor, Dies at 98
By HOLLAND COTTER
Published: May 31, 2010

Louise Bourgeois, the French-born American artist who gained fame only late in a long career, when her psychologically charged abstract sculptures, drawings and prints had a galvanizing effect on the work of younger artists, particularly women, died on Monday in Manhattan, where she lived. She was 98.

The cause was a heart attack, said Wendy Williams, managing director of the Louise Bourgeois Studio.

Ms. Bourgeois's sculptures in wood, steel, stone and cast rubber, often organic in form and sexually explicit, emotionally aggressive yet witty, covered many stylistic bases. But from first to last they shared a set of repeated themes centered on the human body and its need for nurture and protection in a frightening world.

Continued here [2]...