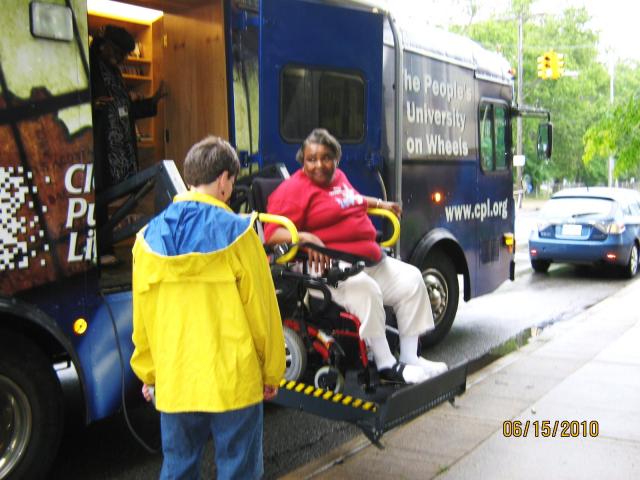 Alma Bonom had her first look inside a library in more than 10 years today. The Cleveland Public Library parked it's "People's University on Wheels" in front of the Scranton Castle Complex this morning for one hour.
Alma was all smiles as she headed back to her apartment with her bag of books. "This is great," she said.
As Mobile Service Manager, Linda Sperry, operated the remote controlled wheelchair apparatus lifting each of the handicapped residents up into a whorl of books, movies, CDs, DVDs and other reading material, Community Outreach Manager, Chrystal Carr Jeter, assisted the library visitors in making selections and handing down material that was out of their reach.
Old Tremont Block Club co-chair Lena Jackson, exited with her selections and said "this is such a gift."
While some checked out books and movies, others took the opportunity to just browse and/or ask for information.
The wheelchair lift wasn't the only access to the bus. The mobile library also provided stairs for those who were ambulatory.
One of the browsers stated "I don't see why we couldn't have had this a long time ago."
The library will return in three weeks giving many Scranton-Castle Residents an extended view from the world they live in limited by disabilities.
Ms. Jackson stated that some of her friends from another CMHA Complex wanted to have the bus come to their location.
The Second District Commander Keith Sulzer did a drive-by and gave his approval for the bus' street parking location.