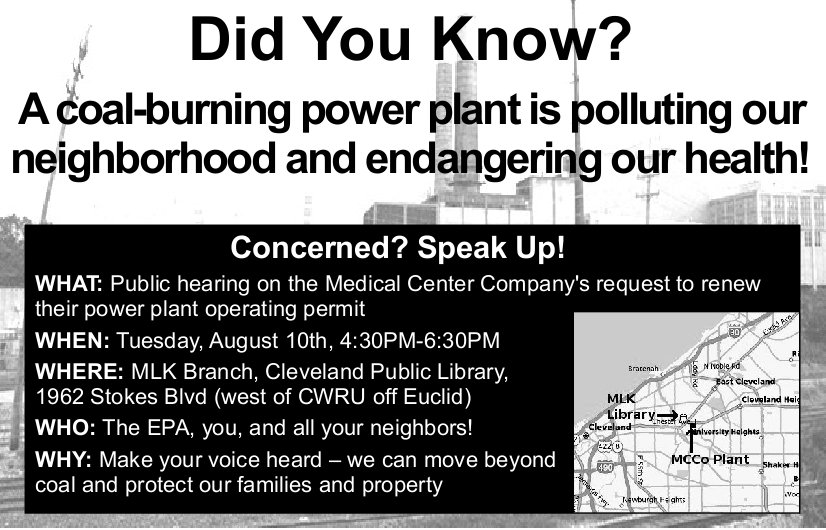 Did You Know? A Coal-Burning Power Plant is Polluting Our Neighborhood and Endangering Our Health
Concerned? Speak Up!
What: Public Hearing on the Medican Center Company's request to renew their power plant operating permit [1]
When: Tuesday, August 10, 2010, 4:30-6:30 PM
Where: MLK Branch, Cleveland Public Library, 1962 Stokes Blvd (west of CWRU off Euclid)
Who: The EPA, you, and all your neighbors!
Why: Make your voice heard - we can move beyond coal and protect our families and property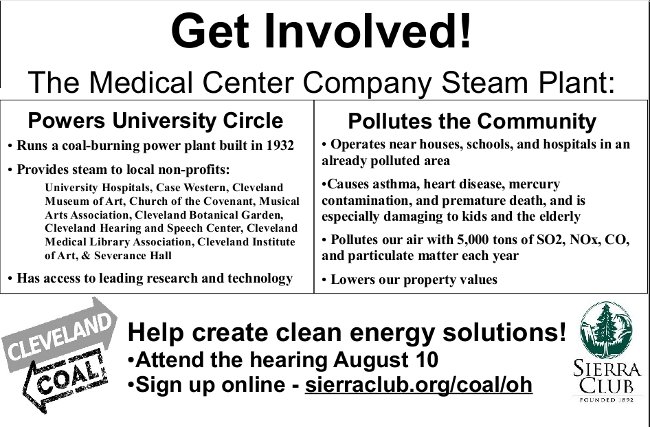 GET INVOLVED!
The Medical Center Company Steam Plant: Powers University Circle
- Runs a coal-burning power plant built in 1932
- Provides Steam to Local Non-Profits, including:
University Hospitals, Case Western, Cleveland Museum of Art, Church of the Covenant, Musical Arts Association, Cleveland Botanical Garden,Cleveland Hearing and Speech Center, Cleveland Medical Library Association, Cleveland Institute of Art, & Severance Hall
- Has access to leading research and technology
The Medical Center Company Steam Plant: Pollutes Our Community

- Operates near houses, schools, and hospitals in an already polluted area
- Causes asthma, heart disease, mercury contamination, and premature death, and is especially damaging to kids and the elderly
- Pollutes our air with 5,000 tons of SO2, NOx, CO, and particulate matter each year
- Lowers our property values
Help create clean energy solutions!

Attend the hearing August 10
Sign up online - sierraclub.org/coal/oh