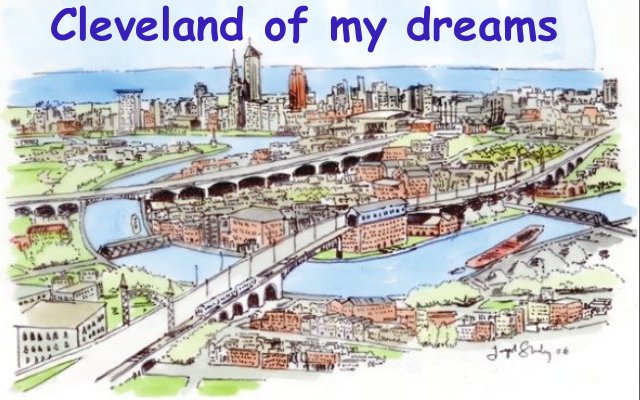 Cleveland Institute of Art BFA and Kent State University Cleveland Urban Design Collaborative planning Master
Joseph Stanley had a more intelligent design [1] for the future of Cleveland than the leaders of our community have embraced
Back of napkin sketch of new I-90 Bridge... blending of visioning with Ed Hauser, Joe Stanley and Ken Prendergast...
FIRST - REPLACE ALL ODOT LEADERSHIP, CONSULTANTS, PLANNERS, ENGINEERS, ARCHITECTS AND POLITICIANS WHO EVER TOUCHED THIS DISASTER.
IMPRISON AS MANY AS POSSIBLE FOR AS LONG AS POSSIBLE.
TERMINATE ALL RTA LEADERSHIP
Keep the damn bridge we already have and decommission it for highway use - the carbon footprint return on saving this embodied carbon [2] and not wasting unmeasurable more pollution buiilding an unnecessary new bridge alone is worth $ billions.
Pay the union mafia $ millions to stop crying about jobs and go do something to improve the world
Repair the current bridge for enhanced street, pedestrian AND BICYCLE traffic and add a streetcar from Gateway all the way to MetroHealth and the zoo. Make this spectacular - it will free up acres of wasted, blighted "freeway" right of ways so now Cleveland gets the big urban bicycle right of ways they want and deserve... Tremont will benefit from all this beyond words...
Restore the Central Viaduct ramparts and place a memorial to the 17 lost souls killed on the span that once stood there... where damned ODOT planners want to waste $billions
Restore the historic landmark assets there and around there as a citizen asset - including the Marathon Station, Broadway Mills Building, and Western Reserve Historical Society FIre Museum, as smart planners here envisioned.
Restore and enhance the other side of the former freeway span, now optimized for low speed human interactions - convert the Cold Storage into something great, as that will now be in a prime location ... remember... at this stage, two years from now, all our corrupt politicians will be in jail, Mittal and its pollution will be gone, Northeast Ohio will be the brightest greenest place on Earth, and the Cannabis Capital of the world, so Cleveland will be a great place to live, and real estate values with such views and city access will skyrocket...!
ENCOURAGE/FORCE ALL THROUGH TRAFFIC NOT DESTINED FOR CLEVELAND-EXITS TO ROUTE AROUND THE CITY ENTIRELY, USING THE MASSIVLY OVERBUILT 480 TO 271 suburban pollution corridor... spare Clevelanders the unnecessary fumes of ANY through truck and car traffic... our turn to beathe!
Route all legitimate innerbound I-90 traffic to 490 to a better configuration of BROADWAY (a primary gateway to Cleveland not at all utilized today) and the 77 interchanges, with some enhancements to related routes all the way through the trench.
Turn over to citizens leadership of RTA and all planning for any new high speed road construction projects, including the Opportunity Corridor and Lakefront Boulevard.
I'm sure we could do everything citizens may dream to do with transforming transportation infrastructure here for the next decade for $3 billion, and save the nation $500 million.
Disrupt IT