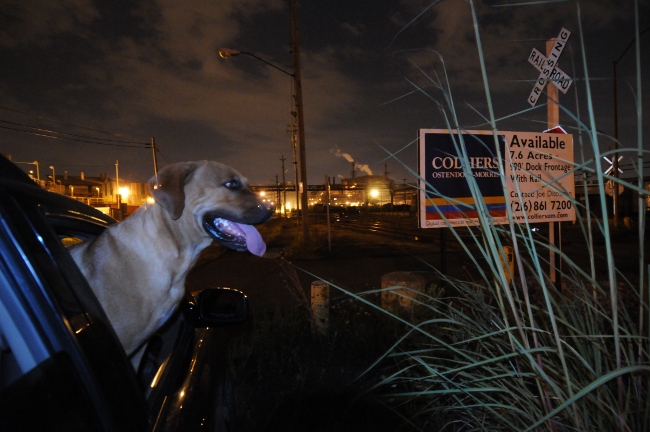 Hexa the Pollution Fighting Witch visiting a cheap new office location she recommends for the Headquarters of NOACA,
the pollution monitoring and highway planning people for our region. Hexa thinks they need a clearer view of the reality they cause.
Since I sent correspondence to Mr. Chopra about concerns about our pollution monitoring here, and posted that to realNEO, the monitoring appears to have become more reliable, for what it is. The system and process are still broken, but I expect we will now see as good of data as the current equipment configurations, technologies, software and people running this may provide, until they are all replaced.
As such, I encourage realNEO members to begin compiling a log of environmental concerns you see around you that may impact air quality, so we may attempt to isolate polluting source point activity to monitor data - the most obvious offender to watch is Mittal. Would Someone or Everyone Monitor Mittal for me this Weekend?!?! Forever?!?!
Yes, that is what is now required. We must observe and document polluting activity in the region and relate that to environmental air quality data, to improve the air pollution monitoring systems and processes and to better regulate and ideally eliminate harmful pollution point sources.
That is one reason why the monitoring data must be correct.
Where I live today, on the East Side, we are enjoying a cool clear afternoon with wind from the NNW at around 5 MPH, according to my best weather forecast data. We are not feeling highly polluted today.... but we are upwind of most point sources today... and the weather is as fine as it gets.
What about in your part of town - do you see and feel any pollution now - today?
Why yes or no, today?
Start keeping logs of records of good and bad air days and your observations why - document observations with photographs and screenshots of relevant data, like air pollution monitor readings... post this information to realNEO.
I can't see Mittal from my home so I can't see how many times a day the torch is lit or how dark is the carbon soot at sunset unless I drive across town... and I have 100s of times. As a service to the community, would some other members of realNEO share some observations - especially of bad pollution days and Mittal - so we may use that information to improve our environmental monitoring and modeling.
I'm sensing today Mittal is not polluting at maximum capacity, and the current air quality readings support that assumption. I need to verify that.
What do you observe about your pollution today?