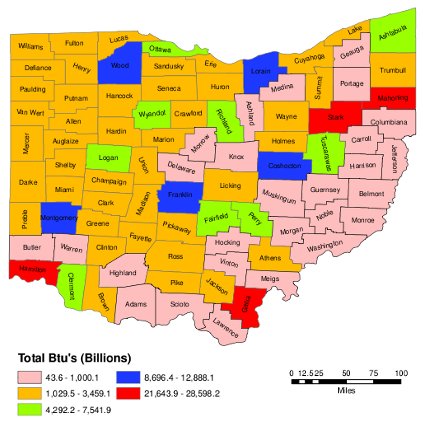 Map 7.1: Potential Biomass Energy Distribution among Ohio Counties [1] (in Billions)
In an important development from the Ohio Public Utilities Commission, the Plain Dealer reports today that "FirstEnergy Corp. gets permission to burn biomass as sustainable energy source [2]". I previously highlighted this issue on realNEO [1], as the environmental concerns raised about this plant revolve around developing sustainable fuel stocks for such massive biomass initiatives as the R. E. Burger power plant in Shadyside, Ohio... as burning wood is not the solution... even refuse wood from recycling. But that is all that is on the horizon, for this plant so far... "FirstEnergy spokeswoman Ellen Raines said the company is spending $200 million to re-design and renovate Burger's boilers to be able to burn a mixture of green wood chips, wood pellets and briquettes and something very similar to charcoal."
There isn't enough refuse wood biomass to go around, and the carbon foot print of deforestation for biomass is poor. That is why I propose the state of Ohio take THE global leadership position innovating agricultural biomass optimization, which I believe includes hemp. Thus, the proposal to make Northeast Ohio the Open Source Capital of the Brightest Greenest State on Earth [3].
If you consider the biomass needs of just this one FirstEnergy initiative, plus the need to move coal plants like at MCCO off coal [4], you will realize we need to create fuel for any innovations in renewable energy to work. Many are looking to simple garbage as the answer, but it is only part of a solution [1], and not the most environmentally sensitive. Northeast Ohio must be a leader in developing optimal solutions to these challenges, as our air is currently too polluted to be safe to breathe, our citizens are suffering irreparable health consequences as a result, and that is destroying our regional and state economy and is a national emergency for the United States of America.
Without question, the operation of Arcelor/Mittal Cleveland Steel Works at the heart of a 2.5 million citizen region, within the core of a shrinking 400,000+ citizen urban environmental injustice hotbed [5], is the most foolish environmental crime in this nation [6]. Until this crime is solved, it is too hot in Cleveland to be safe for citizens.
Short realNEO ambient music video, filmed in the Cleveland Flats, of pollution from the Arcelor Mittal Cleveland Works steel mill [7], in the Cuyahoga River Valley, Cleveland, Ohio - this is Cleveland and Cuyahoga Countys biggest polluter. The video image track was turned upside-down in production. In the background is playing the opening chords of "Shine On You Carzy Diamond, Part 1", by Pink Floyd.

A screenshot of the edit window for this video is featured as the 2010-01-21 realNEO.us header of the day:

realNEO ambient music 4
Shine On You Crazy Diamond Part 1, 1 Starring Arcelor-Mittal Cleveland Works Mutant birds The following pollution:

1,355,080 pounds of particle pollution,
1,781,800 pounds of sulfur dioxide,
3,637,640 pounds of nitrogen oxides,
37,047,800 pounds of carbon monoxide,
194,760 pounds of organic chemicals.
23,576 pounds of zinc,
3,246 pounds of manganese,
1,396 pounds of hydrochloric acid,
363 pounds of lead,
99 pounds of vanadium,
72 pounds of chromium,
40 pounds of copper,
33 pounds of barium,
22 pounds of cadmium,
08 pounds of mercury
... dumped into Clevelands air in 2006
... probably higher levels in 2010
Night views of Cuyahoga River and Arcelor-Mittal Cleveland Works steel mill and processing plant, in the Flats, Cleveland, Ohio
But that is only the worst environmental injustice in Northeast Ohio and America. We have many signficant coal burning facilities in the region, including Cuyahoga County polluter #3 MCCO, currently up for license renewal [8], and other serious industrial source point polluters - many in the recycling industries and refining - which are not adequately monitored, inspected and regulated, and that is causing significant harm to the 2.5 million regional citizens and the world.
Arcelor/Mittal Cleveland Works steel mill and production facilities, in the Flats, on the Cuyahoga River, polluting Cleveland on January 2, 2010, and every day. Filmed from the yard of a home on the ridge bordering the Flats, where the residents are certainly directly harmed by this pollution. The tip of the Terminal Tower on Public Square in Downtown Cleveland is visible in center.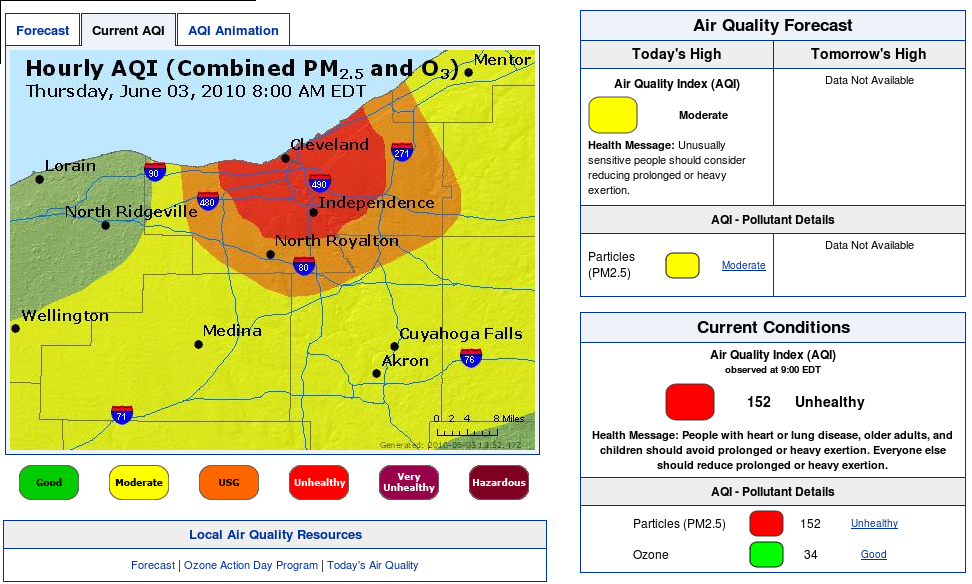 While air pollution monitoring in the region is neither adequately architected nor effectively maintained [9], what data that is available proves air pollution levels are too high in Northeast Ohio, and in many areas around Mittal seriously unhealthy to immediate Cleveland-area citizens. At the August 10, 2010 EPA hearing opposing the renewal of a license to burn coal by MCCO, many area resident complained of suffering of real health consequences from pollution in this region. Please review the brief video below from Mattie Reitman of the Sierra Club [4] for a sense of the concern for the environment swelling in Northeast Ohio, in response to true human suffering here.
I propose the ecologically perfected development of the biomass industry and biomass here in Northeast Ohio [10] to address these challenges.