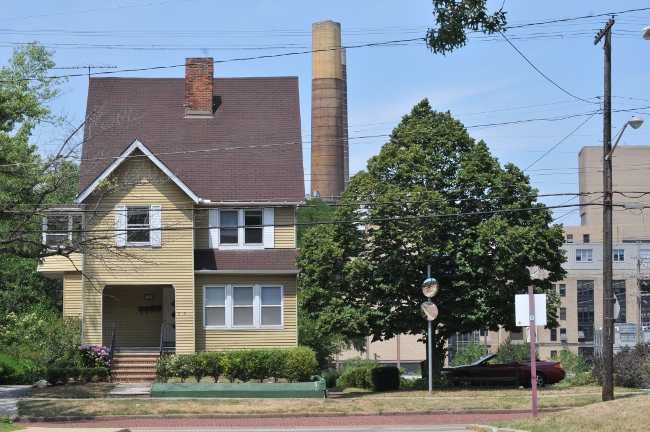 Informed realNEO stakeholders remember that the Cleveland City Council made a pact with the devil to sell the city and region down the environmental toilet by signing a 50 year commitment for AMP Ohio "clean coal" power purchases for Cleveland Public Power [1] - the economics of that dirty rotten deal collapsed last year, thank God.
But that has not been the only dirty clean-coal deal in the works around here, as MCCO has been planning to build additional coal burning capacity for the plant needs of University Circle... a bullet the community is fighting to dodge right now [2], while attempting to shut down the current coal burning facilities MCCO has polluted the region with since 1932... all of which now seems to be blowing up in the master planners of this region's faces [3] like a mountain-top full of high sulfur coal in West Viginie
As MCCO fights to maintain the rights and economic wherewithal to burn what coal it may [4] - up to 50,000 tons per year - a few sorry other communities weren't so fortunate to have the brakes put on their clean-coal-insanity before the shovels hit dirt, meaning their shit is hitting the fan... as in the cost of the projects are through the roof and rising... the most sorry being the Peabody Energy Prairie State Energy Campus coal industry orgy in Illinois... read the sorry details below from the Chicago Tribune and thank your lucky stars at least we don't have a multi-billion-dollar mess like that to subsidize and breathe emissions from for the next 50 years! Phew... read what happens in REALLY poorly led communities, like outside Chicago, below...
Clean coal dream a costly nightmare

Five Chicago suburbs and dozens of other Midwest towns in power-plant deal now face the prospect of rising electricity bills


textSize()
Links:
[1] http://realneo.us/content/unsustainable-cleveland-2019-poster-children-meet-cleveland-tomorrow-welcome-amp
[2] http://realneo.us/events/epa-hosting-public-hearing-discuss-citizen-concerns-over-mcco-university-circle-coal-powerpla
[3] http://realneo.us/content/billionaires-arent-used-being-told-what-do-citizens-congratulations
[4] http://realneo.us/content/dear-senator-brown-organization
[5] http://www.chicagotribune.com/topic/us/illinois/dupage-county/naperville-PLGEO1001005011000000.topic
[6] http://www.chicagotribune.com/topic/us/illinois/dupage-county/batavia-PLGEO100100501090000.topic
[7] http://www.chicagotribune.com/topic/intl/swiss-confederation/geneva-%28swiss-confederation%29-PLGEO100100602011425.topic
[8] http://www.chicagotribune.com/topic/us/illinois/kane-county/st.-charles-%28kane-illinois%29-PLGEO1001005011280000.topic
[9] http://www.chicagotribune.com/topic/us/illinois/cook-county/winnetka-%28cook-illinois%29-PLGEO1001005011530000.topic
[10] http://www.chicagotribune.com/
[11] http://www.chicagotribune.com/topic/us/illinois/cook-county/chicago-PLGEO0100100501250000.topic
[12] http://www.chicagotribune.com/topic/us/kentucky-PLGEO100102400000000.topic
[13] http://www.chicagotribune.com/topic/politics/government/rod-blagojevich-PEPLT007479.topic
[14] http://www.chicagotribune.com/topic/crime-law-justice/justice-system/u.s.-supreme-court-ORGOV0000126.topic
[15] http://www.chicagotribune.com/topic/us/florida-PLGEO100100400000000.topic
[16] http://www.chicagotribune.com/topic/us/kansas-PLGEO100102300000000.topic
[17] http://www.chicagotribune.com/topic/us/texas-PLGEO100104600000000.topic
[18] http://www.chicagotribune.com/topic/us/washington-PLGEO100104900000000.topic
[19] http://li326-157.members.linode.com/system/files/PowerplantHouse650_0.JPG
[20] http://li326-157.members.linode.com/content/site-survey-mcco-powerplant-and-green-city-blue-lake-institute-relocations
[21] http://li326-157.members.linode.com/events/epa-hosting-public-hearing-discuss-citizen-concerns-over-mcco-university-circle-coal-powerpla
[22] http://li326-157.members.linode.com/content/welcome-david-franklin-and-hope-he-makes-cleveland-museum-art-greater-asset-community-stoppi