As a firm, vocal supporter of Barack Obama - a blogger for Obama [1] - I receive frequent emails from various democratic party affiliations... a recent barrage encourages me to order a free bumper sticker promoting my love for the Democratic Party - it seems they have decided they need to rebrand and reimagine themselves a bit, as "Democrats have launched the most ambitious voter-turnout effort we've ever seen for an election like the one this fall." "With this renewed focus, the Democrats have introduced a new website filled with innovations to better connect supporters with candidates, state parties, and each other -- and a new look to match that message." To me, the rebranding is poor and suggests a grade on a report-card... that grade being a "D".
What do you think - does the Democratic Party deserve a "D", since we elected Obama President... better... worse [2]?
If you want to prove you are a true blue Democrat, the information to order your free "I got a D" bumper sticker is provided below....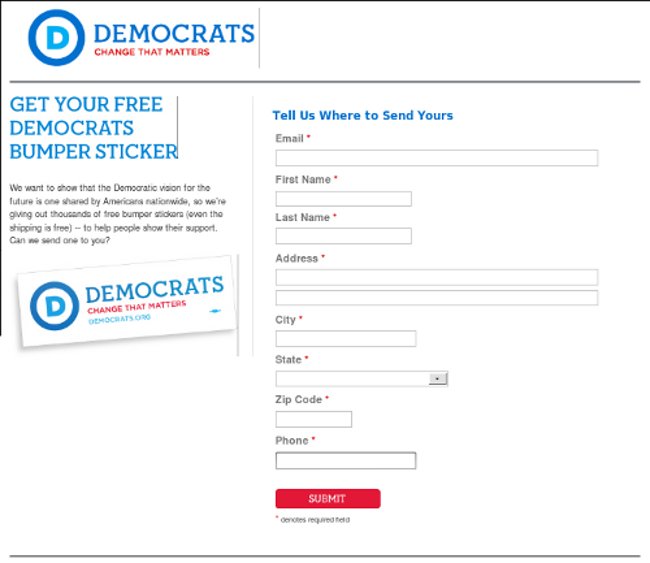 Norm --

In the last two years, it's been supporters like you who've redefined what it means to be a Democrat.

There's a renewed commitment toward organizing -- which you helped instill with the campaign in 2008. That's why Democrats have launched the most ambitious voter-turnout effort we've ever seen for an election like the one this fall.

There's a renewed commitment toward taking on the special interests and opposing their agenda -- a promise you've helped us keep time and time again. And even though we don't take money from lobbyists or corporate PACs, we're still raising more money than the Republicans, month after month.

With this renewed focus, the Democrats have introduced a new website filled with innovations to better connect supporters with candidates, state parties, and each other -- and a new look to match that message.

With just weeks to go in a critical election season, we want to help show that moving this country forward is a commitment shared by Americans across the states.

So we're giving away thousands of free stickers to help people show their support. Can we send you one? [3]


It's what you helped build that laid the groundwork for this new commitment for our party. And together, we've spent the last year and a half building a new foundation for our country.

Everything Democrats have accomplished -- from reforming a broken health care system to reining in the Wall Street banks that were out of control -- has been because of you.

It's something to be proud of. And I hope you'll take advantage of this opportunity to put that pride on display.

Get your free sticker today:

http://my.barackobama.com/DemsSticker [5]

Thanks,

David Plouffe