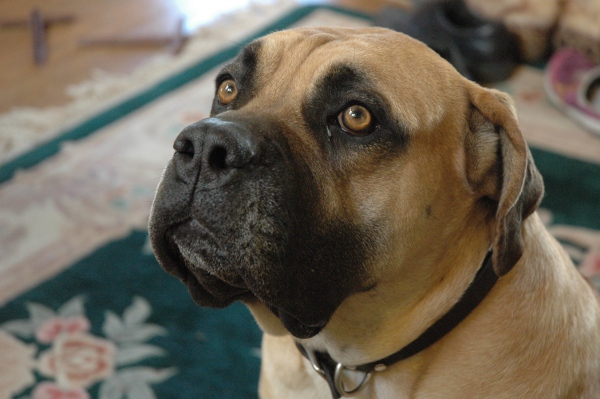 My name is Griet. I am a South African Boerboel. You say you have never heard of a South African Boerboel? Few people have. I am a rare breed of dog, a very old breed that was revived in South Africa in the 1980s, in fact I was born in Africa. Boerboels are a type of mastiff. My coat is fawn, I have a dramatic black mask and black ears, and my tail is docked. I have a very athletic build and weigh about 140 lbs.

As a young dog I was brought to East Cleveland by Jordan Pittman of Ohio Boerboels to be a breeder. I have now born over 60 puppies. For over a year now I have lived with Evelyn and Norm Roulet. Last summer Jordan gave me to them with the intention of retiring me. I looked really haggard at the time, having just weaned another litter. Although I am a very healthy and fertile dog, I didn't like being a breeder. I hate taking care of my puppies. I always kill off the most annoying ones from each of my litters.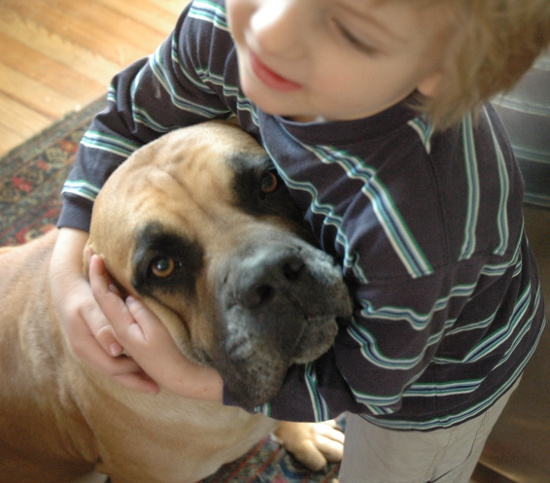 I am happy with my new family. I have a large fenced yard to play in. I have a new cane corso friend, Hexa. We are like sisters. I have two boys to play with me. They love me because I am gentler than their younger dog. I get lots of food and treats and I get to sleep inside at night. I am not really house trained but I am learning.
I was very happy until my old owner Jordan decided to breed me again. He came over to visit me the day before Mother's Day, he saw that I was in heat and looking very well, and he took me away to be bred. My human Evelyn was home and entertaining some guests at the time. She agreed, because she has always loved raising baby animals, but with some apprehension. There was no contract, barely a verbal agreement but Jordan was considered a friend and he said that all he wanted was "a couple of puppies" and that he would help raise the litter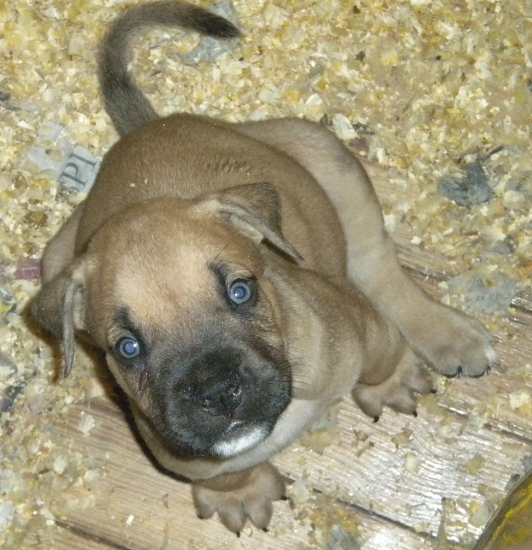 On the evening of July tenth I gave birth to fourteen puppies. I gave birth outside but Norm brought us all in to the breakfast room where we would be safe and warm. Dogs don't even have enough nipples to feed fourteen puppies so my humans had to help feed them with baby bottles and goat's milk. Jordan came to visit the litter and showed Evelyn and Norm how to bottle feed the puppies. They worked hard to feed the puppies those first two weeks when they weighed only a few ounces and were no bigger than rats. Two puppies did not survive the first night and three others died in the next few days. My humans had to watch closely that I didn't lie on the puppies and crush them.
Soon a bizarre incident occurred which ended Evelyn and Norm's friendship with Jordan. When my puppies were about two weeks old Jordan stopped by to visit and expressed concern that they were not doing well. He said they looked weak and dehydrated, despite nursing and bottle feeding with goat's milk every four hours. He brought a large box inside the house that he conveniently had in his car. He wanted to take the puppies home so that he could take better care of them, giving them saline by IV he said. Evelyn and Norm would not let us go. Evelyn had a veterinarian who makes house calls come out the next day to check us. The vet examined my puppies and found them to be in good health (not sick or dehydrated and in need of IVs) but she thought that they could benefit from a more nutritious diet than goats milk. She recommended Esbalac dog formula, Nutrical vitamin supplement and a gruel made from Royal Canin Baby Dog Large Breed dry food. On this diet my puppies seemed to double in size within a few days! You could practically see them grow. It seemed clear to Evelyn and Norm that Jordan's concern for my puppies was really a ploy to steal them. After that Jordan was no longer involved in our care and had little contact with Evelyn and Norm.
After three weeks, once the puppies were quite a bit bigger, moving around and becoming more active I decided I had had enough. I started snapping at them and trying to crush their skulls when they tried to nurse. My humans relieved me of my motherly duties. Evelyn became a devoted foster mother, though she felt guilty that some days it seemed she spent more time with her puppy babies than her own six month old baby girl.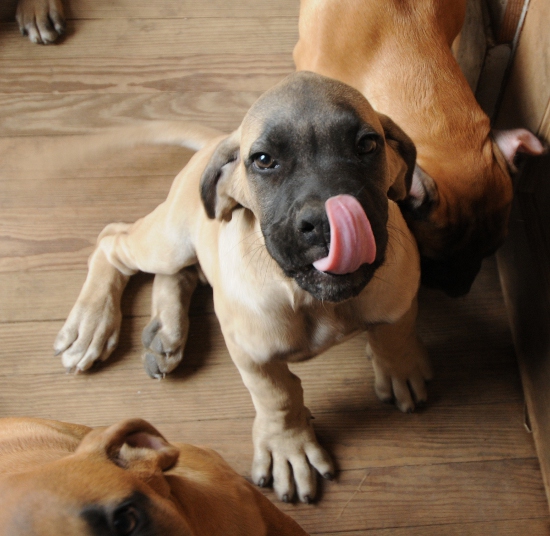 By four weeks old all of my puppies had been given a name. They each looked unique (at least to Evelyn and Norm) and they all had unique personality traits. They were growing up to be such exceptional dogs. But their future remained uncertain. Jordan's demands became more unreasonable as time passed and it seemed doubtful considering the state of Evelyn and Norm's relationship with Jordan, that he would provide their papers. Jordan's expectations changed from "just a couple of puppies" to half the litter, and soon there was also a stud fee. Unfamiliar to the dog breeding world, Evelyn contacted other Boerboel breeders to find out what typical stud fees and breeding arrangements were and to find out what Boerboel puppies without papers typically sold for. Stud fees are usually around $1500. but Evelyn and Norm had never met the stud or his owner, and didn't know what his arrange if any was with Jordan. It was weeks after I was breed that Evelyn found out that there was a stud fee involved. She initially had assumed that Jordan breed me with one of his own males.
What troubled Evelyn the most was Jordan's demand for half the litter. Over time she came to the conclusion that his methods of dog care and the accommodations he has for his dogs are not up to her standards. She had grown very attached to all the puppies and couldn't imagine turning any of them over to him. She raised my puppies in her home and spent hours with them each day. As they grew older they spent time outside but still slept inside the house each night. She was beginning to train them to sit and walk on a leash. Most of them knew their names and they were all so friendly. Evelyn and Norm had purchased their dog Hexa from Jordan three years ago and Evelyn remembered well the bleak conditions where Hexa grew up. Hexa's litter lived in a shabby garage at an unoccupied house that Jordan owned. Evelyn was also concerned about Jordan's practice of feeding his dogs chicken bones. Any veterinarian, including Evelyn's own brother, would advise a dog owner not to feed their dog chicken bones. Broken chicken bones can be very sharp and puncture internal organs. There were also specific incidents which happened while Evelyn and Norm were raising my litter that caused them to doubt his ability to care for dogs well. Two of his adult dogs escaped and were captured by the police. They were found loose in a busy area where they might have been hit by a car or the police might have chosen to shoot them. Another sad incident, a cane corso puppy fell into a drain and died.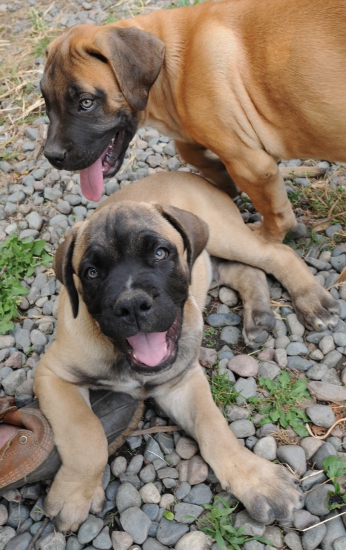 My puppies are now getting big. Some of them have already gone off to their new homes. My son Klaus moved to Florida and my son Halcyon moved to Philadelphia. Beauty is moving to Arizona and I think Elegba and Handsome will stay in Cleveland. Lucy almost went to a farm on St. Thomas, if only Mastiffs were allowed to fly when the temperature is over 75 degrees. I will be happy when they are all in good homes and it is just me and Hexa and my family again.