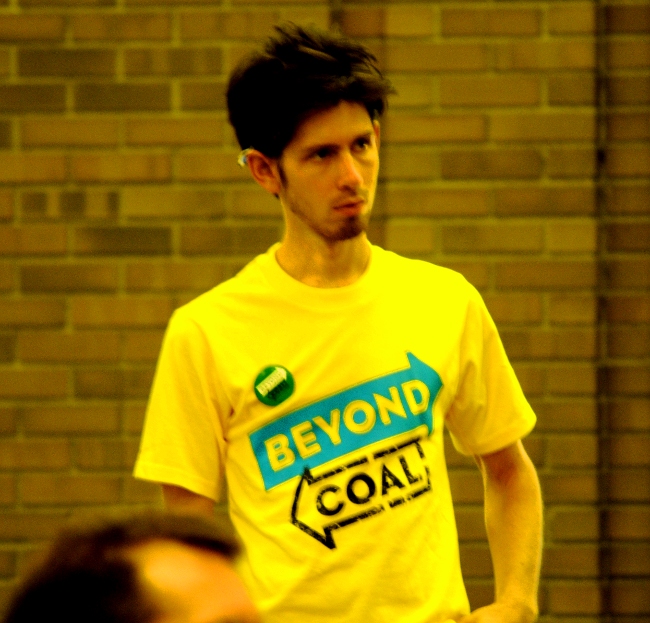 There is an insightful article in the September 13, 2010, Wall Street Journal - Turning Away From Coal [1] - which points out "Power companies are increasingly switching to natural gas to fuel their electricity plants, driven by low prices and forecasts of vast supplies for years to come. While the trend started in the late 1990s, the momentum is accelerating and comes at the expense of coal. Some utilities are closing coal-fired plants; others are converting them to run on gas." Futher, "The switch is occurring globally and is getting a push from regulators who want to limit emissions that contribute to climate change, haze and health problems such as respiratory illness."
This is excellent news for citizens of Northeast Ohio, who are victims of pollution from burning coal in many local and upwind coal powerplants that cause serious health consequences here - one in particular that citizens are fighting now is operated by the Medical Center Company [2], in the heart of University Circle, Cleveland, Ohio. Regarding such small coal-fired powerplants, The Journal reports: "Most big coal-burning utilities have invested billions of dollars to install pollution-control equipment on their largest coal-fired plants. But they are replacing or idling smaller coal plants for which such expenditures can't be justified."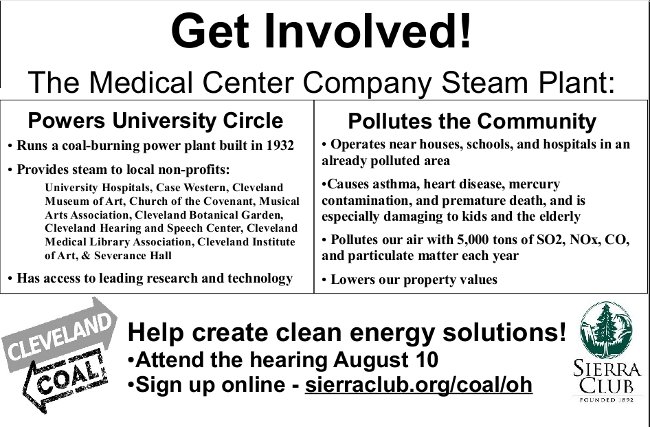 Where citizens and leaders demand the best quality of life, coal is being phased out quickly... which will benefit downwind citizens - the case of pollution reduction in Colorado will benefit Coloradoans most, but will reduce pollution of Ohioans as well...
In August, Xcel Energy [3] Inc., based in Minneapolis, notified regulators it wants to close a coal-burning plant in Boulder, Colo., and convert four units at its Cherokee plant in Denver to burn natural gas instead of coal. Xcel says the changes would cost the company $1.3 billion but still would be $225 million cheaper than installing pollution-control equipment on the aging coal units.
Where citizens and leaders have poor understanding of the harm of pollution from coal, poor investments in "clean coal" technologies are proving to be foolish [4], causing powerplant expenses and so rates to escalate, as for dirty coal power proponents Duke Power and AEP, of Ohio... stuck in deep coal pits that are caving in around them...
Not everyone is willing to give up on coal, of course. Many big coal-burning utilities are trying to find ways to use coal more cleanly. But even they have suffered setbacks.

American Electric Power Co. failed in its bid, in July, to get Virginia customers to pay $54 million of the cost of creating an experimental carbon-capture-and-storage system at its Mountaineer coal-fired plant in West Virginia. The plant is owned by AEP's utilities in Virginia and West Virginia. But the Virginia utility commission said it wasn't fair to levy so much of the expense on Virginians when AEP customers in many other states who were not being charged stood to benefit, too. AEP, based in Columbus, Ohio, is appealing the decision.

Duke Energy Corp. has been hurt by escalating costs at a state-of-the-art coal-gasification power plant under construction in Indiana. The Edwardsport plant, which is more than half complete, is expected to cost about $3 billion, or 50% more than the $2 billion original estimate. The new cost estimate exceeds the sum that Charlotte, N.C.-based Duke is being allowed to recover from customers. The Indiana commission was expected to hold hearings this month.
Northeast Ohio leadership needs to give up on coal!
Next time anyone tells you coal may be made clean, tell them to read The Journal and be real:
"It's pretty clear that, whether it's caused by future carbon legislation or action by the EPA, the migration away from coal has begun," says Constellation Energy Group Chief Executive Mayo Shattuck.