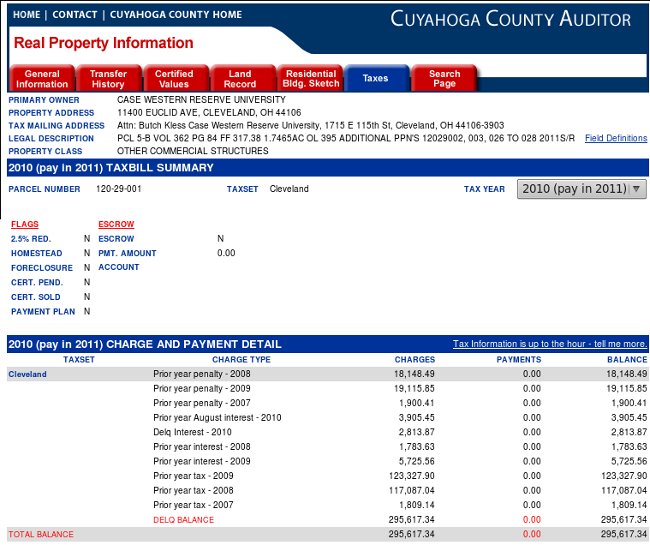 Can anyone think of a reason why Case Western Reserve University would not pay its property taxes for this parcel, going back to 2007 - I believe it is the Triangle property, at the corner of Mayfield and Euclid, which is considered one of the most important development locations in the Midwest, which has received lots of charitable and community support for redevelopment as MOCA, the CIA expansion site and some other plans by Ari Maron.
For the time being, there is nearly $300,000 owed the citizens in taxes, interest and penalties going back to 2007. Why do I have a feeling this is a case of government-enabled intentional tax-evasion in process.
Sort of like writing off power plants and parking lots as charitable endeavors.
Time to landbank and demo this board-up! Send the bill to Robert Brown, Treasurer, Case Western Reserve University [1]... you'll find him a few blocks away burning coal over at the Medical Center Company steam plant [2] where he is Chairman of the Board - or send the bill to the White House c/o Senator Sherrod Brown [3]... I suspect he'll get the message through.
Something tells me citizens need to audit all the property in University Circle and environs owned by all University Circle related stakeholders... just glancing around, I've come across quite a few surprises...