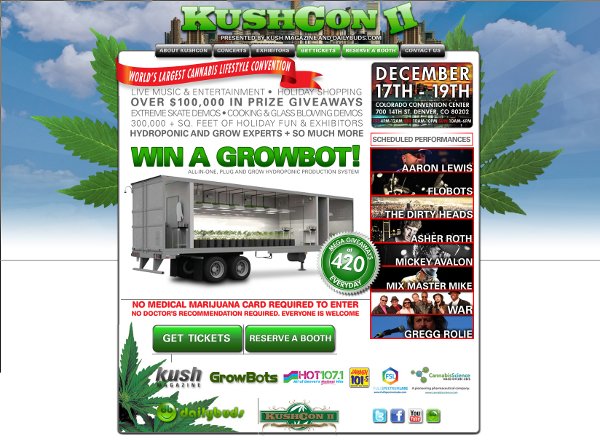 Colorado Convention Center set to buzz with largest-ever cannabis convention, December 17-19 [1]

DENVER, CO – Over 300,000 square feet of the Colorado Convention Center in Denver this December 17-19 will be consumed by KushCon II, the largest star-studded Cannabis Lifestyle convention ever to take place.

The event, sponsored by Kush Magazine and dailybuds.com, is open to the public, family-friendly and cannabis free. The event will feature over 450 vendor booths running the gamut of the marijuana industry – from a daily concert series to ski jumping demonstrations to dispensaries to gift items that are sure to complete any "Kushmas" list.

The party will continue all weekend with live entertainment. Friday, Saturday and Sunday conventioneers will be treated to first class recording artists and DJ's including the Flobots, Dirty Heads, Mickey Avalon, Asher Roth, Mix Master Mike, Aaron Lewis of Staind and War. Also headlining is the distinctive voice of, Gregg Rollie, founder and lead singer from the Santana Band and Journey with such hits as 'Black Magic Woman', 'Evil Ways' and 'Oye Como Va'.

Adding to the excitement, everyday at 4:20 Kush Magazine and Daily Buds will be giving away 1,000's of dollars worth of items, including custom blown glass, leather jackets and much more. In addition to musical talent, there will be ski jumping and skateboarding demos and cooking with cannabis demonstrations by renowned cannabis chefs.

KushCon II is sure to satisfy any medical marijuana aficionado, as well as those just curious about marijuana and its many uses. For those looking for an educational experience, speakers from within the medical marijuana industry and the marijuana movement will continuously conduct discussions throughout the weekend. Some of the speakers slated include legendary growing experts Jorge Cervantes and Ed Rosenthal; U.S. Congressman Jared Polis; Matt Cook, Director of Colorado Department of Revenue; and attorneys Rob Corry, Warren Edson, and Brian Vicente will share their legal advice. Medical information for patients and others about medical marijuana will be presented by Dr. Robert (Bob) Melamede. There will also be speakers from NORML, MPP and other non-profit organizations from around the country.

Last April, the first-ever Kush Con premiered in Denver with over 20,000 attending the weekend long event. This winter's event will not only be the bigger, it will be the largest ever cannabis convention worldwide.

KushCon II will open to the public:
Friday 4:00PM to Midnight, Saturday 10:00AM – 10:00PM, Sunday 10:00AM – 6:00PM
Here is a video from KushCon I, in Denver last April, 2010, from Cannabis Commerce, also in Denver [3]:
Cannabis Convention - Denver, CO April 02, 2010 [4] from Cannabis Commerce [5] on Vimeo [6].
A Snapshot of Kush Magazine
Kush Magazine is the leading magazine on medical cannabis use and the cannabis lifestyle in the United States. Kush is filled with relevant articles about the cannabis lifestyle, cultivation, medical cannabis patients' rights, legal issues, political issues, strain reviews, music events, entertainment as well as recipes for medical cannabis infused edibles. Kush publishes a comprehensive list by city of medical marijuana dispensaries, and medical doctors that write recommendations for Cannabis. Patients throughout Colorado and California also get thousands of dollars of savings on their medical marijuana purchases through targeted coupons and advertisements in each issue of Kush magazine.
Circulation: 22 MILLION PAGES PER MONTH

CALIFORNIA
San Francisco, Oakland, San Jose, Sacramento, the San Fernando Valley, Los Angeles, Orange County and San Diego.

COLORADO
Denver, Colorado Springs, Fort Collins and Boulder.
Kush is currently working on expanding publication to Montana (January 2011) and Michigan (2011).
Colorado Convention Center
700 14th Street
Denver
,
CO
80202
United States