More valuable than all the steel we mill, Cleveland has forged from our blighted, industrial, rustbelted, toxified, sprawling fruited-plains some of the most innovative, transformational music ever heard on Earth, since long before we gave birth to Rock and Roll.
Perhaps being from here tunes my ears to prefer homegrown talent - the Cleveland Orchestra is my favorite orchestra on Earth, as well - but the world agrees Cleveland-influenced bands like Pere Ubu (and Rocket From the Tombs, Two Pale Boys... all things David Thomas), Dead Boys, Tool, Marilyn Manson and Bone-Thugs-N-Harmony - each with unique musical styles - have created some of the most important music in history.
So I always expect to find great music coming from emerging bands at small clubs in Cleveland, and seek them out.
Thanksgiving weekend didn't disappoint, as three important young Cleveland bands assembled a great show at the Beachland Tavern [1] - a benefit celebrating the fifth anniversary of the This Way Out vintage clothing store [2] (located in the Beachland basement). Dreadful Yawns, The Clovers and Afternoon Naps each offering exciting and stylistically unique performances that showed indie rock in Cleveland is vibrant and alive... at times even fun.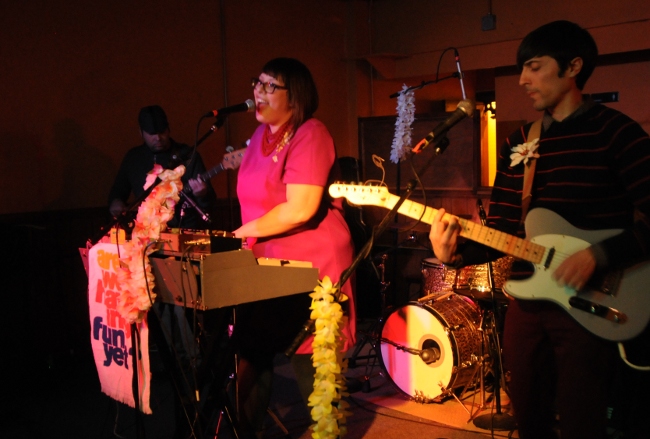 Check out Dreadful Yawns, The Clovers and Afternoon Naps in the videos below, on MySpace and YouTube, and live as they play around Cleveland.
Cleveland musicians give our region its loudest, most valuable and authentic voice to the world, heard by the most people on Earth, on all media. Show your love - spread the word - get it heard.

Dreadful Yawns [3] - "Took A Chance" & "Kill Me Now" [4]
There are one or more fine tunes here (I'm really just guessing on the song titles--I'd be happy to update the title if anyone knows), well worth checking out even if the sound is a bit muddy--not the fault of the band or the sound guy--it's probably due to where I was standing. Recorded at the Beachland Tavern in Cleveland on Wednesday, November 26, 2008, as part of a concert celebrating the third anniversary of This Way Out (the vintage clothing and memorabilia store inhabiting the Beachland's basement).

The Clovers [5] - The Trolls [6]
This track from their forthcoming release, Peace (due out in Spring, 2011 on the Slow Death label), was the seventh song of their set at the Beachland Tavern in Cleveland, Ohio, where Clovers appeared with Dreadful Yawns and Afternoon Naps on Wednesday, November 24, 2010.
Afternoon Naps [7] - Orange Paw & Clean Bill of Health [8]
Two songs from earlier releases, the first from their 2007 full-length release, Sunbeamed, and the second from their 2007 EP, Snowday, were the fourth and fifth songs, respectively, of their set at the Beachland Tavern in Cleveland, Ohio, where the Naps appeared with Dreadful Yawns and Clovers on Wednesday, November 24, 2010.