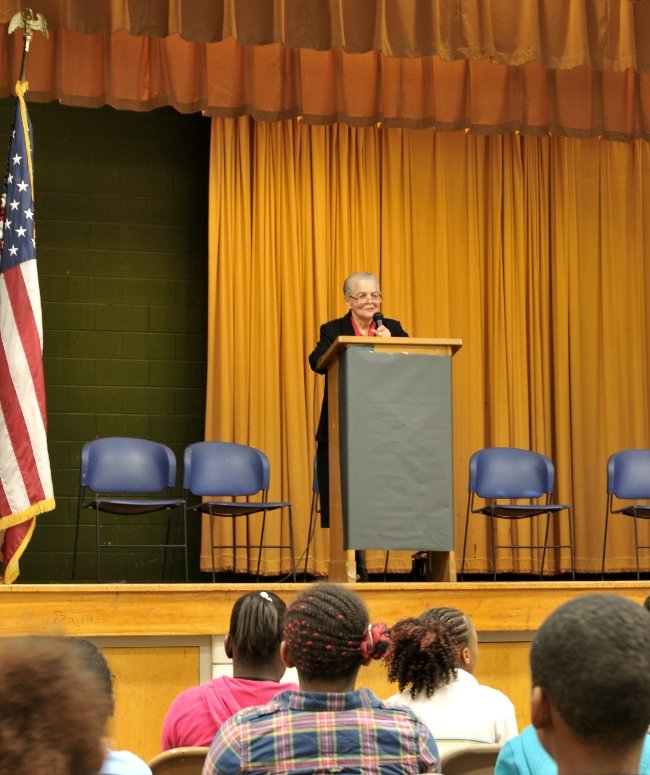 Cincinnati Civil Rights leader Marian Spencer speaking at Taft STEM Elementary School MLK Day 2011
In early commemoration of Martin Luther King Jr. Day, 2011, 90-something Cincinnati civil rights and community leader Marian Spencer spent Friday afternoon, January 14, sharing with the students at Taft STEM Elementary School her experiences knowing Dr. Martin Luther King Jr. and helping to lead the civil rights movement of her day, in her state of Ohio.
Ms. Spencer and her family were civil rights trailblazers for Ohio African Americans, as she and her brothers and sister grew up in racist, segregationist times here, and forced change to Ohio public schools and the University of Cincinnati by excelling and fighting for equal rights and recognition for that. As children, Ms. Spencer's family had to fight so she and her sister could be the first African Americans admitted to their high school, where they became co-valedictorians. Ms. Spencer was thus the first African American to force her way into the National Honor Society - leading her to be the first African American to force her way into the University of Cincinnati School of Engineering - she told the children at Taft Elementary.
Yes, change is possible. Marian Spencer has seen and caused lots of change, in her long lifetime... she even became Vice-Mayor of Cincinnati.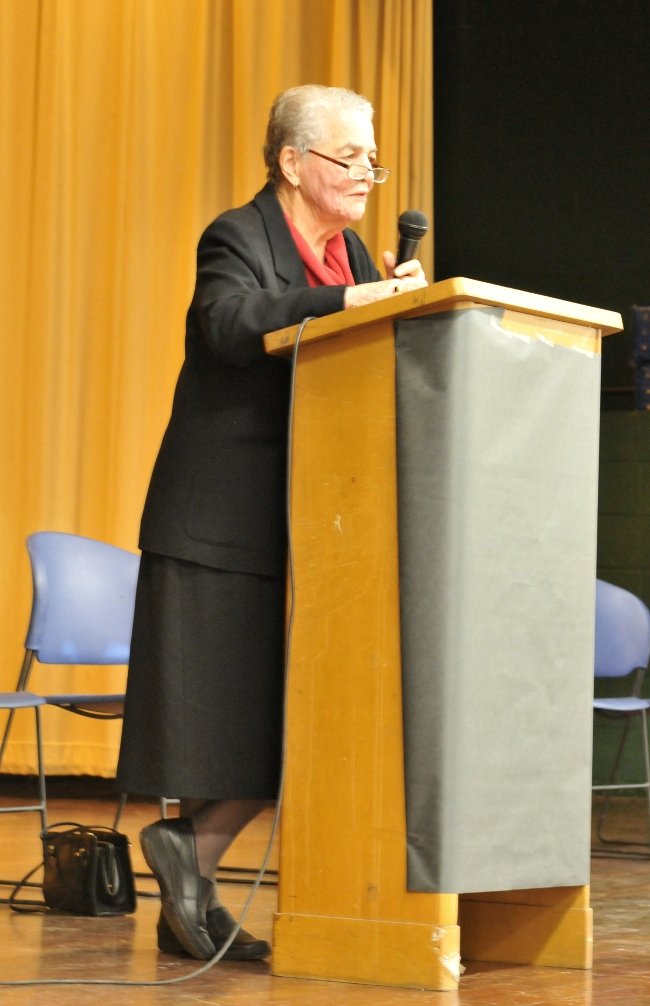 Cincinnati Civil Rights leader Marian Spencer speaking at Taft STEM Elementary School MLK Day 2011
In reflecting on Reverend King, she compared his senseless assassination to the recent shooting of a 9-year-old in Tuscon, Arizona, saying that girl could have been a Supreme Court Justice - these tragedies are senseless. It seemed she was trying to make sense of this tragedy herself, in the presence of these children about that same age. To Ms. Spencer, the loss of any promising life is clearly a tragedy.
But Ms. Spencer couldn't offer sensible explanations for these killings, and for much of what she had been through in her life, as she had lived her life changing things that were wrong.... changing fundamental things that were wrong.
She shared with the children that her grandfather was a freed slave and asked could they imagine what a slave would think of the lives these children live today - in so many ways life has changed for the better for African Americans.
She told a story from her childhood of her two brothers, who entered the military. One had health issues and received an honorable discharge. The other was called "the "N" word" by an officer and got into a fight, and received a dishonorable discharge. Ms. Spencer said the letters from the military notifying her brothers of their honorable and dishonorable discharges both hung with honor in her family home, as both boys had done the honorable thing, joining the military to fight for their nation, and both were honorable as soldiers, even if one was discriminated against and harmed by the military, and labeled "dishonorable". Ms. Spencer's family knew better, and taught their children better - and Ms. Spencer taught the Taft children that citizens need to learn to know better than their authorities... that is one lesson clearly learned by Ms. Spencer, in her 90-years.


Another lesson she learned and shared is to vote and get involved in your community leadership, as Ms. Spencer surely did.
Her overall message was that the system you encounter in life often may not be fair, honorable or right, so you must have the clarity of understanding of what is right to rise above the wrong. When words like "dishonorable" and "nigger" are applied to you by supposedly honorable powers, which are not honorable, you must have the sense to differentiate right from wrong and rise above.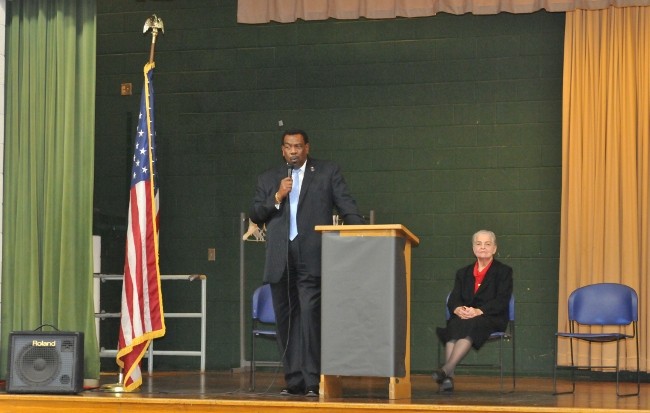 Cincinnati Civil Rights leader and former Cincinnati NAAPC Chapter President Marian Spencer
with NAACP Chapter President and Councilman Wendell Young at Taft STEM Elementary School for MLK Day 2011
Her legacy of community leadership is well demonstrated by her lifetime commitment to the NAACP - she joining at age 13... remaining involved throughout her life... rising to President of the Cincinnati Chapter - a later NAACP President, Cincinnati Councilman Wendell Young [1], introduced her at Taft Elementary and was clearly thrilled by the opportunity.
Ms. Spencer has spent all her 90+ years rising above discrimination, and stands tall as a model for children who must follow in her footsteps, fighting civil, social and environmental rights battles of today and certainly ahead. The children of Taft STEM Elementary School are fortunate to have role models like Martin Luther King Jr. and Marian Spencer to follow... and I'm sure the kids at Taft will always remember meeting a women who actually met MLK.
And these kids need the inspiration, as they are fighting so much in life AND for the survival of their school - a Science, Technology, Engineering and Math elementary that is clearly making a positive difference in the lives of 100s of children. The Cincinnati school district recently planned to close this school, and the students and friends of the school are in the early stages of a fight for Taft's life.
With Marian Spencer on their side, they may well win this fight for their right to quality education. She did.

Cincinnati Civil Rights leader Marian Spencer with student at Taft STEM Elementary School MLK Day 2011
Taft STEM Elementary School is scheduled for closing and these students are fighting for the survival of their school
Spencer, Irvine named to hall of Ohio's elite civil rights leaders [2]

Dr. Marian A. Spencer, the granddaughter of a freed slave, was born in Gallipolis, Ohio. She began a career as a civil rights activist at the age of 13 when she joined the NAACP. She graduated from high school as the co-valedictorian of her class and a member of the National Honor Society and then moved to Cincinnati to attend the University of Cincinnati where she earned a bachelor's degree in English. Dr. Spencer and her late husband, Dr. Donald Spencer, became well-known throughout the Cincinnati area as leaders in civil rights, civil liberties and voting rights. In 1952, she chaired the NAACP committee responsible for leading the effort to take legal action against Coney Island, in a successful attempt to desegregate the park after she was denied entrance based on her race. She served as a lifelong supporter and worker for the NAACP where much of her work was focused on public school desegregation. During her years with the Cincinnati NAACP, she served on the Executive Board as Chair of both the Legal Redress and Education committees, and, in 1981, she became the first female President of the local Cincinnati Chapter. Dr. Spencer also served as a member of the University of Cincinnati's Board of Trustees, Chair of the Community Steering Committee for Indigent Defense, and President for the Women's City Club and Links, Inc. She was elected in 1983 as the first Black Councilwoman for the Cincinnati City Council and was later named Vice-Mayor of the city.