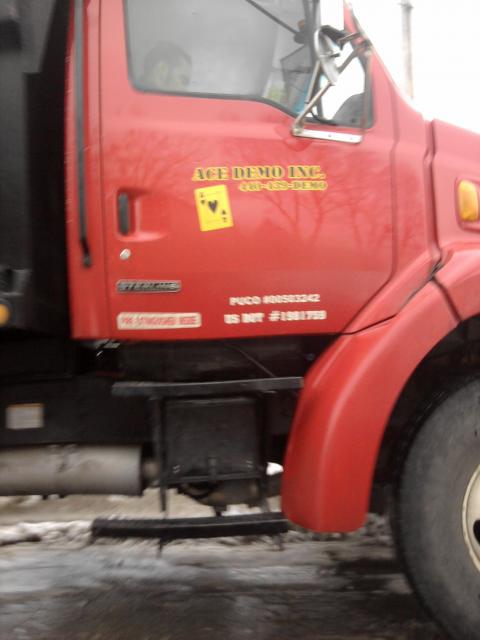 Today, I saw this demo company turning onto a neighborhood street off of Clark... Ultimately, it and several others landed right behind Train Park off of West 48 & Clark/Train Avenues. Another house was being demo'd...and many, many, many more to go!
Looks like a great business investment in Cleveland over the next 10-15 years....DEMOLITIONS! At least we know that our local government leadership has a goal of demolishing thousands of homes across Cleveland... Perhaps people other than "buddies of buddies" can be offered opportunities to partake in these government contracts!
DEMO COMPANY OF THE WEEK...
In October 2010, this company demolished the Parma School Administration Building...
An exit sign anchors a pile of rubble from the former Parma school administration building at 6726 Ridge Road, which was built in 1921 as an elementary school. Ace Demo Inc. began demolishing it last week.
ACE DEMO INC. [2]
Map & Directions
Call:
(440) 439-3366
Corporation Details
Entity Number
1739077
Business Name
ACE DEMO, INC.
Filing Type
CORPORATION FOR PROFIT
Status
Active
Original Filing Date
11/09/2007
Expiry Date

| | | |
| --- | --- | --- |
| Location: TOLEDO | County: LUCAS | State: |
Agent / Registrant Information
JOHN CHRIS CASEY
4654 CHAPEL DR.
TOLEDO,OH 43615
Effective Date: 11/09/2007
Contact Status: Active
Incorporator Information
JOHN CHRIS CASEY

Share Information
Type Par Value Total
NO PAR COMMON
0.00
750
Filings
Filing Type Date of Filing Document Number/Image Old Name
DOMESTIC ARTICLES/FOR PROFIT
11/09/2007
200731301516
DOMESTIC/AMENDMENT TO ARTICLES
01/09/2008
200801401282
BURLINGTON INVESTMENTS, INC.
While a yellow page search of said ACE DEMO INC revealed the 500 Broadway Avenue address above, a state filing listed it as a Toledo based company with no other local address. A reverse search of the same Broadway address resulted in the following business info & owner info:
AUTO WORLD USA [5]
Auto World USA Staff
Derik Thomas

Owner


Favorite

Food: Liver and Onions

Vacation Spot: Remote Island

Car: Harley, Harley, Harley

Pastime: Remote Control Cars

Shot: Washington Apple

Derik started Auto World 4 years ago as a buy here pay here on Lee Rd in Cleveland. He made the jump to the automile in January 2008. He is currently single but looking. He lives with his dog Roxanne who runs security at Auto World. His mom is the office manager for the dealership. In his spare time he loves to ride his Harley and considers himself a preppy Harley guy.
So, what is the legitimate ownership and location of said business that is obviously conducting business with the City of Cleveland and the state of Ohio? Who are the players? The trucks had NEW PAINT JOBS...they must be doing well in our economy!
While my cynicism finds it amusing to keep finding questionable businesses getting these contracts; my gut tells me that there is yet more to be revealed in this area of operations within the City of Cleveland!
Just call Damian they say...he's the main Demo guy for the city of Cleveland and he can help you...