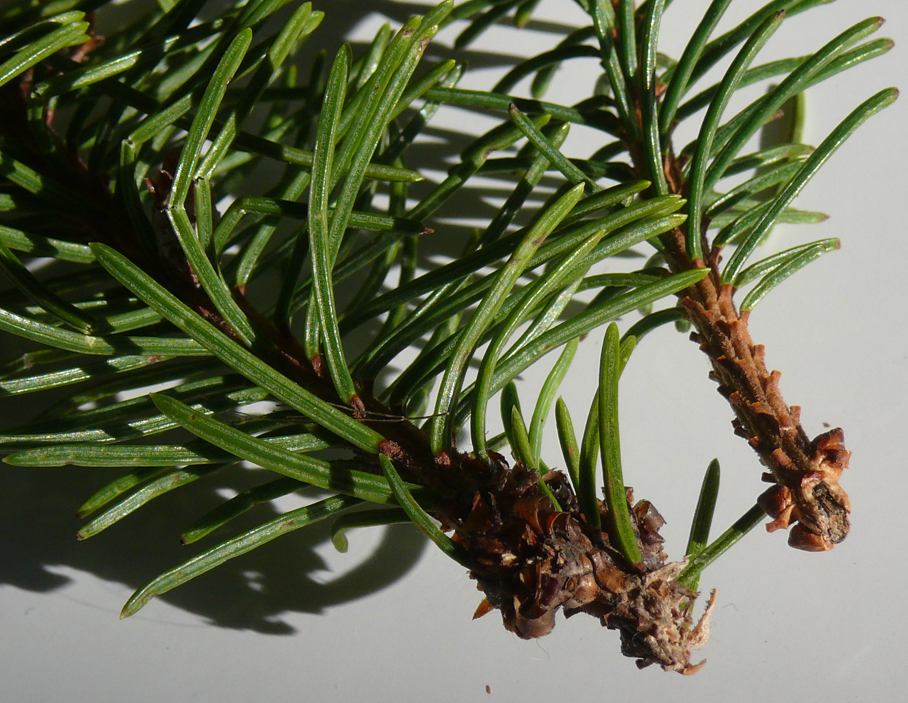 These two green 6 inch long douglas fir branch tips were two of hundreds carpeting the ground under a 50 foot high Douglas fir last week.
I believe there is some type of a boring insect which invades the cambium right at the point of break-off. But I couldn't distinquish what exactly invaded.
Could it be Cooley spruce gall adelgid [1] or P. ramorium [2]? Problem with both gall and ramorium is that the foliage drops off brown.
The ones I viewed on the ground were all green. Is this just a winter snow and ice condition? I don't think so because other nearby firs did not show same carpet of green tips on the ground.
Links:
[1] http://www.fs.fed.us/r3/resources/health/field-guide/sap/cooley.shtml
[2] http://www.puyallup.wsu.edu/ppo/gallery/Conifers/album/slides/White%20fir%20with%20shoot-tip%20dieback%20caused%20by%20P.%20ramorum%20in%20a%20Christmas%20tree%20plantation%20near%20Los%20Gatos,%20California%20%282%29..html
[3] http://li326-157.members.linode.com/system/files/douglas_fir_tip_drop_disease.jpg