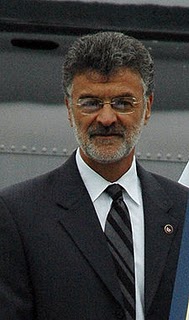 Cleveland Mayor Frank Jackson
From the Metro Desk of the Kathy Wray Coleman Online News Blog.Com (www.kathywraycolemanonlinenewsblog.co [2]m [2]).
The Imperial Women, a grassroots group of women and other community activists formed around the murders of 11 Black women on the now infamous Imperial Ave. in Cleveland, voted unanimously Thurs. to confirm their decision to protest in front of the home of Cleveland Mayor Frank Jackson, 2327 E. 38th St, at noon on Sat., April 9, activists said.
Community activist groups, including The Imperial Women, are upset over the handling of rape complaints by Black women around the murders and the way the murders themselves were handled by police and Jackson's top level law endorcement leadership team like the safety director, city prosecutor, chief of police and law director. They say the protest is also due to malicious prosecutions by city prosecutors and its law director against Black women, police misconduct allegedly toward Black women and others, and issues with the city schools and how the majority Black school district is being governed.
Contact persons about the protest and The Imperial Women are Kathy Wray Coleman at 216-932-3114 and Roz McAllister at 216-577-0466.
"It's on," said Kathy Wray Coleman, a leader of the group. "We "Its racially motivated to target only the Black community for school closings, and its unfair," said Valerie Robinson, a White member of the Imperial Women, and a retired Cleveland schools teacher highly respected in the grassroots community. Others agree.
"The members said that the mayor has a lot polled the members and they all said yes, other than one who says she is still undecided."
Coleman said the protest will be peaceful, though she says that the women will protect themselves if Jackson harasses them with police or anybody else.
Also, said Coleman, the group voted to include the mayor's push, through his appointed White male Cleveland schools CEO Peter Raskind, to close seven more schools, all on the predominantly Black East Side of Cleveland, as a protesting issue. Raskind has also proposed laying off 835 employees, including 650 of the district's 3600 teachers, a request that Jackson's appointed school board could vote on as early as next week.
"The members said that the mayor has a lot of nerve targeting the Black community to close schools in a predominantly Black school district," said Coleman."A White mayor of the majority Black city of Cleveland, nor a decent and competent Black one for that matter, would not be that bold, particularly since the Cleveland School Board closed 15 schools or buildings last June, 14 on the East Side of Cleveland."
Jackson runs the Cleveland Municipal School District, which is largely Black, pursuant to a Republican pushed state law enacted in 1998 when Michael R. White was mayor. The controversial law, which is still debated today, particularly among Black Clevelanders, abolished the elected 7-member school board and handed control of the city schools to the mayor to appoint his own school board members.
The mayoral control statute also allows Jackson, through his appointed school board, to hire at will and untrained central office administrators like Raskind, a former banker with no background in education whatsoever, activity that activists say is unconstitutional and partly responsible for the failing school system that is millions of dollars in debt. And aside from the CEO the central office administrators, a majority of whom are Black, have no contractual status, unlike any other public school district central office administrators in the state, again compliments of what activists call a racist mayoral control law designed to subordinate the Black community and to undermine the district's school children. Naive voters approved the law in 2002 with a push from then Cleveland Mayor Jane Campbell, who is White. She was elected in 2001 when White did not seek a fourth term, and lost to Jackson in 2005.
A largely women's group that is diverse with Blacks, Whites, Native Americans and men, The Imperial Women have taken on the mayor saying that he has blocked an investigation as to suspected serial killer Anthony Sowell's release from custody in 2008 when Gladys Wade reported an attempted rape to police. They say that the Jackson administration has not done enough to make Black and other women in Cleveland safe following the tragedy of Imperial Ave, one that quickly gained national attention, and a wealth of protests, some led by Coleman and others led by grassroots leaders such as Art McKoy, Khalid Samad and Donna Brown.
And at the heart of the controversy is that six of the 11 murdered women of Imperial Ave., whose remains were uncovered in late Oct 2009 at Sowell's home days before the mayoral election, were killed after Sowell's 2008 release from custody. Questions have arisen as to whether the former marine who spent 15 years in prison on an attempted rape complaint before the murders was released in 2008 because of that mayoral election, one that Jackson won in a non-partisan runoff over now State Rep. Bill Patmon (D-10), a Democrat like the mayor himself. And Jackson's failure to launch an investigation around Sowell's 2008 release is even more complicated because the suspected serial killer had lived with the mayor's niece during the time of the celebrated murders of the innocent Black women, some of whom had drug addictions.
Sowell, 51, has since been indicted by a Cuyahoga County Grand Jury on the attempted rape of Wade and awaits trial scheduled for June 6 before Cuyahoga County Court of Common Pleas Judge Dick Ambrose on that and numerous other criminal charges, including numerous counts of aggravated murder, rape, kidnapping and abuse of a corpse. He faces the death penalty.
The Imperial Women also complain that Black women are targets of the mayor's all non-Black top level law enforcement leadership team where Jackson, who is Black, has appointed no Blacks or women as chief of police, safety director, ems commissioner, chief prosecutor or law director, the latter position held by Robert Triozzi, whom activists say is maliciously prosecuting Black women for Jackson. Those prosecuted illegally, say activists, include Collinwood High School graduate Destini Bronaugh, 19, and Coleman herself.
Bronaugh, who has pleaded not guilty and awaits a trial by jury, is facing what community activists call bogus misdemeanor charges of obstruction of official business and resisting arrest before Jackson endorsed judge Lynn McLaughlin Murray, a Cleveland Municipal Court judge running this year to hold on to her seat. That prosecution, they say, is in retaliation for a peaceful student protest at the school on May 13 of last year around teacher layoffs and school closings that Bronaugh and her younger sister participated in as students at the school, along with other students. Bronaugh's mother, Tina Bronaugh, has endorsed the protest too, according to Coleman.
The Imperial Women say that Coleman is being harassed by McLaughlin Murray for Jackson over her activism as to the Imperial Ave. Murders, with an attempt by the White judge to jail the activist and journalist for allegedly resisting arrest in 2008 when no resisting arrest complaint was alleged by sole arresting White male Cuyahoga County Deputy Sheriff Gerald Pace, who supports Coleman and told prosecutors that he would tell the truth in her favor if they kept bothering him about lying. Hence, they allegedly left him alone and Jackson has allegedly told McLaughlin Murray to jail Coleman without a witness or accusation of resisting arrest in violation of the Sixth Amendment, a puzzling posture for the former assistant city prosecutor and councilman turned mayor. He has also, said Coleman, lobbied the Cleveland NAACP and the Call and Post Newspaper to be silent on the issue and allegedly tried to get newspaper officials to keep her quiet while he had her maliciously prosecuted, an effort that obviously failed.
Coleman was arrested on Aug 7, 2008 upon leaving a civil litigation hearing before Cuyahoga County Judge John O'Donnell per an illegal order by Visiting Lyndhurst Judge Gustalo Nunez and with the alleged illegal help of O'Donnell and Cuyahoga Judge Tim McGinty. But she fail ill and was rushed by ambulance to Metro-Health Hospital.
After an overnight hospital stay at the county run hospital, where she was diagnosed with hypertension, she says she was dragged by two Mayfield Hts policemen to the county jail, and greeted by O'Donnell's relative Kevin O'Donnell, a booking sergeant who allegedly said that "we were waiting for you and made special arrangements." And, said Coleman, after being interrogated per the direction of head jail warden Kevin McDonough, she was given a knockout drug, held naked, possibly raped, and released four days later without charges when Cleveland Attorney Sara Harper came and snatched her from the alleged torture. Also at issue, said Coleman, were her investigations of the Cleveland Clinic and alleged housing discrimination against Blacks in Shaker Hts, both per the direction of Call and Post officials. And she says that the 2008 jailing was due also to retaliation for her journalistic investigation of alleged malfeasance by University of Akron officials.
And it did not help, the journalist said, that Cleveland City Council President Martin Sweeney complained that year to Call and Post officials, through his press secretary, about an article Coleman wrote where Cleveland residents said it was racist to reduce City Council from 21 to 19 in the largely Black city when neighboring cities like Shaker Hts and Cleveland Hts have far fewer constituients per council people. That reduction did occur in 2009 per a voter adopted charter amendment pushed by Jackson and Sweeney that calls for a reduction of 2 more council persons due to outcomes of the 2010 Census, with Sweeney telling the media that two Black council members will lose out out, allegedly with Jackson's blessing.
While jailed Coleman claims that she was threatened over her activism and articles in the Call and Post, mainly as to the issue of the need for Ohio trial court judges to be assigned and reassigned to cases by computer generated random draw rather than the handpicked process used often at the Ohio Supreme Court by its chief justice, in the Cuyahoga County Court of Common Pleas, Cleveland Municipal Court and elsewhere throughout Ohio, sometimes to fix cases. Coleman had also that year petitioned the Ohio Eighth District Court of Appeals to rule that handpicking judges violates state law, an action that heightened the harassment by the judges, Coleman says.
After Harper secured Coleman's release from jail in 2008 the former biology teacher and 16-year journalist wrote a five part series detaling the ordeal titled "Jailed Reporter Tells Her Story" that was published in the Call and Post per its editor and associate publisher Connie Harper, a sister of Sara Harper, also a retired Ohio Eighth District Court of Appeals judge. Thereafter, Jackson allegedly had Triozzi bring a host of criminal charges as to the Aug 2008 Justice Center arrest itself such as aggravated disorderly conduct and obstruction of official business, all of which Coleman was exonerated of by a jury in 2009, all but resisting arrest, where jurors said after trial that they were directed to do so even without Pace's complaint or testimony via illegal jury instructions by then Judge Kathleen Ann Keough, whom Jackson endorsed relative to her successful bid last year for a seat on the Ohio Eighth District Court of Appeals, allegedly in exchange for her corruption.
Keough was replaced on the Cleveland Municipal Court bench by McLaughlin Murray in Jan. per outgoing Gov. Ted Strickland, and Jackson is pushing for her to keep the seat, and asking Black leaders to follow is lead, in order to continue case fixing activities through Triozzi against Blacks, women and others, Coleman alleges.
The journalist, that holds a bachelor's degree in biological science and two master's degrees, has yet to be sentenced and is out on bond. Her lawyer sought a post verdict acquittal, and she says that Jackson is obsessed with pushing an illegal conviction to hurt her credibility since she was a straight A doctoral student at the University of Akron who has completed all course work and passed all comprehensive exams but cannot write a dissertation in education administration due to politics.
The Imperial Women say also that they are concerned because Jackson did not timely investigate allegations that Rebecca Whitby, 25, was beat up unnecessarily and called a nigger by Cleveland Fifth District police in 2009, according to an elderly White neighbor who says she witnessed the incident. Whitby is serving a six month prison sentence issued March 8 by Cuyahoga Judge Daniel Gaul after what activists say were bogus convictions of assault on a police officer and resisting arrest, convictions that came after Gaul would not let jurors hear evidence that the woman was allegedly called nigger. Gaul, who is currently on probation himself for unethical violations against Blacks sanctioned by the Ohio Supreme Court last Oct., sentenced the woman after policemen accused of beating the girl and making racial slurs urged him to at sentencing before a packed courtroom lined with police and deputy sheriffs.
The upcoming protest would be the third by the group at the mayor's home in Cleveland's Ward 5, a neighborhood on the city's East Side. The Imperial Women protested at Jackson's home in Dec. 2009 over the neglect of rape complaints by police and other city officials, and the handling of the Imperial Ave Murders issue. Thereafter, the mayor created a a handpicked commission that issued a report that changed the way rape complaints are handled, though few of the recommendations have been implemented, and officials of the Cleveland Rape Crisis Center said recently that enough has not been done. The activist group protested a second time last summer as to the Imperial Ave Murders and what they say is the ongoing mistreatment of Black women by Triozzi and other city officials, allegedly with Jackson's blessing, and often his direction, they say.