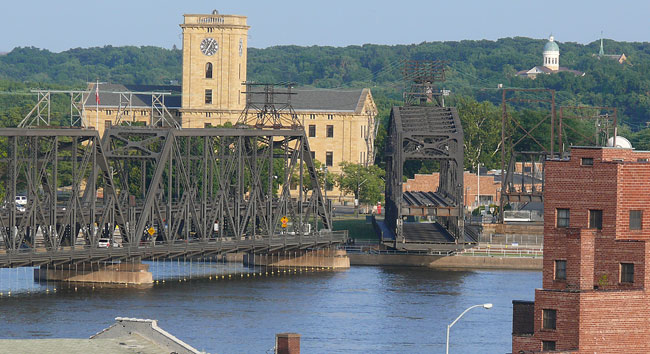 Over 115 years ago Ralph Modjeski engineered the
Government Bridge
(check out the Wikipedia link which has a flash video of the bridge swinging open/closed) which spans the Mississippi River between Davenport, Iowa and Rock Island, Illinios.
This isn't just any bridge – there is a lot going on.
Take a look at the image and you can see that the clever design accommodates:
A. Two rail road lines
B.Two vehicle lanes
C.Two pedestrian/bike lanes separated from traffic
D.High voltage electrical lines shore to shore
E. Barge traffic on the Mississippi
The rail road lines, vehicle lanes, and ped/bike lanes swing, while the high voltage lines DO NOT SWING! The support in the center of the swing section for the electrical wires is on a pivot which allows the wires to hold straight. Very cool.
Most impressive too is the fact that the bridge has continued to be in active service for over a century. In comparison many bridges – like the Cleveland Interstate 90 Inner Belt Bridge – fail in half that time.
We think we're getting smarter...?