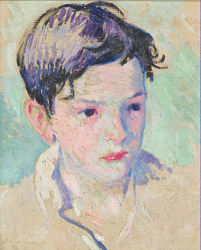 "Portrait of Ray". Oil on canvas, signed lower left and inscribed in red "1911" on verso. In Boston pattern aluminum leafed frame overall 22" x 20". Provenance; Ray Sommer; to Joseph Erdelac (1974); to Dr. William Gerdts, New York (1975); to present owner.
Himself a painter, Ray Sommer was the artist's younger brother. While working at Otis Lithograph in Cleveland beginning in 1907, Sommer became acquainted with artists William Zorach and Abel Warshawsky. The two went to Paris to study, enthusiastically bringing back the painting techniques of the day upon their return. Sommer learned the Impressionist ideology from Warshawsky, superseding his own earlier academic style between 1910 and 1912. After this time Sommer's work again evolved having come under the influence of the Post Impressionists and later the Fauves. He excelled in each artistic mode which he absorbed throughout his career.
Condition: Lightly cleaned in 2005. Craquelure in paint with very minor losses in background, upper right. Frame having a silk covered liner.
Estimated $8,000-$12,000 www.aspireauctions.com