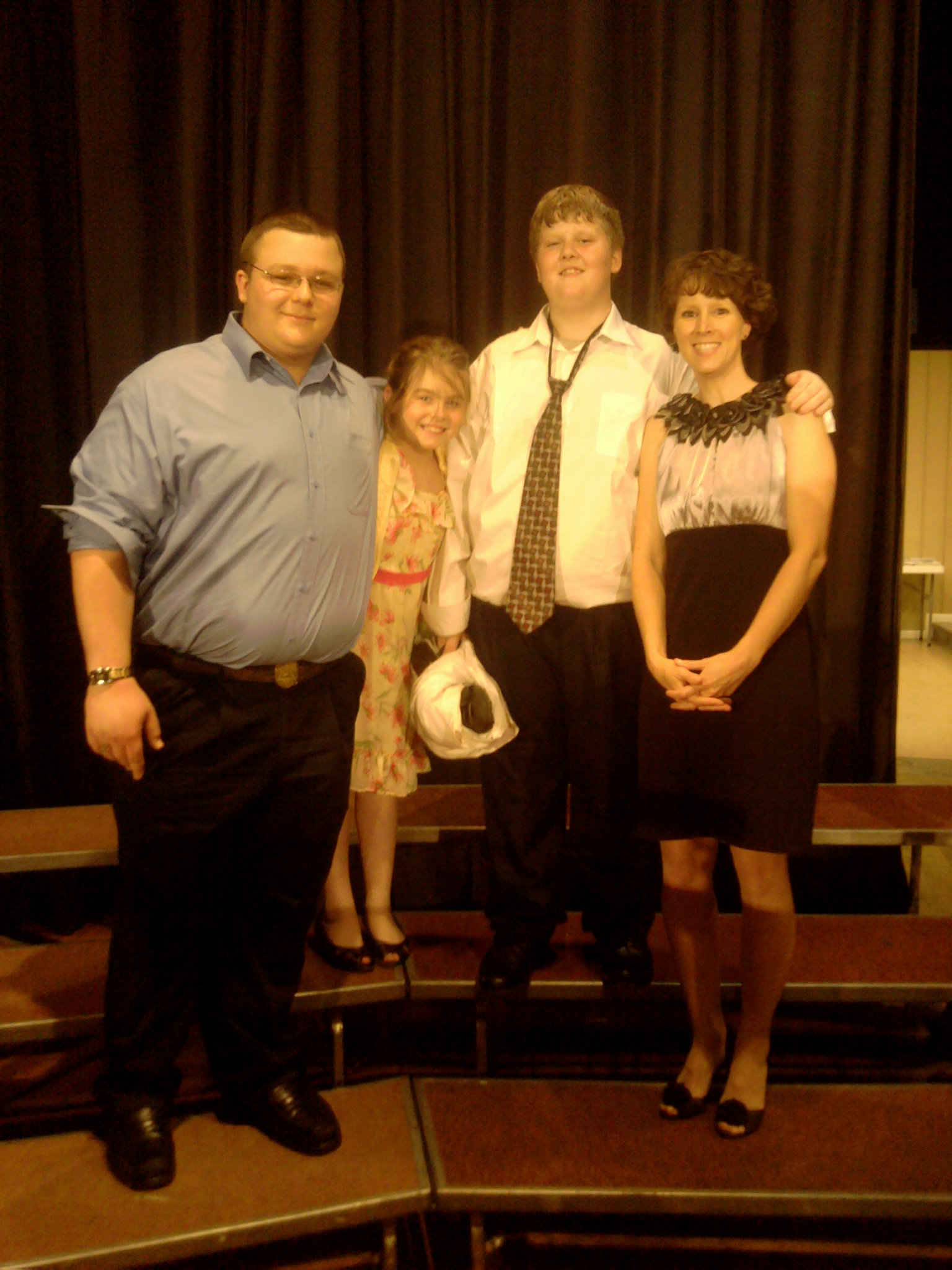 Coty is the young man on the Left with his brother, cousin, and teacher.
"Don't count the days, Make the days count!" That was one of our High School mottos along the line.
On November 07, 2011; my 18 year old nephew/adopted brother (Dad adopted his 2 grandsons) was killed in a head on car collision. He had recently graduated High School in June and was attending a local trade school so that he could stay at home while going to college. He attended church regularly and was devoted to our family and his community.
Questioning God's reasoning seems so moot at this point. Seeing a bright future taken away from our family is devastating. You see, my nephew spent his entire life in the "Country". He had an innocence about him that most 18 year olds haven't known since elementary school in these big cities. He was respectful, considerate, and he was happy in his "neck of the woods."
After spending the last 2 weeks reacting to his death, planning and executing a double funeral, and burying him; I must share the experience that keeps a family collected amidst a tragic, unexpected loss such as this. You see, from the first moment of notification-you become submersed in everything from emotional distress, phone tree notifications, community, friends, and family members converging, answering questions over and over, and then dealing with the funeral arrangements. Once his body was laid to rest in a family plot at his home; then you have secondary issues to redress...as it was a car accident.... The costs of a death like this can exceed any family's budget and drown them quickly.
Looking over the last two weeks I can recall being so exhausted that I actually couldn't recognize family members at the funeral home. The next day it was hitting me who I had actually bumped into. Then, there are other friends who come out of left field with a batch of homecooked foods to snack on while you are enduring the worst grief you can imagine without truly expressing your pain inside. I remember one Aunt calling and offering to bring food and I told her I was starving with no time to hit anywhere for food between then and the funeral. I recall her food hitting the table and my plate full within seconds. There were others who brought food to help us out only days after losing their own parent. I remember seeing names in the funeral book who I had known since childhood, but didn't get a chance to see at the funeral home. There were so many folks who came from far and wide to share our loss and pay their respects. The church was filled wall to wall with people from childhood, high school, college, and the family speaking. The words of my daughter haunt me the most....."He may have been my cousin; but he was more like my brother." (My heart aches for her loss too.)
On the other hand, there were texts, emails, and phone calls coming from all over the country to our family. Cards arrived in the mail from family and friends around the country. One person sent a card renumerating their loss 3 years before and shared in understanding our loss. Many folks said they couldn't get through the phone lines for days. I remember my father and I tag teaming answering the calls. The door had a steady flow of community friends showing up with platters of food, the church leadership arrived and offered their church for a day of viewing, and the volunteer fire department offered to provide food and refreshments after the burial. We were inundated with amazing blessings amidst the initial hours of our loss and grief. These amazing considerations from everyone have kept us "busy" for the last two weeks and have provided relief that cannot be compared.
Our gratitude is deep and our thankfulness for every thought, prayer, and action is far beyond words. Our family has been touched from far and wide. There simply are not enough words, time, or ways to thank everyone at once. As the quiet will begin to settle in over the next few weeks and our family actually has time to "grieve" in that silence....and allow our tears to truly flow...I know without a doubt that the countless reminders, spiritually uplifting comments, and steadfast friendships that just "understand"....will help to keep us strong.