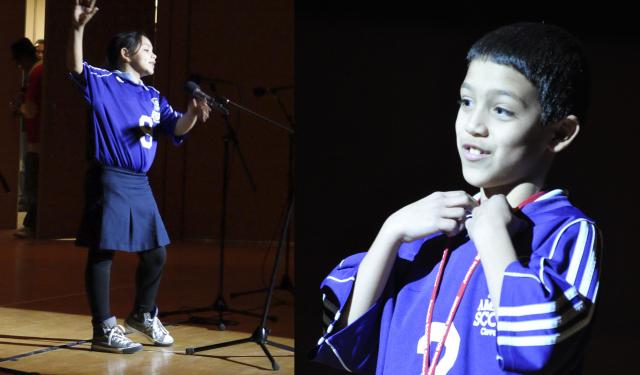 Two elementary students from Buhrer Dual Language K-8 School on Cleveland's near west side will travel to New York City to perform their original poems at the historic Apollo Theater for the sixth annual National Poetry SLAM on Monday, April 16. Fifth grader Tamia B., age 11, and fourth grader Sebastian M., age 10, will represent America SCORES Cleveland alongside 28 youth from 15 cities across the country.
Tamia and Sebastian were chosen to represent America SCORES Cleveland last November at the after-school program's annual Poetry SLAM. Judges selected Tamia and Sebastian from 18 girls and boys who also recited their original poems before a crowd of 500 people at Cleveland State University's Waetjen Auditorium. Over 280 third — fifth graders from nine Cleveland schools performed group poems as well. Buhrer Dual Language boys and girls teams also won the Gold Mic award for their group performances.
Tamia said she likes her poem about a visit to the park titled "Listen To Me" because it reminds the audience to stop, listen and pay attention to their surroundings. The fifth grader is excited to visit New York City for the first time but fears her stage fright will make it hard to perform. "I know there's going to be lots of people and reporters!" said Tamia. "But once I start to get used to it, I know I'll be looking down the long rows of guests."
Sebastian said that his poem titled "Tree Talk" describes him and he is excited to express his feelings in front of everybody. This trip to the National Poetry SLAM will be his second time visiting New York City. "I felt all excited and pumped up when I found out I was going to the National Poetry SLAM," he said. "I thought others might have won, but I didn't realize it was me. My parents were crying tears of joy and I couldn't believe myself."
"Our students love America SCORES. Everyone wants to be in it – the whole school!" said Carmen Nunez, the students' poetry coach at Buhrer Dual Language School and chaperone for the weekend. "Tamia and Sebastian are very good students. I have known them since kindergarten and they have always been respectful and interested in learning. They were very enthusiastic to write their poems for the Poetry SLAM in November. I just had a feeling that this year was Buhrer's year."
Both students knew little of the Apollo Theater's history before being selected as Cleveland representatives to the National Poetry SLAM and seemed thrilled after learning of the music legends who started their career at the Apollo. "Wow," said Sebastian, "I feel like I am going to be a part of history!"
Over 300 supporters from across the country are expected to attend. America SCORES presents the National Poetry SLAM in honor of National Poetry Month. The Guest of Honor will be Chris Heck, President of Business Operations for the New York Red Bulls (MLS), and National Soccer Hall of Famer John Harkes will host the evening's events.
Watch Tamia and Sebastian perform their poems on YouTube: http://youtu.be/Z_Ik6UmLQZc [2]
America SCORES is the premier youth development organization offering urban students an outcome-based, innovative and well integrated program using soccer, poetry and service learning. America SCORES inspires urban youth to lead healthy lives, be engaged students and have the confidence and character to make a difference in the world. America SCORES programming is offered nationwide in 15 cities through 13 affiliates. America SCORES Cleveland serves more than 400 students, ages 8-15, in 10 Cleveland Metropolitan Schools.