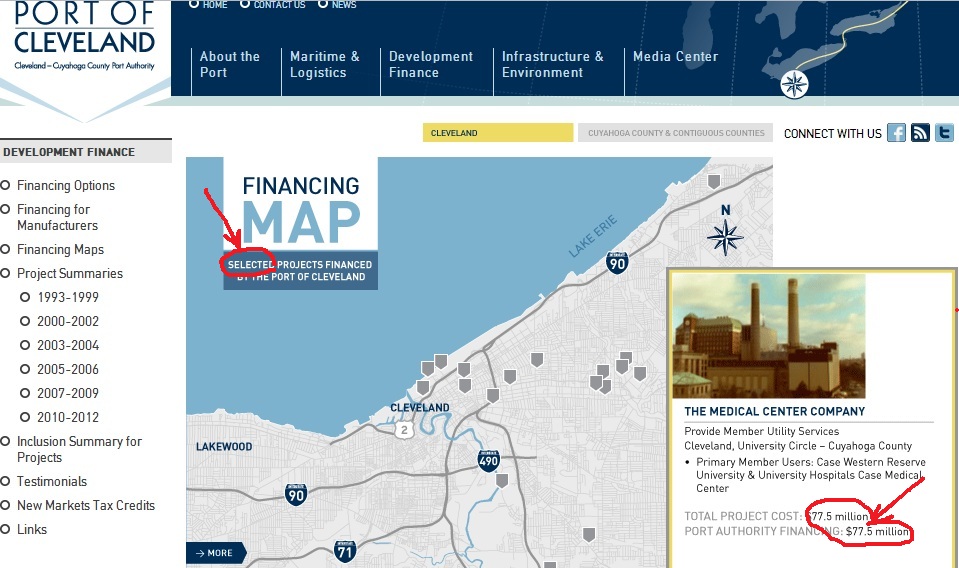 If you try to find certain Cleveland Cuyahoga County Port Authority bonded projects on the Port Authority's web site, they can't be found.
The Port Authority is the master of mis-representation - actually a master of out right fraud.
The Port is really nothing about "JOBS RIVER LAKE FUTURE" as their tax levy PR signs tout. The Port Authority is about millions of dollars of bonding for the Port's biz buddies. Their biz buddies get the money, and the county ratepayers take the buck-stops-here responsibility for backing up the debt.
You don't see anything on the Port web site [1] about the 5.7 million they provided to now defunct Myers University [2]. Ferchill was involved in that scam. And the Ratners. And the Millers.
You don't see anything on the Port web site about the empty 40.5 million University Square Parking garage [3]which Cuyahoga County ratepayers own.
But - you will find that the Port Authority provided 77.5 million dollars to the Medical Center Company to "upgrade" the polluting coal fired boiler in University Circle.
Which highlights precisely the reason the Port Authority needs to be dissolved: Because the Port Authority basically IS the local business community, they have a myopic - if not corrupt - perspective on every project they bond.
If there were no Port Authority - would the Medical Center Company - relying only on the commercial loan marketplace - have had to make a more progressive decision and close their obsolete polluting heating/cooling plant?
By providing a cozy biz-buddy financing system for "local" projects, and thus allowing NEO to avoid the national commercial loan marketplace, the Port Authority is holding back NEO.
Inbred financing will produce less than healthy results.
Vote No on Tax increase ISSUE 108
ANd by the way......JOBS? Huh? Importing cheap steel rod and plate from Eastern Europe creates jobs in Cleveland?