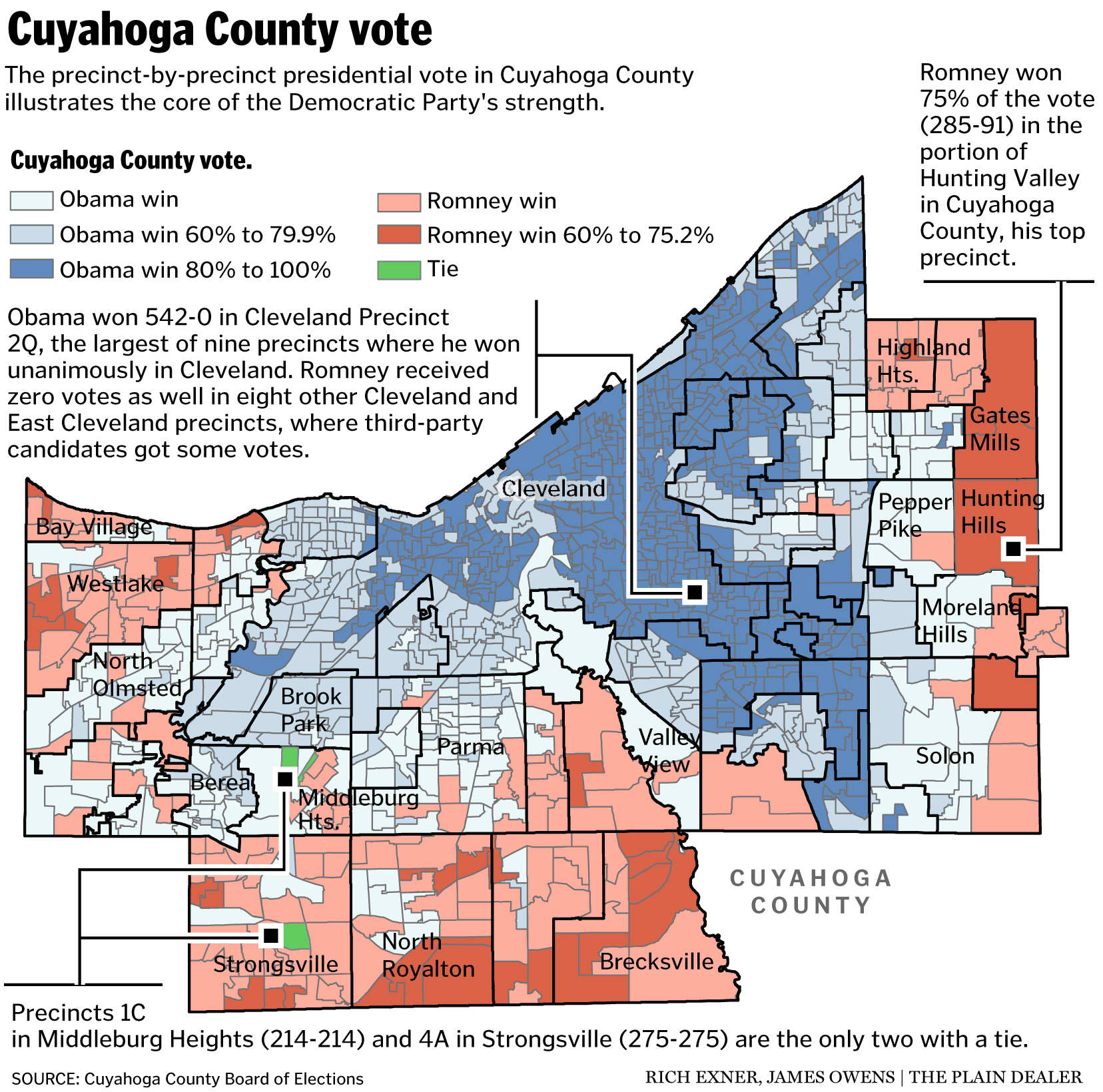 Who are the wisest voters? Who saw through to the best representative for America? Who was not taken in by Karl Rove?
Who got fired up and pro-actively indignant by Clear Channel's "private family foundation" Voter Fraud threat [1]?
Who got out and voted?
Who KICKED OHIO's ASS?
What do you see in this map image? I see hope - people who aren't deceived by corporate brain washing.
"So put altogether, how important was Cleveland and the rest of Cuyahoga County in the 2012 election?
The unofficial tally shows that Obama won Cuyahoga County by 236,478 votes.
In Ohio's other 87 counties combined, Romney won by 129,219 votes.
In other words, without Cuyahoga County, Romney was the winner in Ohio."
Read the full report here at the Plain Dealer [2]
Advance Publications - who's going to pay these data analyzers when you lay them off? Joe Roman?
Links:
[1] http://www.google.com/imgres?hl=en&newwindow=1&safe=off&sa=X&tbo=d&biw=1302&bih=707&tbm=isch&tbnid=qZuQKxxMIo8GcM:&imgrefurl=http://realneo.us/content/who-determined-location-clear-channel-voter-fraud-billboard-clevelands-inner-city&docid=gco6-MmBTP4_TM&imgurl=http://realneo.us/system/files/voter-fraud-private-foundation-funded-signP1600706.jpg&w=700&h=502&ei=Y_2eUNyYCOTWyQHdk4DwCg&zoom=1&iact=hc&vpx=444&vpy=305&dur=6570&hovh=190&hovw=265&tx=172&ty=103&sig=100844519598479015343&page=1&tbnh=143&tbnw=200&start=0&ndsp=24&ved=1t:429,r:8,s:0,i:103
[2] http://www.cleveland.com/datacentral/index.ssf/2012/11/cuyahoga_county_precinct_map_s.html#incart_river_default