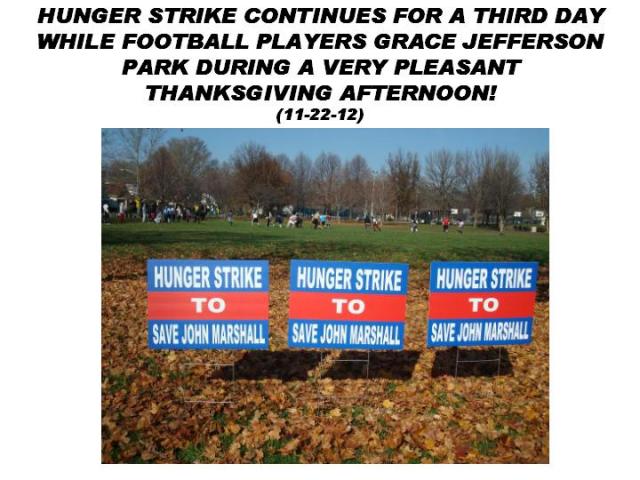 DAY 3 (11-22-12) OF HUNGER STRIKE TO SAVE HISTORIC 80-YEAR OLD JOHN MARSHALL HIGH SCHOOL IN CLEVELAND, OHIO!
TODAY (THANKSGIVING DAY) WAS THE THIRD DAY OF THE HUNGER STRIKE!
PHOTOGRAPH SHOWS FOOTBALL PLAYERS IN JEFFERSON PARK DURING A VERY PLEASANT THURSDAY AFTERNOON – OBLIVIOUS OF THE SIGNS!
JEFERSON PARK IS LOCATED ON THE WEST SIDE OF CLEVELAND BETWEEN 132ND AND 133RD STREETS AND BETWEEN LORAIN & COOLEY AVENUES.
A HUNGER STRIKE IS A CRY FOR JUSTICE WHEN DUE PROCESS IS DENIED TO CITIZENS WHO HAVE NEITHER POWER NOR WEALTH!
HUNGER STRIKE TO SAVE JOHN MARSHALL HIGH SCHOOL STARTED ON NOVEMBER 20, 2012 AT 12:01 A.M. AND WILL CONTINUE INDEFINITELY UNLESS THE DEMAND IS MET!
THE DEMAND IS THAT GOVERNOR KASICH OF OHIO ORDER THE CLEVELAND METROPOLITAN SCHOOL DISTRICT TO CEASE & DESIST FROM DEMOLISHING HISTORIC 80-YEAR OLD JOHN MARSHALL HIGH SCHOOL BECAUSE OF GROSS IRREGULARITIES COMMITTED: COLLUSIVE INACTION, VOTE RIGGING, & DENIAL OF DUE PROCESS!
THREE CERTIFIED LETTERS (DATED OCTOBER 8, 2012; NOVEMBER 8, 2012 & NOVEMEBER 20, 2012) WERE SENT TO GOVERNOR KASICH!
SO FAR GOVERNOR KASICH HAS NOT RESPONDED TO ANY OF THE THREE CERTIFIED LETTERS!
MAYOR JACKSON & OTHERS
(Councilman and City Council President Martin J. Sweeney;
CMSD CEO Eric S. Gordon;
Chair of CMSD Board of Education Denise W. Link;
Cleveland Landmarks Commission Chair Jennifer Coleman;
Manager of Architecture Robert Vilkas;
Councilman Anthony Brancatelli; and
Councilwoman Phyllis E. Cleveland)
NEVER RESPONDED, DESPITE MULTIPLE REMINDERS,
BY NOVEMBER 19, 2012 TO QUESTIONS (ON THE $50 MILLION JOHN MARSHALL HIGH SCHOOL CONSTRUCTION PROJECT) LISTED IN THE NOVEMBER 8, 2012 DOCUMENT (OVER 120 PAGES) ALL IN THE CONTEXT OF MAYOR JACKSON'S STATEMENT: I HAVE "NEVER LIED TO YOU"
AND THE PLAIN DEALER'S CALL FOR HONESTY, TRUSTWORTHINESS, ACCOUNTABILITY, CLARITY, AND TRANSPARENCY IN PUBLIC OFFICIALS!
BECAUSE OF THE ABSENCE OF RESPONSE, MAYOR JACKSON HAS DEMONSTRATED THAT HIS STATEMENT: I HAVE "NEVER LIED TO YOU" HAS NO VERACITY.
AS POLITICIANS ARE GENERALLY NOT KNOWN FOR TRUTHFULLNESS – MAYOR JACKSON'S STATEMENT: I HAVE "NEVER LIED TO YOU" – IS ANOTHER LIE COMING FROM A POLITICIAN.
PERSONAL OBSERVATIONS:
I HAVE LOST 7 POUNDS SO FAR. I DRINK LOTS OF WATER. I AM TAKING VITAMIN PILLS. I SLEEP A LOT. WHILE I FEEL WEAK – I AM ABLE TO DO CHORES AROUND THE HOUSE AND TAKE CARE OF OUR PETS. I WORK SLOWLY – SO AS NOT TO WASTE ENERGY. I SPEND AS MUCH OF MY WAKING TIME POSTING ON FACEBOOK (SAVE JOHN MARSHALL HIGH SCHOOL GROUP) AND MY BLOG AT REALNEO. I CONTINUE TO BE IN HIGH SPIRITS.
PRIOR TO START OF THE HUNGER STRIKE ON 11-20-12, I HAD FASTED – 12 TO 18 HOURS EVERY DAY SINCE MAY 1, 2012. SO FAR – I HAVE NOT EXPERIENCED ANY HUNGER PANGS.
SO FAR I HAVE GIVEN ONE TELEPHONE INTERVIEW TO INDIA ABROAD – A WEEKLY NEWSPAPER CATERING TO INDIAN-AMERICANS. WHILE I AM A U.S. CITIZEN, I AM ORIGINALLY FROM CHANDIGARH (A MODERN CITY DESIGNED BY LE CORBUSIER -- THE FRENCH ARCHITECT AND TOWN PLANNER) IN INDIA.
HUNGER STRIKES ARE VERY POPULAR IN INDIA AS A TOOL TO SEEK REDRESS FROM INJUSTICE USING NON-VIOLENT MEANS!
ADDITIONAL INFORMATION:
PLEASE SEE PREVIOUS POSTS FOR ADDITIONAL DETAILS ON THE HUNGER STRIKE!
Follow the SAVE JOHN MARSHALL HIGH SCHOOL group on Facebook: https://www.facebook.com/groups/160386844035662/ [2]
Also, see the following three YouTube clips:
1. Save John Marshall High School, Cleveland, Ohio
http://youtu.be/S6Shgwi5cuU [3]
2. Save John Marshall High School Pt. 2: Demonstration http://www.youtube.com/watch?v=jdTaCQrwoF4 [4]
3. Save John Marshall High School Part 3: Call for a Hunger Strike
http://youtu.be/nyoL5sFBjeA [5]