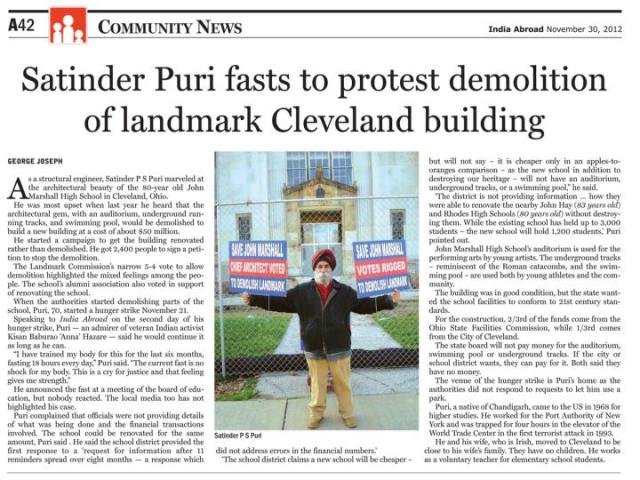 INDIA ABROAD – A WEEKLY NEWSPAPER CATERING TO INDIAN–AMERICANS – IS THE FIRST NEWSPAPER TO WRITE ANOUT THE HUNGER STRIKE BY A 70-YEAR OLD SIKH-AMERICAN TO SAVE HISTORIC 80-YEAR OLD JOHN MARSHALL HIGH SCHOOL IN CLEVELAND, OHIO!
THE PLAIN DEALER WHICH HAS BEEN IN BED WITH CITY HALL ON THE SAVE JOHN MARSHALL PROJECT – HAS SHOWN NO INTEREST IN COVERING THE HUNGER STRIKE
PLAIN DEALER REPORTER (PATRICK O'DONNELL) WHO ATTENDED THE 11-20-12 BOE (BOARD OF EDUCATION) MEETING DID NOT REPORT ON THE COMMENTS I MADE IN THE PUBLIC SESSION REGARDING START OF THE HUNGER STRIKE – ON NOVEMBER 20, 2012 AT 12:01 A.M -- AND THAT THE HUNGER STRIKE WILL CONTINUE INDEFINITELY UNLESS THE DEMAND IS MET!
THE DEMAND IS THAT GOVERNOR KASICH OF OHIO ORDER THE CLEVELAND METROPOLITAN SCHOOL DISTRICT TO CEASE & DESIST FROM DEMOLISHING HISTORIC 80-YEAR OLD JOHN MARSHALL HIGH SCHOOL BECAUSE OF GROSS IRREGULARITIES COMMITTED: COLLUSIVE INACTION, VOTE RIGGING, & DENIAL OF DUE PROCESS!
HERE IS THE LINK TO THE ARTICLE ON PAGE A42 OF THE ONLINE EDITION OF INDIA ABROAD DATED NOVEMBER 30, 2012:
THE ARTICLE APPEARS ON PAGE A42. PLEASE SCROLL FROM THE LEFT SIDE OF THE SCREEN – TILL YOU COME TO PAGE A42 WHICH IS NEAR THE END – THE LAST PAGE IS A48.
CLICK ON THE PAGE – AND ZOOM AS REQUIRED TO READ THE ARTICLE.
http://www.google.com/url?sa=t&rct=j&q=&esrc=s&source=web&cd=7&cad=rja&v... [2]
Follow the SAVE JOHN MARSHALL HIGH SCHOOL group on Facebook: https://www.facebook.com/groups/160386844035662/ [3]
Also, see the following three YouTube clips:
1. Save John Marshall High School, Cleveland, Ohio
http://youtu.be/S6Shgwi5cuU [4]
2. Save John Marshall High School Pt. 2: Demonstration http://www.youtube.com/watch?v=jdTaCQrwoF4 [5]
3. Save John Marshall High School Part 3: Call for a Hunger Strike
http://youtu.be/nyoL5sFBjeA [6]