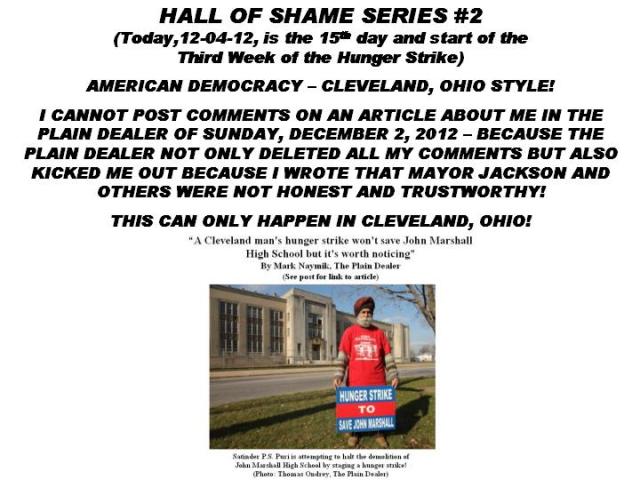 TODAY (12-04-12) IS THE 15TH DAY AND START OF THE 3RD WEEEK OF THE HUNGER STRIKE BY A 70-YEAR OLD SIKH-AMERICAN FIGHTING TO SAVE HISTORIC 80-YEAR OLD JOHN MARSHALL HIGH SCHOOL IN CLEVELAND, OHIO AND HE CANNOT POST COMMENTS ON AN ARTICLE ABOUT HIM IN THE PLAIN DEALER – OHIO'S LARGEST NEWSPAPER -- OF SUNDAY, DECEMBER 2, 2012 – BECAUSE THE PLAIN DEALER NOT ONLY DELETED ALL HIS PREVIOUS COMMENTS BUT ALSO KICKED HIM OUT BECAUSE HE WROTE THAT MAYOR JACKSON AND OTHERS WERE NOT HONEST AND TRUSTWORTHY!
AMERICAN DEMOCRACY – CLEVELAND, OHIO STYLE!
THIS CAN ONLY HAPPEN IN CLEVELAND, OHIO!
HERE IS A LINK TO THE ARTICLE AS POSTED ON CLEVELAND.COM – THE PLAIN DEALER'S WEBSITE:
http://www.cleveland.com/naymik/index.ssf/2012/12/a_cleveland_mans_hunge... [2]
HALL OF SHAME SERIES #1
On September 4, 2012, Cleveland.Com – the PD's website not only deleted all my comments that demonstrated that Mayor Jackson, Councilman Sweeney, and others were not honest and trustworthy – but also kicked me out – I can longer post on their site.
Terrance C. Z. Egger is the President and Publisher of The Plain Dealer.
Mr. Egger's newspaper talks about honesty, trustworthiness, accountability, clarity, and transparency in public officials!
So far, Mr. Egger has not responded to two e-mails and two certified letters dealing with the honesty of his reporters in reporting the gross injustice meted out to over 2,400 petitioners by City Hall in the SAVE JOHN MARSHALL HIGH SCHOOL CAMPAIGN, and an explanation about the deleted comments and why I was kicked out of Cleveland.Com.
PREVIOUS POST ON REALNEO ON HALL OF SHAME SERIES:
ZERO COVERAGE BY CLEVELAND'S PLAIN DEALER TO 70-YEAR OLD MAN'S FIGHT IN 7th DAY OF HUNGER STRIKE TO SAVE JOHN MARSHALL SCHOOL!
FACEBOOK & YOUTUBE:
Follow the SAVE JOHN MARSHALL HIGH SCHOOL group on Facebook: https://www.facebook.com/groups/160386844035662/ [3]
Also, see the following three YouTube clips:
1. Save John Marshall High School, Cleveland, Ohio
http://youtu.be/S6Shgwi5cuU [4]
2. Save John Marshall High School Pt. 2: Demonstration http://www.youtube.com/watch?v=jdTaCQrwoF4 [5]
3. Save John Marshall High School Part 3: Call for a Hunger Strike
http://youtu.be/nyoL5sFBjeA [6]