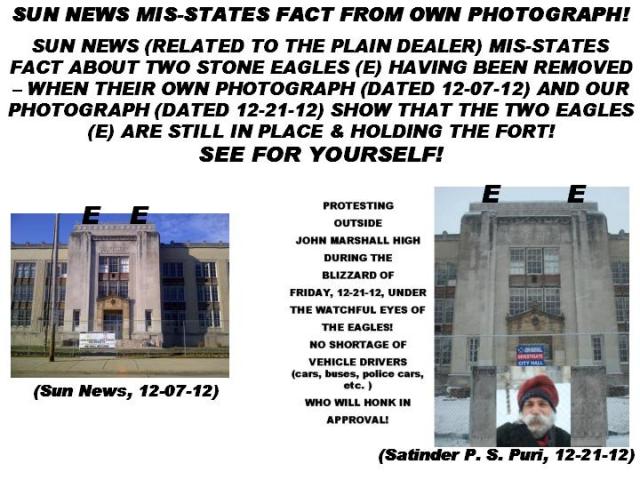 ACCORDING TO SUN NEWS ARTICLE (SUN NEWS IS RELATED TO THE CLEVELAND PLAIN DEALER – BOTH ARE OWNED BY ADVANCE PUBLICATIONS) OF DECEMBER 7, 2012, THE STONE EAGLES ON THE FAÇADE OF THE HISTORIC 80-YEAR OLD JOHN MARSHALL HIGH SCHOOL -- WHICH AT PRESENT IS BEING DESTROYED BY CLEVELAND'S CORRUPT POLITICIANS – MAYOR JACKSON AND COUNCILMAN SWEENEY – WITH THE HELP OF AN EQUALLY CORRUPT MEDIA LED BY THE PLAIN DEALER AND ALL THE LOCAL TV STATIONS – 3(NBC), 5(ABC), 8(FOX), AND 19(CBS) – HAVE ALREADY BEEN REMOVED. HOWEVER TWO PHOTOGRAPHS – ONE FROM THE SUN NEWS ARTICLE AND THE SECOND POSTED ON FACEBOOK – SHOW THE STONE EAGLES ARE STILL HOLDING THE FORT!
According to the article: "Demolition to start Dec. 17 on John Marshall High in Cleveland" by Ken Prendergast, Sun News, published in Cleveland.Com on December 7, 2012 – here is the link:
http://www.google.com/url?sa=t&rct=j&q=&esrc=s&source=web&cd=1&ved=0CDgQ... [2]
"Fixtures salvaged thus far from the old high school are cornices, medallions, sandstone arch, limestone eagles, front steps, railings — and more are being set aside for use in the new building or for community art, he said."
Please see the two photographs in the slide showing the two eagles still in place –and have not yet been salvaged.
The photograph on the left is from the Sun article – and clearly shows the two stone eagles – identified by the letter "E".
The photograph on the right was posted on Facebook and taken on 12-21-12 – during the blizzard – and again the stone eagles -- – identified by the letter "E". – can be seen clearly.
REALNEO:
PLEASE SEE PREVIOUS POSTS ALL RELATED TO THE SAVE JOHN MARSHALL HIGH SCHOOL CAMPAIGN!
FACEBOOK & YOUTUBE:
Follow the SAVE JOHN MARSHALL HIGH SCHOOL group on Facebook: https://www.facebook.com/groups/160386844035662/ [3]

Also, see the following three YouTube clips:

1. Save John Marshall High School, Cleveland, Ohio http://youtu.be/S6Shgwi5cuU [4]

2. Save John Marshall High School Pt. 2: Demonstration http://www.youtube.com/watch?v=jdTaCQrwoF4 [5]

3. Save John Marshall High School Part 3: Call for a Hunger Strike http://youtu.be/nyoL5sFBjeA [6]