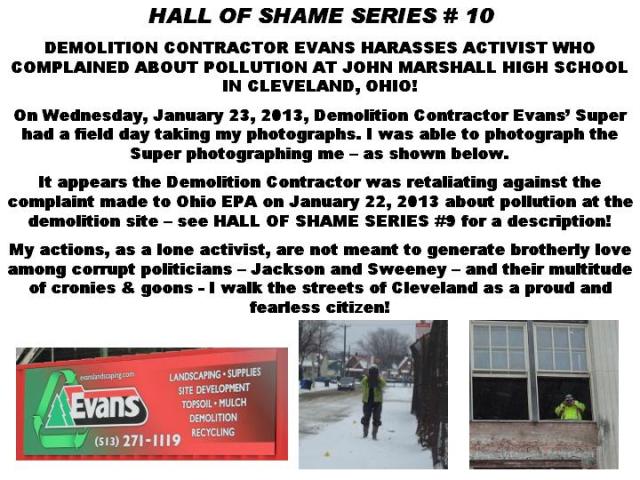 DEMOLITION CONTRACTOR EVANS HARASSES ACTIVIST WHO COMPLAINED ABOUT POLLUTION AT JOHN MARSHALL HIGH SCHOOL IN CLEVELAND, OHIO!
HALL OF SHAME SERIES #10!
On Wednesday, January 23, 2013, Demolition Contractor Evans' Super had a field day taking my photographs. I was able to photograph the Super photographing me – as shown in the slide.
It appears the Demolition Contractor was retaliating against the complaint made to Ohio EPA on January 22, 2013 about pollution at the demolition site – see HALL OF SHAME SERIES #9 for a description!
My actions, as a lone activist, are not meant to generate brotherly love among corrupt politicians – Jackson and Sweeney – and their multitude of cronies & goons - I walk the streets of Cleveland as a proud and fearless citizen!
PRIOR HARASSMENT:
*Our yard signs have been stolen in sweeps by goons. I am a senior citizen and have paid for the signs out of my own savings. The initial yard signs carried a positive message:
SAVE JOHN MARSHALL
RENOVATE
SAY NO TO DEMOLITION
PRESERVE OUR HERITAGE
Over 600 petitioners
have written to Mayor Jackson
requesting a meeting to promote his vision for
"building the Cleveland of tomorrow" by preserving
our "great past" and SAVE JOHN MARSHALL.
(Note: We now have over 2,400 petitioners)
Mayor Jackson never met with the petitioners despite mutiple reminders sent via e-mail and certified mail.
*I have received harassing telephone calls.
*I have been taunted when I am out demonstrating.
*On Wednesday, February 22, 2012 – the 8th Demonstration took place in front of City Hall between 4:00 pm and 5:45 pm on the sidewalk at the entrance/exit to the Willard Parking Garage – on the west end of City Hall.
During the demonstration, I was questioned by two police officers who approached me in their car. The officers questioned me on the basis of a complaint they had received. The two police officers were polite and courteous in their questioning.
Mayor Jackson was requested to please conduct an investigation and provide the following information:
1. Name or names of persons who made the complaint.
2. Their affiliation with City Hall.
3. Telephone number from which call was placed.
4. Nature of complaint – what was the complaint about?
5. Copy of police report.
Mayor Jackson never responded despite mulpiple reminders sent via e-mail and a certified letter. This coming from a mayor who has stated: I have "never lied to you".
ADDITIONAL INFORMATION:
See previous post titled: HALL OF SHAME SERIES #9 (two parts).