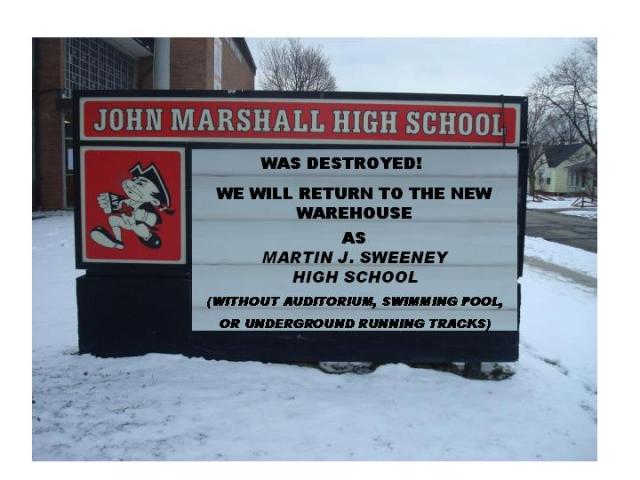 MARTIN J. SWEENEY HIGH SCHOOL – SUGGESTED NAME FOR THE NEW WAREHOUSE REPLACING THE DESTROYED HISTORIC 81-YEAR OLD JOHN MARSHALL HIGH SCHOOL IS FAST BECOMING PART OF CLEVELAND'S LEXICON!
VER. 1 – SEE SLIDE!
THE DESIGN FOR THE NEW SCHOOL WHICH LOOKS LIKE A JAZZED UP WAREHOUSE WILL HOUSE SOME OF THE ARCHITECTURAL REMAINS FROM THE 81-YEAR OLD ARCHITECTURAL GEM – LIKE ARTIFACTS FROM A LONG-LOST CIVILIZATION.
THE NEW WAREHOUSE WILL BE A TESTAMENT TO THE ILLEGITIMATE SENSELESS DESTRUCTION OF THE HISTORIC LANDMARK BY CLEVELAND'S CORRUPT POLITICIANS – MAYOR JACKSON, COUNCILMAN SWEENEY, AND THEIR MULTITUDE OF CRONIES, A CORRUPT AND VISIONLESS SCHOOL DISTRICT, AND A CORRUPT MEDIA!
CLEVELAND'S SYSTEM IS SO CORRUPT -- EVEN A 21-DAY HUNGER STRIKE TO SAVE HISTORIC JOHN MARSHALL -- BY A 70-YEAR OLD SIKH AMERICAN -- A CRY FOR JUSTICE AGAINST COLLUSIVE INACTION & VOTE RIGGING -- WAS NOT ENOUGH TO SHAKE THE FOUNDATIONS OF THE ENTRENCHED SYSTEM -- WHICH IS SO FILTHY -- IT IS LIKE A SEWER THAT FLOWS FROM CITY HALL ALL THE WAY DOWN TO THE BELLAIRE PURITAS DEVELOPMENT CORPORATION -- AND ENGULFS EVERY ONE OF JACKSON & SWEENEY'S CRONIES & GOONS, AIDES & ABBETORS -- WHO WALLOW IN THE MUCK!
MAY THE NAMES OF ALL THOSE WHO MADE THE SENSELESS DESTRUCTION POSSIBLE – MAY THEIR NAMES FOREVER LIVE IN INFAMY!.
THE NEW HIGH SCHOOL, SCHEDULED TO OPEN IN AUGUST 2015, WILL NOT HAVE AN AUDITORIUM, SWIMMING POOL, OR UNDERGROUND RUNNING TRACKS
ACCORDING TO COUNCILMAN SWEENEY, ALSO CITY COUNCIL PRESIDENT, THE NEW SCHOOL (WITHOUT AN AUDITORIUM, SWIMMING POOL, OR UNDERGROUND RUNNING TRACKS) WILL BE A-STATE-OF-THE-ART HIGH SCHOOL!
THE COUNCILMAN BELIEVES IF YOU TAKE A CAFETERIA – AND YOU PUT A PLATFORM IN IT – IT BECOMES A STATE-OF-THE- ART 21ST CENTURY AUDITORIUM -- FOR STAGING WORLD CLASS PERFORMANCES!
ANNOUNCEMENT OF THE SUGGESTED NAME WAS FIRST MADE ON THE SAVE JOHN MARSHALL HIGH SCHOOL GROUP ON FACEBOOK, THEN AT THE COMMUNITY MEETING OF FEB. 21, 2013 – WHERE THE COUNCILMAN WAS THE GUEST SPEAKER, AND LAST AT THE FEB. 26, 2013 BOARD OF EDUCATION MEETING!