GUS FRANGOS, President of the Cuyahoga County Land Bank, and his shell LLC properties located at 7009- 7015 Quinn Court and 907, 913, and 917 East 70th Street in Cleveland, Ohio.
Tons of broken glass - on a SIDEWALK.
Wonder how much rent this dump collected?
Gus Frangos signed for the mortgages relative to these dumps and was personally named on a recent foreclosure.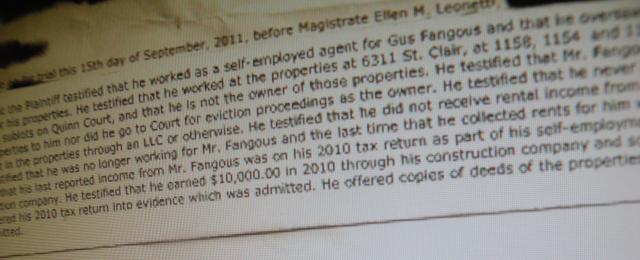 Gus Frangos hired agent, Ladon Ruffin, testified under oath in September 2011 that Gus Frangos hired him to collect rent.
Quinn Court Properties LLC owns all of these dumps and several others not visible in this photo.
Slum Lord. A tenant was evicted from this dump in late 2012.
GUS FRANGOS is in charge of protecting Cuyahoga County's property and his property looks like this?
Unsecured property - doors and windows wide open.
White van - license plate # EVC9343
While I was at the property today, I was followed in my car, watched and approached by two men in the above van.
The two men - black, heavy set , 50ish, well dressed male and young white male passenger- parked in front of the property for several minutes and watched me as I sat in my car.
Prior to getting out of my car, the driver rolled down his window and asked me if I was lost. I believe the driver was Ladon Ruffin, Gus Frangos hired agent.
I was at the property just over one week ago and took these photos. http://realneo.us/content/hypocrite-con-artist-gus-frangos-president-cuyahoga-county-land-bank-and-his-shell-llc-prope [27]
I decided to go back to the property today to get a better look and see if any of the properties were boarded up and secured after my posting last week. The numerous properties have not been secured and are dangerous- wide open.
The numerous properties have been in control of Gus Frangos since 2001.
Cuyahoga County Community Development was named as a party to two foreclosures that were filed against this property. I believe Gus Frangos received community development money for this property.
It is unbelievable that the city housing department overlooked these properties for years. No cases for housing code violations were ever filed- although other property owners with petty violations are often targeted.
It is also unbelievable that the City of Cleveland would not label these properties as 'nuisances' and board up the property at the owner's expense - as is the case for non-connected property owners.
Other property owners in Cleveland have been targeted, fined and had their properties demolished for violations, and their property was no where near the condition of Gus Frangos' shell LLC property.
The shell LLCs are or were RENTAL PROPERTIES - ignored for years - while other less connected property owners actually lost their personally occupied homes. Many were left homeless.
Instead of Gus Frangos being held to a much higher standard considering his position, he has been give a free ride by the City of Cleveland. And a free ride by Cuyahoga County on property taxes for numerous shell LLC properties.
Gus Frangos is PRESIDENT of the CUYAHOGA COUNTY LAND BANK and should be ashamed of himself. He needs to be removed from his position immediately.
** My blogs expressing my freedom of speech rights - especially on matters of public concern- are my opinion and not the opinion of my friends, family or employer **
Many thanks to the homeless man (JB) hanging around these properties and his photographs.