Cuyahoga County Hypocrite Con Artist GUS FRANGOS - President of the Cuyahoga County Land Bank
Gus Frangos' shell LLC property is scheduled for FINAL FORECLOSURE AUCTION on April 22, 2013. There were no bidders on April 8, 2013.
If the shell LLC property does not sell on Aprill 22, 2013, the property will default to the plaintiff- Cuyahoga County. Which means this property will end up in the county's land bank and Gus Frangos will again have control of the shell LLC property which was taken by the county for delinquent property taxes.
This will create a very serious conflict of interest- in addition to the numerous conflicts of interest already created by Gus Frangos. MORE info on Gus Frangos' scams here http://realneo.us/blogs/lmiller [1]
Gus Frangos behavior is not only a conflict of interest, but it is a scam and unethical.
It is most unfortunate that the public officials who have the ability to get rid of Gus Frangos choose to look the other way.
The property located at 1158 East 61st Street in Cleveland, Ohio is scheduled for FINAL delinquent property tax foreclosure auction on April 22, 2013.
All of the records below point to Gus Frangos being in control of the shell 1158 East 61 LLC - which owned the property located at 1158 East 61st Street.
The property was owned by Gus Frangos prior to the transfer to the self-created LLC.
The mortgages - which were obtained AFTER the transfer to the LLC - were signed by Gus Frangos. Gus Frangos signed for the mortgage as "Member of 1158 East 61st LLC ".
I believe Gus Frangos is the sole "member' of 1158 East 61st LLC and numerous other LLCs.
Gus Frangos' hired agent - Ladon Ruffin - testified under oath that that property was owned by Gus FRangos and that Frangos hired him to collect rent.
The KING of the Land- saving us from the FORECLOSURE CRISIS - has some foreclosure issues of his own.
The King - who wrote the book on delinquent property tax foreclosures targeting others- has been targeted himself for a delinquent property tax foreclosure sale.
According to public records, the mortgage was never released (repaid) .
Gus Frangos has walked away from his financial obligations to Cuyahoga County. Gus Frangos salary is paid by the collection of delinquent property taxes.
CONFLICT OF INTEREST UNETHICAL VIOLATION OF PUBLIC TRUST MORTGAGE FRAUD? SCAM
Gus Frangos should have read his own legislation on delinquent property taxes: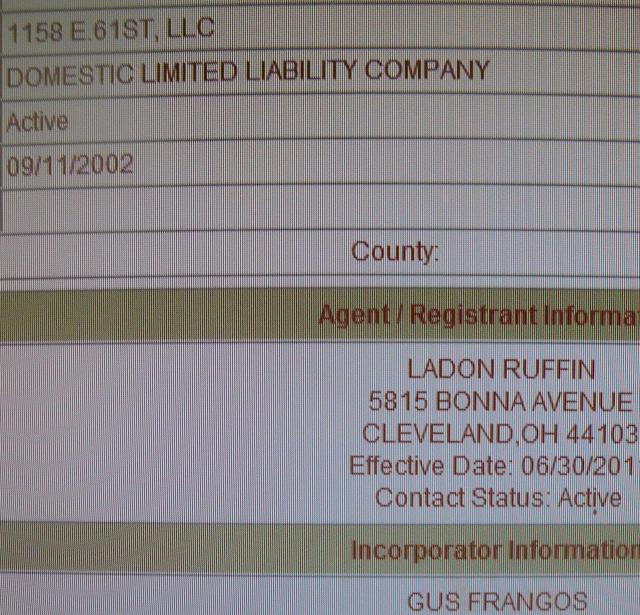 ** My blogs expressing my freedom of speech rights - especially on matters of public concern - are my opinion and not the opinion of my friends, family or employer**