The FBI on Thursday released surveillance video showing two potential suspects in the Boston Marathon bombing and is asking for the public's help in identifying them.
http://www.cbsnews.com/8301-201_162-57580325/fbi-releases-video-of-2-bos... [1]
more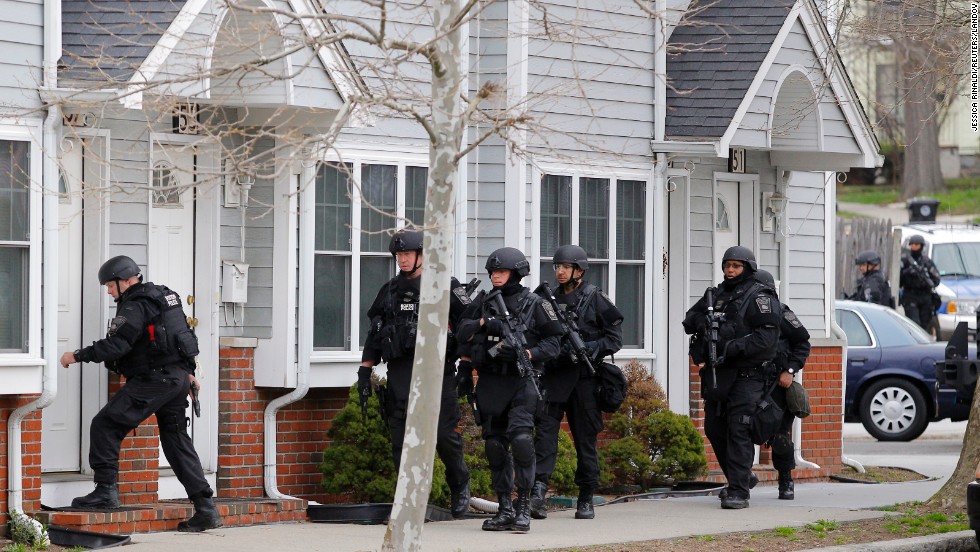 SWAT officers search an apartment for the remaining suspect in the Boston Marathon bombings in Watertown, Massachusetts, on Friday, April 19. A resident reported seeing drops of blood in the apartment building. The two bombing suspects were identified as brothers Dzhokhar A. Tsarnaev, 19, and Tamerlan Tsarnaev, 26, a U.S. national security official said Friday. The official said the older brother died in a shootout with police, and the younger one was being sought in a house-to-house search.
http://www.cnn.com/2013/04/19/us/gallery/boston-area-violence/?hpt=hp_c2 [2]
Share [3]
Links:
[1] http://www.cbsnews.com/8301-201_162-57580325/fbi-releases-video-of-2-boston-bombing-suspects/
[2] http://www.cnn.com/2013/04/19/us/gallery/boston-area-violence/?hpt=hp_c2
[3] http://www.addthis.com/bookmark.php?v=250&username=questministries