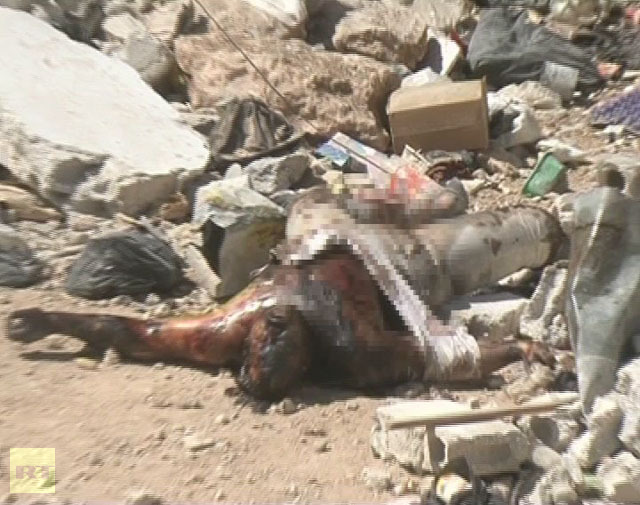 Image from Google Syria images here [1]. Check it out - destruction perhaps a bit worse than Cleveland, Ohio. Even a bit worse than East Cleveland which has clearly been nuked.
So the death toll is over 600 in Dhakar [2]. (the USA gets their clothes from Dhakar)
But that's no prob.
In Syria Israel has pulled out the stops. Maybe even faked a chemical attack to gin it up. [3]
Whoa.
I like it here.
Got sum Bud. 30 pack.
Got the game. (jeez - got a couple of game - now what I didn't quite get was Obama at Ohio State today, talking about being a citizen? [4] WTF? Citizen? Citizen of what? East Cleveland? Cleveland? Berea? cut the #$I%)
Got feelin'
And a brand new 460HP Ford with 18 inch wheels!
Chick's love it when the tires squeel!
Thanks America!
Stocks are over 15,000! Makes me wanna DRIVE my CAR!
Links:
[1] https://www.google.com/search?hl=en&sugexp=eappswebvhl&gs_rn=12&gs_ri=psy-ab&tok=udYVv-7J89Gt-iQYYNWt4g&pq=syrian&cp=5&gs_id=s&xhr=t&q=syria&newwindow=1&bav=on.2,or.r_qf.&bvm=bv.45960087,d.dmQ&biw=910&bih=397&bs=1&um=1&ie=UTF-8&tbm=isch&source=og&sa=N&tab=wi&ei=Z_qGUfWYJpW24APP9IGwDA#imgrc=L75cinKFQHtAyM%3A%3B7OGkjw6J4P2nGM%3Bhttp%253A%252F%252Flatitudenews.wpengine.netdna-cdn.com%252Fwp-content%252Fuploads%252F2012%252F08%252Fsyria.jpg%3Bhttp%253A%252F%252Fwww.latitudenews.com%252Fstory%252Fas-syria-dissolves-into-conflict-barbs-fly%252F%3B3183%3B2346
[2] https://www.google.com/search?q=bangladesh+building+collapse&aq=1&oq=bangledesh+collaps&aqs=chrome.2.57j0l3.10448j0&sourceid=chrome&ie=UTF-8
[3] http://www.darkpolitricks.com/2013/05/bush-official-syria-chemical-weapons-attack-could-be-israeli-false-flag-operation/?utm_source=rss&utm_medium=rss&utm_campaign=bush-official-syria-chemical-weapons-attack-could-be-israeli-false-flag-operation
[4] https://www.google.com/webhp?source=search_app#newwindow=1&hl=en&sclient=psy-ab&q=obama+ohio+state+commencement+speech&oq=obama+ohio&gs_l=hp.1.3.0l2j0i20j0.284.3723.0.5863.10.10.0.0.0.1.608.2874.0j1j7j1j0j1.10.0.eappswebvhl..0.0...1.1.12.psy-ab.unkx5oBjBQc&pbx=1&bav=on.2,or.r_qf.&bvm=bv.45960087,d.dmQ&fp=a3f91beb4226fb3d&biw=910&bih=397
[5] http://li326-157.members.linode.com/system/files/syria_conflict_ic55d73e7e7a0587b12be0fc6d131d730_syria2.jpg