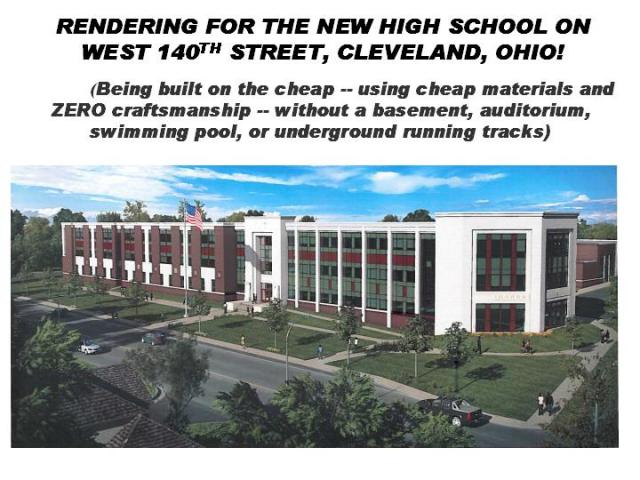 SAVE JOHN MARSHALL HIGH SCHOOL GROUP ON FACEBOOK
Link: https://www.facebook.com/groups/SAVEJOHNMARSHALLHIGHSCHOOL/ [2]
Please use the above link to access the SAVE JOHN MARSHALL HIGH SCHOOL GROUP ON FACEBOOK to read all the posts pertaining to the senseless and illegitimate destruction of the 81-year old high school in Cleveland, Ohio and regular reports on the construction of the new school.
The new high school for the 21st Century – located in Cleveland, Ohio -- a jazzed up warehouse – is being built on the cheap -- using cheap materials and ZERO craftsmanship -- without a basement, auditorium, swimming pool, or underground running tracks.
Historic John Marshall High School –-- an architectural gem -- opened in 1932 -- underwent a senseless and illegitimate destruction in 2012/2013 -- a crime against humanity -- that shall never be forgotten -- brought about by vote rigging & other irregularities -- committed by corrupt politicians (Mayor Frank Jackson & Councilman Martin J. Sweeney) & a visionless & corrupt Cleveland Metropolitan School District -- and their multitude of cronies including professionals in the city departments (Director of City Planning, Chief Architect, and Chair of the Cleveland Landmarks Commission) who should be protecting and preserving our landmarks. Both the Director and the Chief Architect voted to demolish the 81-year old landmark. The Chair facilitated the vote rigging which was engineered by Councilman & City Council President Sweeney -- Cleveland's most powerful and corrupt politician.
May the names of all those who facilitated the senseless destruction forever live in infamy!