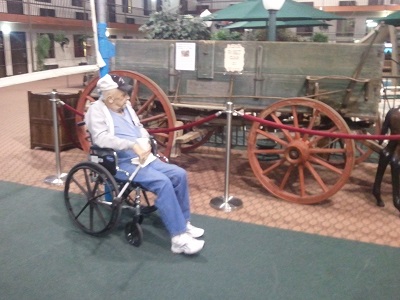 The journey of life can be such an amazing experience....to love and lose or to live and die....it's all so trivial but so seriously worth the effort to endure. What's it all worth at the end of the day? Well; that's all simply a matter of opinion. I know my personal blessings and I know the value which is significant to my existence...this is all that matters to me anymore. I cannot project my expecations upon others to realize the value of time and of things that money cannot buy. I simply must accept that state of mind in the middle. Tis' life!
For now; each moment is a blessing. For now; the battle is completely exhausting....Stage IV Lung Cancer has spread throughout my dad's body. He's fighting valiantly; I believe as hard as he did during his service upholding democracy in foreign lands. He's doing it sober and without narcotics...he's a warrior....but the pain he endures is inescapable. Sometimes he zones out in such degrees of pain that I want to beat up cancer. He fights the aches and pains. His body is physically changing. He's rollercoastering with his weight. We're on a downslide. Ten pounds down this week. Not good...the week after a chemo treatment is devastating to him...and now he cannot even taste food...he explains it as though he's trying to "imagine" what it "used to taste like"....but he knows he's gotta eat to sustain his weight and health.
All I want to do is to "ZONE OUT!" I wish I were a junky today that could get high and go off into lala land to escape my anguish. NOT. I wish I could be an alcoholic and numb the sense of emotional pain I hide. Perhaps a meeting is in order. I wish I could sleep for a couple days and recover from exhausting myself for his needs; but then the little things would build up again. I wish I could find a cure in all of my research and many cancer links that notify me daily of updates relevant to his cancer. Yes; I tend to read them often; long boring information articles about various issues with Lung Cancer. I've read whatever I could from herbal and home remedies to highly technical research. I have worked tirelessly to collaborate infinite little things for sustaining his independence and quality of life. I have put it all on the line because that is my dad....a warrior who forever fought for the world around him...and he deserves no less. I have no qualm stating it as I see it...and to see some people put their heads in the sand and keep living the unforgiven moment...as though we have endless tomorrows makes me feel bad for them...as though I'll have to listen to their regret someday........
I don't know...I am angry with lung cancer. I want to annihilate it. I want to box with it. I want to fix it. I want to cure it. I want to eradicate it from my dad's body. I want to scream at it. I want to make it disappear. I cannot.
In the interim; I want to capture every moment in between. I want to show compassion, consideration, and help to comfort my dad as he works through his status daily. I want to hold his hand and say it's all gonna be okay...I want to be superwoman and make magic happen by addressing his bucket lists that forever exceed my capacity levels to react...So I pray and hope and push hard to cover too many bases daily. Who cares? I do... Why? Because I cannot imagine ever leaving my dad hanging out to dry.....I am so proud of him.
For many years; my dad was the crazy Vietnam Veteran who countless persons didn't know, understand, respect, or appreciate. He was vocal and he fought for Veteran rights and much more. He cared, loved, and changed many things for the better of all. He testified in Washington, DC for Veterans' Rights. He supported more missions than I can shake a stick at like a sacrificial lamb for our nation. The little people will never really appreciate that kind of life he has led. The people who treated him as a nobody---are the nobody's who shall live in pure regret for rejecting their own. All their money could never buy the character and integrity my dad put on the table of his life...drunk or not!
Our country at large is going to hell in a handbasket........I feel blessed to have known the life I have endured. I am intrigued by the Disney World people who've never known the battles of life I have experienced...God made their innocent, naive, spoiled behinds for some obedient, dedicated, and well needed job positions in life... let them thrive in their blind ways. But stop letting them attempt to "judge" and do God's job. My dad will be up there in heaven hugging my mom sooner than later and the world can kiss my ass in between.
For now; I embrace my mother's strength and courage to remain steadfast throughout this life. She came to me as I was driving yesterday...and out of left field; tears streamed down my face... a well needed cry; if you will allow it. Anyhow; at the end of the day...I am exhausted...and tired.....and I will recover and keep on working it out...one day at a time......with the grace, love, and joy of an amazing support network. In the interim; I will enjoy the commercials in between the moments that are bittersweet blessings and continue to fight this battle of life with all my heart, soul and existence..............