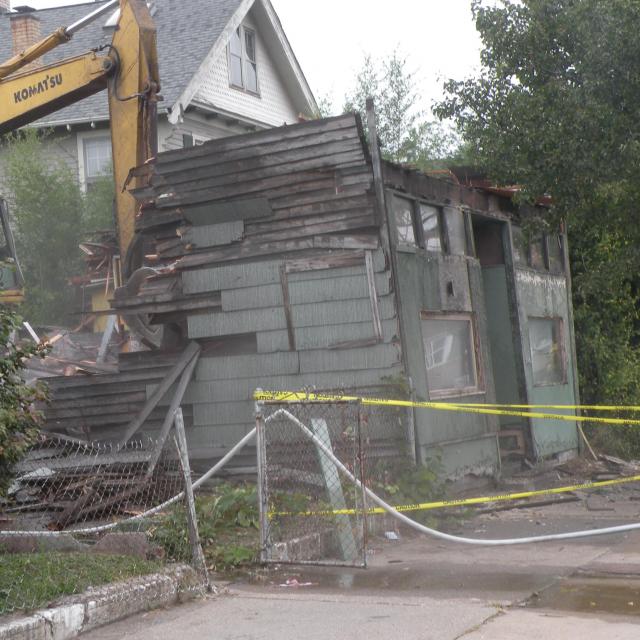 Demolition May Raise Mesothelioma Risk
The above property located at 6808 Lorain Avenue in Cleveland, Ohio was demolished on October 15, 2013. Approximately one week prior to the demolition, two EPA inspectors were at the property collecting samples to test for asbestos. One of the EPA inspectors stated that the floor tile was definetely asbestos, and placed a piece of the tile in a clear bag for further testing prior to the demolition. The other EPA inspector sat in his car for approximately one hour playing around on his cell phone- laughing with the other party on his phone. The EPA inspector who collected the asbestos sample stated that the demolition would take place in approximately one month and would require costly asbestos removal. No asbestos removal was made on this property which was demolished within days of the EPA asbestos inspection.
Why bother to test for asbestos by sending two inspectors to the property, when no asbestos would be removed anyway?
The historic John Marshal school was also demolished minus any asbestos removal, according to Satinder P. S. Puri:
Photo courtesty of Satinder P.S. Puri
It is a known FACT that asbestos dust causes fatal Mesothelioma.
The Office of Inspector General of the U.S. Environmental Protection Agency [2] (EPA), in response to allegations that the Agency has authorized the use of unapproved methods to demolish buildings containing asbestos, has issued a warning reiterating previous findings that "asbestos is a human carcinogen with no safe level of exposure." Inspector General Arthur A. Elkins Jr. adds, "Asbestos exposure can lead to serious diseases such as asbestosis, lung cancer, and mesothelioma [3]."
Mesothelioma and other respiratory diseases result when asbestos is improperly managed. When asbestos fibers and dust become airborne they can put pedestrians and residents occupying areas near a demolition project at high risk of contracting a deadly, asbestos-related illnesses [4]. http://www.mesorfa.info/epa-inspector-general-says-asbestos-at-all-levels-causes-mesothelioma/ [1]
What is particularly disturbing is that asbestos exposure—which is prevalent among demolition crews—causes 90% of the cases of mesothelioma. Also of concern is that symptoms may not appear until decades later—in some instances fifty years. http://clarklawnj.com/mesothelioma-and-demolition-workers/ [5]
What is Mesothelioma:
Mesothelioma Definition
Mesothelioma is an uncommon disease that causes malignant
cancer
cells to form within the lining of the chest, abdomen, or around the heart. Its primary cause is believed to be exposure to asbestos.
Description
Malignant mesothelioma is also known as asbestos cancer or simply "meso." Mesothelioma causes cancerous cells to develop in the body's mesothelium, where they can spread to and damage vital organs and tissue. These malignant cells can also metastasize to other regions of the body. Mesothelioma is very difficult to diagnose and responds poorly to most treatment modalities, accounting for a poor prognosis.
The disease derives its name from the mesothelium, a sac-like membrane that protects most of the body's internal organs. It is divided into two distinct protective layers of cells: the visceral (the layer directly surrounding the organ) and the parietal (a sac around the body cavity). By releasing a lubricating fluid, the mesothelium allows the organs to move more freely within the body cavity; for example, the contraction and expansion of the lungs. The mesothelium is also referred to according to where it is located in the body: pleura (chest), peritoneum (abdomen), and pericardium (heart).
Over two-thirds of all mesothelioma cases begin in the pleura region. Pleural mesothelioma spreads through the chest cavity, occasionally developing in the lungs as well. The disease most commonly causes
pleural effusion
, an excess build-up of fluid inside the chest cavity. This excess fluid increases pressure on the lungs and restricts breathing. In addition, malignant cells can cause the pleural lining to thicken and restrict the breathing space even further.
Peritoneal mesothelioma is the second most common form of the disease, accounting for less than 30% of all cases. Malignant cells form in the peritoneum, affecting the abdomen, bowel, liver, and spleen. Similar to pleural mesothelioma, the disease also causes a build up of excess fluid in the abdominal cavity. Normal bodily functions, such as digestion, can be hindered by the obstruction of organ movement.
Very rare forms of mesothelioma occur in the pericardium, as well as the mesothelium of the male and female reproductive organs. Cystic mesothelioma of the peritoneum, another rare form of the disease, occurs predominantly in women and is more benign in nature.
Malignant mesothelioma takes the form of one of three cell-types: epithelioid (50% to 70% of cases), sarcomatous (7% to 20% of cases), and biphasic/mixed (20% to 35% of cases). Of these cell-types, epithelioid mesothelioma carries the most favorable prognosis, followed by biphasic, and finally sarcomatous (very aggressive).
Mesothelioma remains relatively uncommon in the United States, with approximately 2,500 new cases reported annually. The incidence rates are much higher in Western Europe (over 5,000 cases reported annually). These numbers are expended to climb dramatically over the next 20 years. Older males (median age 60 at diagnosis) are three to five times more likely to develop mesothelioma than women. This is most like do to male predominance in those professions with an increased risk of asbestos exposure.
Mesothelioma is directly related to asbestos dust. The EPA has enforced strict regulations regarding the removal of asbestos prior to demolitions to protect the community from fatal Mesothelioma; However, the strict regulations are not being followed in Cuyahoga County.
The Cuyahoga County Land Bank is now encouraging folks to send letters to the EPA to stop the "Government Overreach" relative to asbestos removal prior to demolitions:
We Need Your Help!
The Cuyahoga Land Bank requests your consideration and support of an important development concerning vacant and abandoned properties in Ohio.
Ohio EPA has recently proposed new demolition guidance for small residential structures that embrace the "residential exemption" found in the federal asbestos National Emission Standards for Hazardous Air Pollutants (NESHAP) for demolition. This guidance provides a reasonable and carefully considered balance between the need to protect the community from unreasonable asbestos exposure versus the more serious and present danger of vacant, vandalized and abandoned houses.
As many of you know, U.S. EPA's current interpretation of the asbestos NESHAP inexplicably no longer recognizes this "residential exemption" despite the fact that it is expressly provided for in the plain language of the federal regulation. As a result of U.S. EPA's overreach in this area, Ohio communities and land banks have spent millions of dollars to comply with regulations that do not impact environmental safety and that rightfully should not apply to scattered site demolitions of nuisance structures. Ohio EPA, on the other hand, has offered a reasonable compromise which we fully support. As Ohio EPA considers the official release of this guidance document, we would like to show statewide support of our Ohio EPA from stakeholders affected by U.S. EPA's current misinterpretation of the asbestos NESHAP. Ohio EPA's proposed guidance can be downloaded
here
. A sample letter of support for the demolition guidance can be found
here
.
So that we may deliver your letters directly to Governor Kasich, Ohio EPA
The Cuyahoga County Land Bank desires to continue their demolition crusade by demolishing everything in sight; however they have no desire to protect the community by following EPA regulations to remove asbestos.
Demolitions have been proven to increase the risk of Mesothelioma.
Demolition May Raise Mesothelioma Risk
Do not take the dangers of asbestos for granted.
That warning comes directly from the Environmental Protection Agency (EPA) which admits to having done exactly that when it experimented with relaxing some of its own regulations for safe asbestos handling. EPA began regulating asbestos use after the material was linked to
mesothelioma
and a range of other health problems in the 1960's. Airborne asbestos fibers can lodge in the lungs, triggering mesothelioma even decades after exposure.
Despite the danger, beginning in 1999, EPA considered alternative methods to "augment" the Asbestos National Emission Standards for Hazardous Air Pollutants, the act that governs asbestos handling during demolition. The alternative methods considered, including the Fort Worth Method and the Alternative Asbestos Control Method, leave some or all of the asbestos-containing material in place and allow demotion equipment to shred it. The material is wetted during demotion in an attempt to limit the release of fibers and lower the risk of mesothelioma.
But, in the recent statement, EPA Inspector General Arthur A. Elkins, Jr. said such methods still have the potential to stir up airborne asbestos and should, therefore, not have been considered. EPA's Office of Research and Development ended the research project in July 2011 but apparently not all contractors have heard the message.
--------------------------------------------------------------------------------------------------------------------------------------------------------------
The land bank is willing to jeopardize the health and safety of the public by continuing their demolition crusade- minus asbestos removal- in order to profit demolition contractor buddies.
Residents near Demolished School Building Can File Asbestos Lawsuit
Though the council chiefs argue that only very low levels of dangerous asbestos fibers were detected, a lawfirm criticizes them. "Numerous individuals are dying in the city due to asbestos hazard. But they are just not aware of it still," the lawfirm said.
"Asbestos material is actually a silent executioner. Inhalation of even extremely low levels of the stuff can cause severe health impacts later," Gordon said. http://mesotheliomasurvivalrate.com/mesothelioma-blog/?p=320 [13]
A few years ago, I lost a friend who was in her 40's. She died from Mesothelmioa which was caused by asbestos dust brought into her childhood home by her father who was a pipefitter.
There have seen several other deaths contributed to the same issue:
Indirect Asbestos Exposure From Washing Husband's Clothes Leads to Woman's Mesothelioma Diagnosis and Death
http://www.asbestos-mesothelioma.com/indirect-asbestos-exposure-washing-clothes-dust-asbestos-mesothelioma-death-wife-family-member/ [14]
Asbestos: The dust of death set to kill 6,000 each year
Mother-of-two who used to welcome home her shipyard worker dad with a hug dies of lung cancer after breathing in his asbestos-ridden clothes
http://www.dailymail.co.uk/news/article-2122347/Mother-died-lung-cancer-caused-breathing-shipyard-worker-father-s-asbestos-ridden-clothes.html [18]
The above are only a FEW examples of deaths caused by asbestos dust. It is common sense that demolitions on older buildings - which all contain asbestos- is a threat to the health of our community.
DETROIT: Dearborn resident sentenced for demolishing warehouse without removing asbestos
DETROIT — A man who authorities said took a shortcut while demolishing a warehouse in Dearborn last year has landed in federal prison.



Khalil Mahmoud Saad, 40, of Dearborn was sentenced to 14 months in federal prison Tuesday by U.S. District Judge Paul Borman for violating the Clean Air Act.



Saad was hired in November 2011 to demolish a vacant commercial warehouse at 10401 Ford Road, just west of Wyoming, and dispose of the debris. He hired an asbestos consultant who identified more than 1,000 linear feet of pipe insulation that contained asbestos and more of the same on a large boiler.



Federal law says that all asbestos must be properly removed before any activity that would break up, dislodge or otherwise disturb it.



Authorities said Saad hired workers in April 2012 to tear down the building and didn't wet the asbestos so it wouldn't go into the air.



"Exposure to asbestos can lead to serious, even fatal, diseases, and unsafe asbestos removal and demolition practices put the health of both the workers and the public at risk," said Randall Ashe, special agent in charge of the U.S. Environmental Protection Agency's criminal investigation division in Chicago. "For that reason, it is critical that those in charge of demolition operations strictly comply with the federal asbestos laws. The defendant chose to ignore those legal requirements, potentially putting others at risk."
http://www.pressandguide.com/articles/2013/11/22/news/doc528e7ef95dd0e857071618.txt [19]
Asbestos abatement costs slow Ohio demolition plans


The foreclosure crisis in Ohio triggered the abandonment of a huge number of old homes and buildings, many in disrepair. To curb urban blight and reclaim neighborhoods, the state's cities and towns want to demolish some of them. However, many of those structures are riddled with asbestos, which means they can't simply be knocked down.



Before 1980, many homes and buildings were constructed with asbestos-containing products. Even though asbestos was banned for many construction uses in 1978, the law left an opening for existing materials in stock to be used up. As a result, houses and buildings continued to be built using some asbestos-containing materials.



For that reason, the abandoned and dilapidated Ohio homes will require a fairly serious investment in asbestos removal before they will be safe for the wrecking ball. This is because certain methods of applying asbestos result in what is known as friable applications. When such building materials are disturbed they release asbestos dust and fibers into the air that can be inhaled. Asbestos exposure is the cause of mesothelioma, a deadly cancer, as well as other serious diseases.



For this reason, any kind of construction or demolition in buildings where asbestos is present must follow strict guidelines.



Asbestos abatement is a process by which the dangerous material is safely removed from a building before any construction or demolition can take place. For asbestos removal to be done safely, each asbestos-containing section of the building has to be sealed off in order to prevent contamination of other areas. Often, it's also necessary to seal off an asbestos-contaminated building from the outside atmosphere so that the surrounding air is not contaminated.



With the vacant houses in Ohio slated for removal, the asbestos abatement costs are preventing many demolitions from taking place. According to Muskingum County Community Development Coordinator, Sheila Samson, the average cost per structure for asbestos abatement for the first round of demolitions in the city of Zanesville was close to $10,000. Tim Smith, Zanesville's Chief Code Enforcement Officer, says that the high cost of abatement may mean the city only demolishes about half of the originally estimated number of buildings.



Ohio Attorney General Mike DeWine discussed the problem with officials and has a tentative plan to help. His office reportedly received $93 million from a multi-state lawsuit settlement with mortgage servicing companies. The settlement was to help Ohio cities resolve problems caused by the foreclosure crisis there. DeWine's plan is to set aside $75 million out of that settlement to help pay for the asbestos abatement needed for the demolitions.
------------------------------------------------------------------------------------------------------------------------------------------------------------------------------------------------
The Department of Energy, which oversees the Hanford Nuclear cleanup in Eastern Washington, got slapped with a $115,000 fine for violations in its asbestos disposal. The U.S. Environmental Protection Agency (EPA) announced earlier this week that its inspectors at the Hanford Nuclear Reservation found improperly managed asbestos in 19 of 22 samples taken at demolition sites.



Based on samples taken at six demolition areas, the EPA said waste containing asbestos was improperly disposed at a Hanford waste facility and there may be as many as 35 more sites where asbestos has, or is suspected to have been, released to the soil.



According to an NPR report by Anna King



EPA fines DOE for improper asbestos removal.

EPA fines DOE for improper asbestos removal.

the alleged violations occurred during building demolitions in 2009 and 2010 when federal stimulus money sped up deconstruction projects.



Dennis Faulk, a manager with the EPA, says the federal contractor failed to document and label truck shipments of asbestos debris.
---------------------------------------------------------------------------------------------------------------------------------------------------------------------------
Detroit demolition plan halted due to asbestos concerns
Representatives from the City of Detroit, Michigan, meant well, but nearly put lives in danger recently with plans to demolish around 3,000 dilapidated homes and other buildings in a blighted area. The project, whose ultimate goal was to remove 10,000 dangerous abandoned buildings over the next four years and eliminate risks like collapse, fire and disease, was featured in the local newspaper, the Detroit Free Press. As it turned out, someone from the state Department of Natural Resources and Environment was reading, and the story raised a red flag. After a quick investigation, DNRE spokesman Robert McCann told the Free Press the agency discovered the City had not completed required asbestos inspections on the properties scheduled for demolition. The City also had not notified the state – which is required by law – of the planned demolition. The planned project was halted April 5, and City officials met with DNRE representatives to learn what they should do. According to the Free Press, representatives from the City said they were unaware they were violating any federal regulations, and said the City has not had a history of inspecting buildings for the presence of asbestos before demolition under past administrations. The current Mayor is Dave Bing. Some demolition occurred before DNRE officials were able to call a halt; however, subsequent asbestos testing did not find any asbestos present. The project is under the direction of the City's Buildings and Safety Engineering Department. The houses planned for demolition are located in southwest Detroit. The City still plans to demolish 3,000 structures by the end of this year, and 10,000 structures during the next four years. Federal regulations require that businesses or individuals planning demolition first test the structure for the presence of asbestos, remove any asbestos that is found using approved abatement procedures to ensure the safety of workers and the public, and provide a 10-day notice to the DNRE before beginning demolition. Violations could incur fines of up to $27,500 per day, and jail time.
http://mesothelioma-blog-article.blogspot.com/2012/10/detroit-demolition-plan-halted-due-to.html [20]
Asbestos is a dangerous environmental and workplace carcinogenic (cancer-causing) physical agent. Asbestos causes lung cancer, mesothelioma (cancer of the pluera - lining of the lung) and asbestosis. Minor, incidental, non-occupational exposures to asbestos have been associated with mesothelioma after latency periods as long as (or longer than) 40 years.
Ending asbestos emissions control enforcement will dramatically increase asbestos emissions from demolition and renovation activities, jeopardizing worker and public health. Mishandling of asbestos waste will also increase asbestos emissions from waste hauling vehicles and landfill operations.
***Please contact Governor Kasich and the Ohio EPA to express your concerns relative to numerous demolitions in our county without asbestos removal.***
Continuing to demolish property - minus asbestos removal - is a fatal mistake.
Governor John Kasich Riffe Center, 30th Floor 77 South High Street Columbus, OH 43215-6117 Phone: (614) 466-3555
Lt. Governor Mary Taylor Riffe Center, 30th Floor 77 South High Street Columbus, OH 43215-6117
http://www.governor.ohio.gov/Contact/ContacttheGovernor.aspx [21]
Ohio EPA http://www.epa.state.oh.us/Contact.aspx [22]
** My blogs expressing my freedom of speech rights - especially on matters of public concern - are my opinion and not the opinion of my friends , family, or employer **