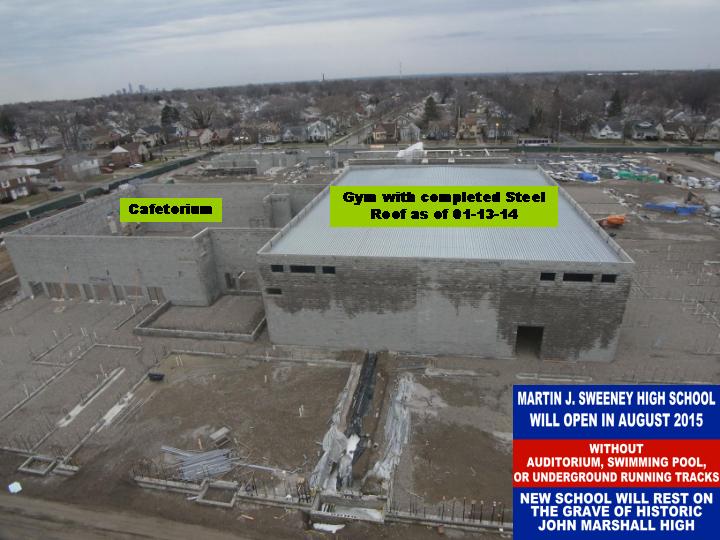 A new high school -- with a suggested name of Martin J. Sweeney High School is under construction on West 140th Street in Cleveland, Ohio.
The photograph shown above, showing the gym with the steel-framed roof, is from the webcam mounted on the construction site: 01-13-14 at 3:14 p.m.
For more up-to-date pictures use the following link:
Http://oxblue.Com/open/greenspace/johnmarshallhs [1]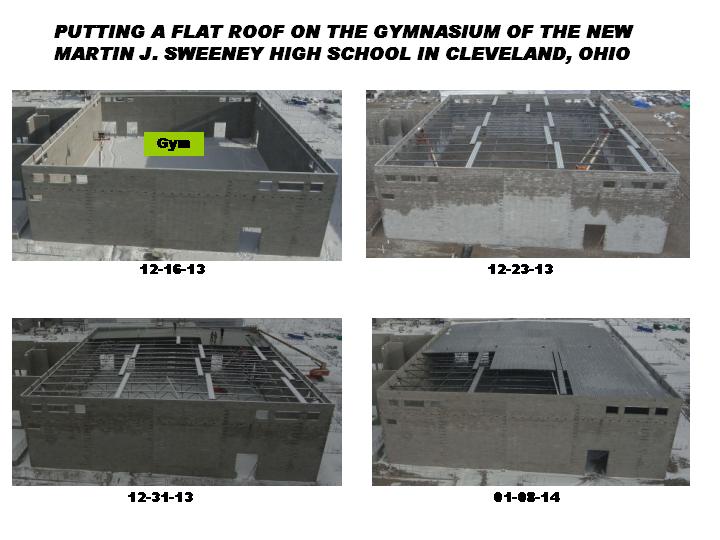 The composite photograph shown above – again with views obtained from the webcam, shows the construction of the steel-framed roof for the gym.
View dated 12-16-13: The cinderblock walls of the gym have been erected to their full height.
View dated 12-23-13: steel trusses running in the north-south direction (left to right) are in place. Each truss is supported on walls at each end (left and right).
View dated 12-31-13: Steel deck units are being placed on top of the trusses. The deck spans east-west (top to bottom).
View dated 01-08-14: Steel deck units continue to be placed on top of the trusses.
Note: Waterproofing and insulation will be placed on top of the steel deck.
The new school -- a jazzed up warehouse – is being built on the cheap -- using cheap materials (cinderblocks) and zero craftsmanship -- without a basement, auditorium, swimming pool, or underground running tracks.
New school is being built above the grave which contains the pulverized remains – bricks and stones of the old school.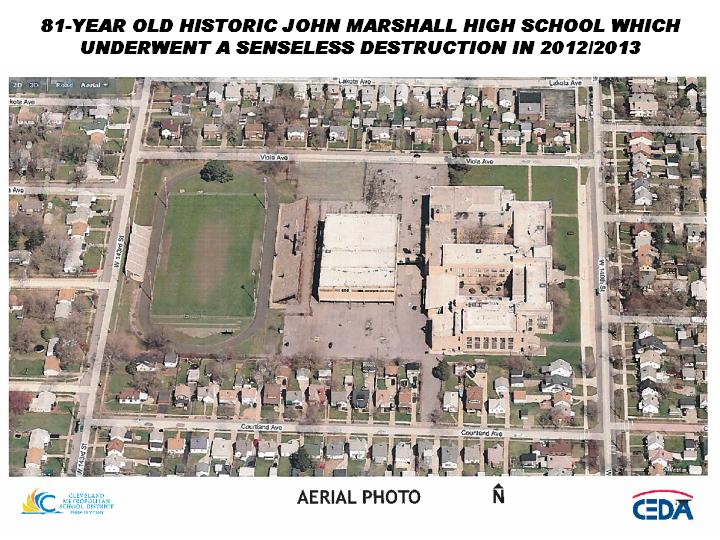 Historic John Marshall High School -- an architectural gem – located in Cleveland, Ohio -- opened in 1932 – underwent a senseless and illegitimate destruction in 2012/2013 -- a crime against humanity -- that shall never be forgotten.
The destruction was brought about by vote rigging & other irregularities committed by corrupt politicians (Mayor Frank Jackson & Councilman Martin J. Sweeney) & a visionless & corrupt Cleveland Metropolitan School District -- and their multitude of cronies.
May the names of the following who facilitated the senseless destruction – forever live in infamy:
Mayor Frank G. Jackson;
Councilman and former City Council President Martin J. Sweeney;
Councilman Anthony Brancatelli;
Councilwoman Phyllis E. Cleveland;
Cleveland Metropolitan School District;
Chair, Cleveland Landmarks Commission;
Manager of Architecture (Chief Architect), City of Cleveland;
Director of City Planning;
Bellaire Puritas Development Corporation; and
President and those trustees of the John Marshall High Alumni Association who openly advocated for demolition.
ADDITIONAL INFORMATION:
REALNEO: Please see previous posts all related to the Save John Marshall High School campaign.
Facebook: Follow the Save John Marshall High School group on facebook where the senseless destruction of the historic landmark has been documented in detail: https://www.facebook.com/groups/160386844035662/ [2]
Youtube: Also, see the following four Youtube clips:
1. Save John Marshall High School, Cleveland, Ohio http://youtu.be/s6shgwi5cuu [3]
2. Save John Marshall High School, Part 2: Demonstration http://www.youtube.com/watch?v=jdtacqrwof4 [4]
3. Save John Marshall High School, Part 3: call for a hunger strike http://youtu.be/nyol5sfbjea [5]
4. Save John Marshall High School, Part 4: Investigate City Hall
http://www.google.com/url?sa=t&rct=j&q=&esrc=s&source=web&cd=2&cad=rja&ved=0CDQQtwIwAQ&url=http%3A%2F%2Fwww.youtube.com%2Fwatch%3Fv%3DF3hmkY_XT_c&ei=z6MVUv67FYbZ2wXDqoCYAg&usg=AFQjCNG0FBmW3A97kd_UtqWIlF49-z7XIQ&bvm=bv.51156542,d.b2