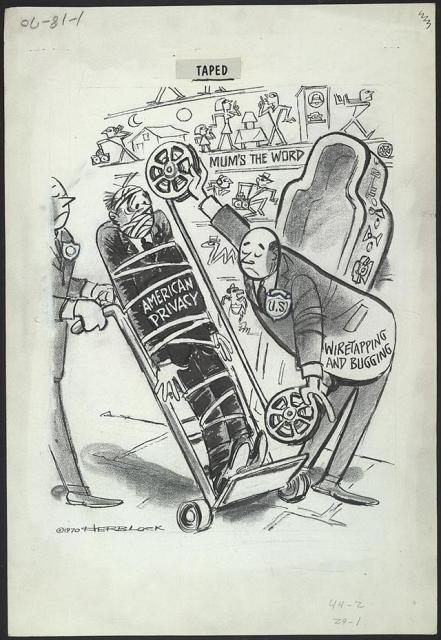 Taped
Long before the Watergate scandals, Herb Block was pointing out excessive use of government power to wiretap or otherwise investigate the activities of citizens an administration felt were at odds with its policies. In 1970, the Civil Service Commission admitted to having a Security Investigations Index with over 10 million entries, and the armed forces revealed surveillance of Americans involved in anti-Vietnam war activities.
Movie Review
He Tackled Large Issues With Thin Lines
'Herblock: The Black & the White,' About Herbert Block
http://www.nytimes.com/2013/08/16/movies/herblock-the-black-the-white-ab... [4]
Share [5]
anti-speciesism - Quest, ministries - gofundme - please donate
Links:
[1] http://li326-157.members.linode.com/content/blockjpg
[2] http://www.loc.gov/rr/print/swann/herblock/images/s03488u.jpg
[3] http://www.loc.gov/rr/print/swann/herblock/object.html#repro
[4] http://www.nytimes.com/2013/08/16/movies/herblock-the-black-the-white-about-herbert-block.html?_r=0
[5] http://www.addthis.com/bookmark.php?v=250&username=questministries
[6] http://realneo.us/content/anti-speciesism-quest-ministries-gofundme-please-donate
[7] http://www.gofundme.com/42dq3w