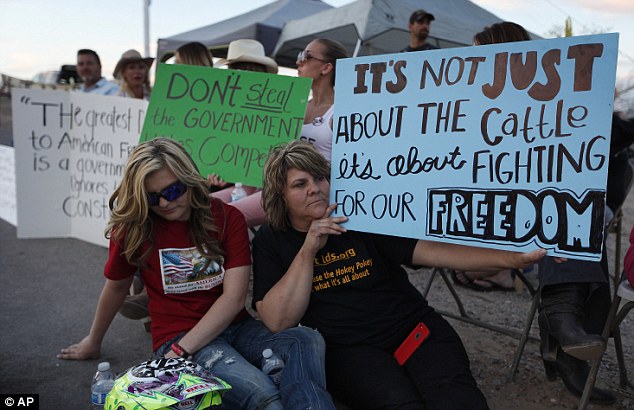 (great photos)-We have you surrounded! Armed cowboys lay siege to federal agents to get 'stolen' cattle back after government backed down and said it would STOP targeting Nevada rancher in 'range war'
Protesters demand cows that were already rounded up are returned
Highway is closed off and SWAT teams spotted as protest moves to corral

Politicians have compared the standoff to Tiananmen Square

The Bundy family says they've owned the 600,000 acres since 1870 but the Bureau of Land Management says they are illegally grazing

The dispute began in 1993 when land was reclassified as to federal property to protect a rare desert tortoise, the government claimed

Federal officers stormed the property this week with helicopters and snipers to back up about 200 armed agents

They have reportedly seized around 350 of Cliven Bundy's 900 cattle
Cattle were handed back to rancher after tense standoff

Tensions escalated after private militias poured in to support the family
The last rancher in southern Nevada has won a battle over the federal government's round up of his cattle on public land after a week-long standoff with agents.

The Bureau of Land Management announced today that it would stop trying to seize the cattle of Cliven Bundy after armed militia gathered in Nevada.

Shortly after the deal was agreed, about 100 armed protesters, some on horse back, headed to a corral to demand the BLM also hands back cattle it had already taken.

Armed members of the BLM and the Bundy family were also reported to be involved in tense talks about the cattle.

Deal: Cliven Bundy shakes hands with Sheiff Doug Gillespie on Saturday morning as the rancher comes to a deal to stop federal agents rounding up his cattle
Show down: Ranchers on horseback and protesters gather at the BLM camp to try to claim back cattle the agency has already rounded up
As it announced earlier today that it was backing off, the BLM said it did so because it feared for the safety of employees and members of the public.
Despite the week-long protest being called off, there were claims that nearly two dozen police and a SWAT team were waiting on the road near the encampment.

There have been no threats of violence from the protesters, who were asked to leave any guns they may have in their vehicles before coming to the camp.

In previous days, men carrying AK-47s and handguns had been pictured at the camp in southern Nevada that was set up in protest at the bureau's attempt to confiscate cattle from Bundy, whose family has been working the land for centuries.
Protesters arrive at the Bureau of Land Management's base camp where cattle that were already seized are being held
Traffic along the highway has been brought to a standstill as protesters move towards the BLM camp
The BLM had offered to pay Bundy for the cattle it has already rounded up, but protesters are demanding they are released to the rancher.
The cattle are being held in a corral near Mesquite, close to where the SWAT team were spotted.

About an hour after Bundy agreed a deal with the county sheriff, about 100 protesters, some armed and on horseback, headed to the corral.
After tense talks and a standoff, the BLM finally agreed to return the cattle to Bundy. A growing crowd of armed protesters who had gathered at the gate of the base camp were ordered to wait for 30 minutes to give both sides time to talk.
By 5pm ET an agreement had been made that the bureau would release the animals back to the ranchers later on Saturday.

Nevada Police had pleaded with drivers on Saturday afternoon to avoid the highway from Las Vegas to Mesquite, as protesters swelled out across the road, causing it to be cut off in both directions.

The BLM had said its agents would not be able to leave until protesters are at a safe distance, according to 8 News Now [2].
Brothers in arms: Rancher Cliven Bundy (2nd R) is escorted Friday by militia members in Bunkerville, Nevada
Armed: Brand Thornton, of Las Vegas, blows a shofar on a hillside above a protest area on Friday
The dispute that triggered the roundup dates to 1993, when the BLM cited concern for the federally protected tortoise. The agency later revoked grazing rights for Bundy, who is the last rancher in Clark County.
BLM director Neil Kornze said on Saturday however: 'Based on information about conditions on the ground, and in consultation with law enforcement, we have made a decision to conclude the cattle gather because of our serious concern about the safety of employees and members of the public.'
Bundy claims ancestral rights to graze his cattle on lands his Mormon family settled in the 19th century. He stopped paying grazing fees and disregarded several court orders to remove his animals.
BLM officials say Bundy now owes more than $1.1 million in unpaid grazing fees.
'I have no contract with the United States government. I was paying grazing fees for management and that's what BLM was supposed to be, land managers and they were managing my ranch out of business, so I refused to pay,' the rancher told ABC News [5].
Supporters for Bundy said about 300 protesters had arrived to help campaign on the rancher's behalf. The BLM put the number at 100.
The tense week-long protest had come to an end after Clark County Sheriff Doug Gillespie brokered a deal with Bundy Saturday morning.

The sheriff has been negotiating with the rancher for months, and the pair met at the ranch today to finalize the deal, according to 8 News Now [6].
Defiant: With a sidearm strapped to his side, Anthony Herrea stands along a protest area while rancher Cliven Bundy's son, Ammon Bundy grimaces as he shows taser marks on his chest
On his side: Sen. Dean Heller (R-NV), pictured last week, has risen to Bundy's side and called the BLM's efforts 'overreaching'
Taking a stand: Ammon Bundy (back C), son of rancher Cliven Bundy, talks Friday to protesters at the property
The BLM had earlier been said to be planning to sell the sale of cattle it has rounded up and had offered to share the profits with Bundy.

As the protest became heated earlier this week, a Republican U.S. Senator and Nevada's governor spoke out in favor of a rancher fighting efforts by federal agents to seize both his land and his cattle.
Sen Dean Heller, of Nevada, says he told U.S. Bureau of Land Management (BLM) head Neil Kornze that law-abiding Nevadans such as rancher Cliven Bundy shouldn't be penalized by an 'overreaching' agency.
Governor Buran Sandoval, also a Republican, previously spoke out against the actions, saying they are leading to an 'atmosphere of intimidation.'
The round-up: Bureau of Land Management vehicles are seen Friday near a corral with cattle outside Bunkerville, Nevada
JOining the cause: Steven Kelly (R) talks on a phone as he stands by a protest signs he posted on his house as his soon Sean Kelly (L), looks on west of Mesquite, Nevada
In Arizona, a congressman said he and several state Republican lawmakers considered traveling to Bunkerville to protest what they perceive as government heavy-handedness.
Arizona state representative Bob Thorpe, of Flagstaff, said he and state legislators weren't arguing whether Bundy broke laws or violated grazing agreements.

Thorpe said the Arizona lawmakers were upset the BLM initially restricted protesters to so-called free speech zones.
Senator Dean Heller and Governor Brian Sandoval, both Republicans, have also said they were upset with the way the BLM was conducting the roundup.
The remarks came as video emerged of Ammon Bundy, the son of Cliven Bundy, was shown being repeatedly shot with a taser and threatened by police dogs.

The confrontation took place Wednesday and was caught on video by Bundy supporters and relatives who got into an aggressive- and at times violent- face off with the officers.
Militias that have streamed into the tiny town just north of Lake Mead told News 8 Now they feel violence is imminent as tempers flare in the desert heat.
'We want to get ourselves between this family and these federal agents,' said Brand Thornton, of the Southern Nevada Militia. 'We have pretty strong feelings that this could erupt in violence.'
Dug in: Bottles of water and supplies sit ready to be used at a protest area on Friday
Violent: An officer is seen firing a taser at Ammon Bundy as an aggressive police dog goes after him
Cliven Bundy supporters tased in violent standoff with feds
Another militia member told the station he's there to support Bundy whether 'he's legally right or wrong.'
The increasing number of people arriving at the camp in support of the rancher came only one day after other officials spoke out in favor of the embattled rancher.

'Watching that video last night created a visceral reaction in me,' Arizona state Representative Kelly Townsend told the Las Vegas Review Journal [7].
'It sounds dramatic, but it reminded me of Tiananmen Square. I don't recognize my country at this point.'
Ms Townsend, a Tea Party-supporter from Phoenix, said that she plans to drive up to Nevada to join the Bundys' supporters in their protest over the weekend.

Closer to home, Nevada state assemblywoman Michele Fiore has already made two trips to meet with the protesters in Bunkerville after seeing the 'horrifying' footage.

'I'm highly offended by the feds coming in as aggressively as they have,' she told the paper.

Bloodied: Krissy Thornton, right, looks at blood from a taser wound on Ammon Bundy
Outrage over the footage prompted a change in the federal agents' orders, according to a BLM spokesperson.

'We are allowing people to congregate on public land as long as they don't inhibit the operation,' Amy Lueders said Thursday.
'It sounds dramatic, but it reminded me of Tiananmen Square. I don't recognize my country at this point.'
-Arizona state Representative Kelly Townsend
The week-long standoff started when federal agents swooped in Tuesday after Cliven Bundy, the last remaining rancher in southern Nevada, refused to remove his herd of 900 cows from land he claims has been in his family since 1870.
The heavily-armed federal agents, equipped with eight helicopters and backed-up by snipers, surrounded the Bundy ranch after the BLM attained a federal court order to confiscate the family's herd.
A Facebook post made by Bundy supporters told protesters to bring cameras and 'film everything' but 'any rifles people may have with them need to stay in the vehicles'.

Sandoval, who criticized the tactics used by the BLM agents earlier this week, has urged everyone to show restraint.

'Although tensions remain high, escalation of current events could have negative, long lasting consequences that can be avoided,' he said Thursday.
The cattle grab came after Bundy family supporters began comparing the showdown to a war.
Fighting words: Bundy, seen at right in the plaid shirt, is heard yelling at the agents to get off of his family's land
Recovery: Ammon backs away towards the group of supporters behind him as he recoils after the taser shot
Margaret Houston, Cliven Bundy's sister and a cancer survivor, told those gathered Wednesday at a town hall meeting that the scene 'was like a war zone. I felt like I was not in the United States.
'All of a sudden I get hit from the back, it was like a football tackle,' she said. 'They took me and just threw me down to the ground.'
She was not hurt in the incident, but said she was 'shocked that somebody would actually do this.
Officials blamed a protester kicking a K-9 unit for the aggression. Local leaders of the protests have warned supporters of the Bundys not to wear camouflage and to keep any weapons they bring in their vehicles to try to stem further clashes.

Opening the gates: Federal officers are seen making way for a convoy of cattle on Thursday
Speaking out: Margaret Houston, Cliven Bundy's sister, told how she was tackled by officers when she was protesting (seen here at a Wednesday town hall meeting)
Cliven Bundy told InfoWars [8] he and his family 'gathered about 30 head' of cattle.

'We did have a small confrontation with them, but they didn't have the forces to do a whole lot,' he said.

'They couldn't mobilize fast enough and we were able to gather those cattle and get them to the ranch.'
Cliven Bundy has been battling the BLM since 1993, when he refused to pay for grazing rights after the 600,000 acres of public land were reclassified as federal property.
Land managers claimed the change was necessary to protect a rare desert tortoise and limited the Bundy herd to just 150 head, the rancher claims it has been in his family for more than 140 years.

No passage: Federal law enforcement officers block a road into the land Bundy claims is his
Defiance: Cliven Bundy, (right), and friend, Clance Cox, stand at the Bundy ranch near Bunkerville Nevada on Saturday during the escalation of their dispute with the Federal Government
Multiple people have been detained while protesting the removal of the cattle, it is not clear if any charges have been pressed against them.

A handful of detentions were made at nearby Overton Marina, where cattle moved off the land are being held by BLM agents, according to 8 News Now [9].
Clashes erupted soon after the armed agents began trying to impose their will on the protesters.
The incidents did not deter the family from defiantly pressing on.
'These are heavily armed individuals with fully automatic weapons,' Ammon Bundy told the station.
Another protester, from Utah, accused the BLM agents of 'Throwing women to the ground, tasing them [and] sticking K-9 dogs on them.'
Reports of violence are what drew the militias in.

They won't go: Charlie Brown holds up a sign Thursday from the Bureau of Land Management's 'first amendment area' during a protest of the Bureau of Land Management's roundup of cattle near Bunkerville
'That is what we do, we provide armed response,' Jim Lordy with Operation Mutual Aid told the station, adding that he isn't afraid to shoot.

'They have guns,' he continued. 'We need guns to protect ourselves from the tyrannical government.'
The Montana native claimed 'many more' militias are on their way to join their brothers in arms, and appear to be organizing via Twitter using the hashtags #BundyRanch and #rangewar.
Ammon Bundy, seen earlier this week, says 20 cowboys managed to break the blockade and retrieve 30 of his family's cattle
'They all tell me they are in the process of mobilizing as we speak,' Ryan Payne boasted to the Review-Journal.
Groups from as far away as New Hampshire and Florida are expected, he added.
One Twitter account even released the exact GPS coordinates of the ranch and advised people to 'bring cellphone chargers and cameras.'

Another quoted former president John Adams, saying that 'resistance by arms, against usurpation and lawless violence, is not rebellion by the law of God or the land.'
Both sides have dug in, and the militias feel they are doing their patriotic duty - the rising tensions are beginning to worry locals.
'These people that are coming in could totally disrupt everything,' one told the station. 'That frightens me. That absolutely frightens me.'
Claiming that the government has 'brought everything but tanks and rocket launchers', Bundy said his livelihood is being taken away from him by agents carrying, 'automatic weapons, sniper rifles, top communication, top surveillance.'
'The battle's been going on for 20 years,' Bundy told the Washington Free Beacon [10] from his ranch 75 miles outside of Las Vegas.
'What's happened the last two weeks, the United States government, the bureaus are getting this army together and they're going to get their job done and they're going to prove two things.
'They're going to prove they can do it, and they're gonna prove that they have unlimited power, and that they control the policing power over this public land. That's what they're trying to prove.
'Why I raise cattle there and why I can raise cattle there is because I have preemptive rights,' he added, explaining that, among them, is the right to forage,' he said in a different interview.
Help: Supporters prepare to rally for Cliven Bundy at the Bundy ranch near Bunkerville Nevada on Monday
People power: People help erect a pole to hang a banner during a rally in support of Cliven Bundy near Bunkerville Nevada on Monday
'Who is the trespasser here? Who is the trespasser on this land? Is the United States trespassing on Clark County, Nevada, land?
'Or is it Cliven Bundy who is trespassing on Clark County, Nevada, land? Who's the trespasser?' The rancher asked.

Eight helicopters were circling the land Thursday, and federal officials have seized about 350 of Bundy's 908 cattle, according to various reports.
It is estimated that impounding them will cost upwards of $3million. Bundy estimates his unpaid fines total about $300,000.
The BLM released a statement on its website earlier this week, saying, 'cattle have been in trespass on public lands in Southern Nevada for more than two decades.
'This is unfair to the thousands of other ranchers who graze livestock in compliance with federal laws and regulations throughout the west.
'The Bureau of Land Management (BLM) and the National Park Service (NPS) have made repeated attempts to resolve this matter administratively and judicially.'
Pressure and surveillance: A helicopter takes off from a staging area of Bureau of Land Management vehicles and other government vehicles off of Riverside Road near Bunkerville, Nevada over the weekend
Property: Cattle belonging to Cliven Bundy are rounded up with a helicopter near Bunkerville Nevada on Monday, April 7, 2014. The Bureau of Land Management has begun to round up what they call 'trespass cattle' that rancher Cliven Bundy has been grazing in the Gold Butte area 80 miles northeast of Las Vegas
Constitutional: Contractors for the Bureau of Land Management round up cattle belonging to Cliven Bundy with a helicopter near Bunkerville, Nevada on Monday
'No cow justifies the atmosphere of intimidation which currently exists nor the limitation of constitutional rights that are sacred to all Nevadans,' Sandoval said in a statement released after business hours Tuesday.
The Republican governor weighed in after several days of news coverage and radio talk show commentary about blocked roads and armed federal agents fanning out around Bundy's ranch while contractors using helicopters and vehicles herd cows into portable pens in rugged and remote areas.
Sandoval's comments came the same day the U.S. Senate confirmed Neil Kornze, a Nevada native, as the new BLM director.

Kornze is a natural resource manager who grew up in Elko and served previously as a senior adviser to Senate Democratic Majority Leader Harry Reid.
Free speech? Cliven Bundy walks by a first amendment area set up by the Bureau of Land Management near Bunkerville
A higher cause: Krissy Thornton, right, and Burgundy Hall protest Wednesday with others - they say the cows are a proxy for the freedoms of all Americans
Continuing on: Jim Olson puts up a flag near what was the Bureau of Land Management's 'first amendment area'
Read more: