NO Gentrification OF DUCK ISLAND -
no more corporate welfare for tremont
At least 7 of the 15 elected board of trustees shall be composed of the general membership that meet the following guidelines:
1) Low Income Members of TWDC
a) Members of TWDC that meet minority status.
b) Disabled/Handicapped members of the TWDC.
c) Vacancies of low income board members shall be filled by the board with another qualified candidate that meets the requirement of this section.
-------------------------------------------------------------------------------------------------------------------------------------------------------------------------------------------------
about 4 MILLION READS - A FEW THOUSANDS POST - LIFE SAVING - LIFE HELPING
-----------------------------------------------------------------------------------------------------------------------------------------------------------------------------------------------
my complete multi page bio will be on twdc web site and also click
guy templeton black & sophia's Questionnaire & bio for Nomination to the Tremont West Development Corporation Board of Directors
Submitted by Quest-News-Serv... [2] on Mon, 03/24/2014 - 03:10.
------------------------------------------------------------------------------------------------------------------------------------------------------------------------------------------------
" the slash and burn - take no prisoners - anything goes is so corrosive to our democracy and we've got to fight this because it turns people off politics in general and leaves that space to be occupied by special interests that determine how the goodies are to be passed out...." barack obama, nov. 23, 2004
------------------------------------------------------------------------------------------------------------------------------------------------------------------------------------------------
Gentrification :
When "urban renewal" of lower class neighbourhoods with condos attracts yuppie tenants, driving up rents and driving out long time, lower income residents. It often begins with influxes of local artists looking for a cheap place to live, giving the neighbourhood a bohemian flair. This hip reputation attracts yuppies who want to live in such an atmosphere, driving out the lower income artists and lower income residents, often ethnic/racial minorities, changing the social character of the neighbourhood.
It also involves the "yuppification" of local businesses; shops catering to yuppie tastes like sushi restaurants, bars, Starbucks, art galleries, illegal bars- restaurants etc.=building codes, etc. come to replace local businesses displaced by higher rents. ­­­­
-------------------------------------------------------------------------------------------------------------------------------------------------------------------------------------------------
also TREMONT SHOULD HAVE A EMERGENCY DISASTER CENTER(S) WITH SHELTER SURVIVIAL WATER GOOD FOOD ETC.- TREMONT SCHOOL - CHURCHES HOMES RETAIL BUSINESSES ART GALLERIES ETC. - SO WHEN THE KILLER ECONOMIC ETC. BANKS FAIL ETC.OTHER DISASTERS TERRORISTS EARTHQUAKES EMP FLOODS METEORS EXTRA-TERRESTRIAL
ETC. STRIKE TREMONT CLEVELAND ETC. TREMONT WILL BE PREPARED TO HELP OURSELFS AND OTHER SPECIES AND THE MANY OTHER FOLKS THAT WILL PANIC AND ATTACK STEEL YARDS STORES AND TREMONT HOMES AND STORES BUT TREMONT WILL BE ABLE TO OFFER HELP SO THE PANIC PEOPLE WON'T ATTACK ROB HARM MURDER IN TREMONT AS MUCH AS OTHER PLACES - GET WOOD STOVES GENERATORS TRANSFER SWITCHS FOR YOUR HOME ELECTRICITY AT LEAST A FEW WEEKS OR MONTHS OF FOOD AND WATER ETC. PROPANE STOVES ETC. SOLAR VITAMINS MINERALS ORGANIC GARDEN AND ANTI-RADIATION IODINE AND OTHER ANTI-RADIATION SUPPLEMENTS ETC. - SEE OUR BLOG FOR MUCH HELPFUL INFORMATION AND BE CALM PREPARE PRAY AWAY AND LOTS OF LOVE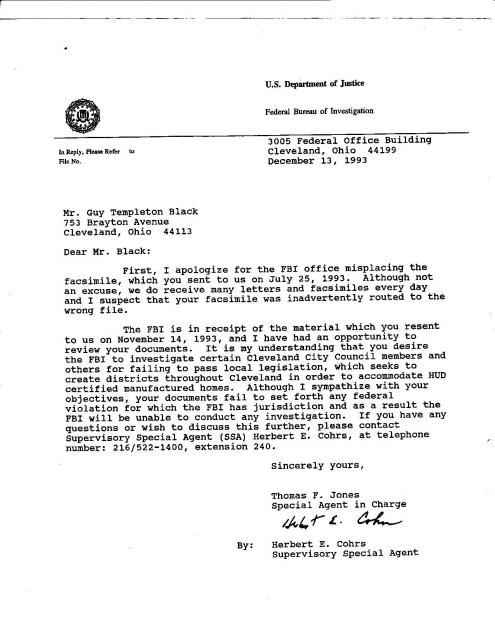 http://realneo.us/content/federal-bureau-investigation-fbi-letter-guy-templeton-black-apologizes-losing-documents-cle-0 [5]
open letter to president barack obama -
is the fear of unions preventing cleveland city council from passing the single width manufactured home ordinance for the most affordable homes -
(first sent 1.17.08.)
click all links for the letters, news articles, and move around curser till the green click -button right bottom of document to enlarge-
or see on realneo if the less seen document click and or the enlarge sign shows at the arrow click
an open plea - prayer to our great city council and others to help combate the millions of corrupt home forclosuresand to have the city of cleveland obey federal law on manufacture homes for truly affordable homes
in light of our brave mayor jackson, and staff, filing a law suit aganist 21 banks and savings and loans - (no cleveland savings loans and banks are included in the law suit - why?) - for basically having an organized crime syndicate that devistated people - neighborhoods and helped caused cleveland's high(est) crime rate -
is the fear of unions preventing cleveland city council from passing the single width manufactured home ordinance for the most affordable homes - because the manufactured homes are made by non-union companies - although the unions members can make money on setting up thousands of the manufactured homes on the vacant lots or parts of other lots and goddess bless the unions as they led the way and my father was a charter member of the stage hands theatrical motion projectors union
-the single width manufactured homes which are 14 feet by 70 feet and sell wholesale for about 8 to 15 thousand dollars meet the 950 square feet for single family homes -cleveland city council hasn't passed said ordinance since legislation was introduced by our great passed councilperson gus frangos, d-13, -and gus frango's, honored me guy templeton black, in the below letter in part - july 5, 1991
-"this will confirm that this legislation has been introduced and will hopefully pass this fall becauseyou specifically have brought this to the attention of the city and myself on several occasions and have insisted that the city enact this legislation. you should be proud be that you have been able to effect policy in the city of cleveland, and i'm happy to have been the sponsor of this legislation.best regards to you. sincerly, gus frangos, councilman ward 13"
also below is a letter june 24, 1993, to me from gus frangos, attempting to explain why city council didn't pass said ordinance and stating that the city of cleveland is not conforming to federal law by not passing said ordinance
-and below is three news articles taken from more that helps explain manufactured homes
-as i'm canidate for the board of directors, (3nd time)) for the tremont west development corporation, the lack off truly affordable homes in tremont and the city is my great issue and other issues in my biographical information sent out to members of twdc., by twdc, and i have about an 85 page information packet with more news articles and much more information on manufactured homes
and why the great city of cleveland isn't passing said legislation -ordinance for the most affordable well bulit manufactured homes
so the thousands in cleveland and millions through out america that have lost thier home through the corrupt banks and savings and loans - will have another chance to have a truly affordable home.scripture states "though shall not be a slave to the money lenders" ( banks etc.,)please contact me at the below signature address -eternal thanks for reading this prayer-plea,guy - guy templeton black, and yogi yoga bear, k-9 partner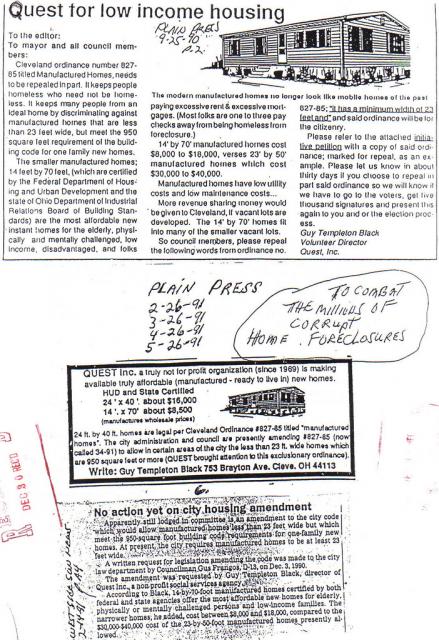 http://realneo.us/content/tale-two-tremonts-few-things-expose-longstanding-distrust-between-two-sides-more-election [10]
A tale of two Tremonts - Few things expose longstanding distrust between two sides more than an election.
A tale of two Tremonts
Thursday, January 22, 2009
By Ken Prendergast kprendergast [at] sunnews [dot] com
West Side Sun News
Few things expose longstanding distrust between two sides more than an election.
That distrust has re-emerged in the weeks leading up to the Jan. 29 election of trustees for the Tremont West Development Corp. which coordinates neighborhood revitalization and improvement programs, including the spending of taxpayer dollars.
The two sides are the haves and the have-nots in Tremont -- developers and new, wealthier residents on one side; lower-income, older residents on the other.
Some dues-paying Tremont West members, including at least two who are running for board seats at next week's annual meeting, complained that the election process needs to be more transparent, based on past elections.
They claimed votes were cast before the annual meeting was called to order, votes were counted in private by people who had a stake in their outcome and that ballots weren't kept after the election.
At a Jan. 13 meeting of Tremont West's board, several members asked the board to allow election monitors, possibly from Cleveland State University or by block club representatives, to oversee the vote. The request was tabled.
"They were asking for a change in a longstanding process just two weeks out from the annual meeting," said Chris Garland, executive director of Tremont West.
He said the question has been referred to a bylaw committee co-chaired by board members Lynn Murray and Tim Jenkins.
Tremont West's bylaws say a vote or other business can be conducted at the annual meeting if a quorum is present. The bylaws define a quorum as being at least 20 percent of the membership or 40 members, whichever is greater.
The problem, as some members see it, is they can't get a straight answer from Tremont West staff as to how many members there are. The bylaws state that someone must join Tremont West more than 30 days before the election in order to vote in that election. The membership list must also be occasionally purged of people who have moved away or died.
A tale of two Tremonts - Page 2
"The vote is rigged," said Guy Templeton Black, a lower-income candidate for the board. "I asked them how many members there are and they said we're working on that.' They've been working on that for years. You can't tell who is a voter due to no checks and balances."
Garland said the number of members would be announced at the annual meeting.
"A Tremont West member is literally any stakeholder," Garland said. "It's not just a paid member. It can be any resident and employee in Tremont. That's the broad spectrum. There are 9,000 people in our service area."
Candidates for board president plus seven trustee seats are to be nominated at the meeting, which will start at 7 p.m. Jan. 29 at Our Lady of Angels/St. Joseph Center, 2346 W. 14th St. It will be preceded by a dinner at 6 p.m.
Jerlene Justus, who has lived in Tremont for 40 years and a dues-paying member of Tremont West, said she will ask for a floor vote at the annual meeting to bring in election monitors to observe the vote.
"Secrecy is my concern," said Justus. "Why can't an organization tell you how many members they have? We just want a fair and balanced election with transparency."
But not all who have raised concerns about the election process are older Tremont residents.
"The election needs to be more transparent and election monitors would help," echoed board candidate Eric Russ, a new Tremont resident and a young professional. "It would only help (Tremont West's) effectiveness in the community and give the board more legitimacy."