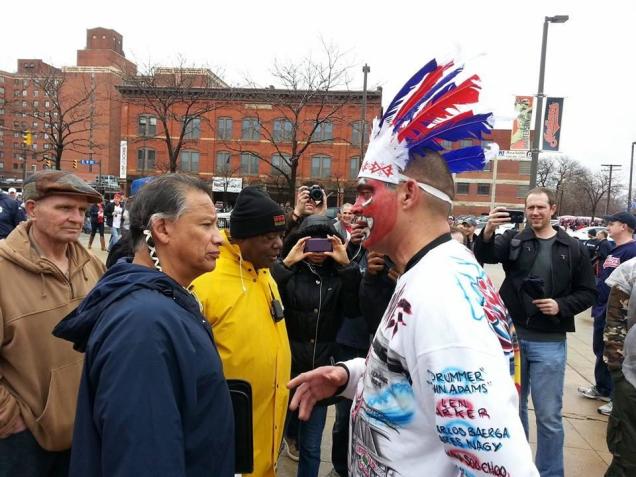 (bob roche, russel means, cleveland american indian center - helped me Quest ministries in the 1970's - read - chief seattle, dwamish tribe at end of post) -A Cleveland-based Native American activist group says it's planning to sue the Cleveland Indians [2] in federal court next month for $9 billion — yes, billion with a b — citing 100 years of racism connected to the team's name and its Chief Wahoo logo.
Saying you'll sue and actually filing a suit are two very different things, of course, but Robert Roche of the American Indian Education Center [3] and the group People Not Mascots is eyeing a federal lawsuit that will ask for retribution dating back to 1915 when the baseball team adopted the Indians name.
Native American activist Robert Roche protesting at an Indians game earlier this season. (AP)
Roche told WEWS-TV [4] in Cleveland about his plans for the lawsuit, explaining:
"We're going to be asking for $9 billion and we're basing it on a hundred years of disparity, racism, exploitation and profiteering," Roche said. "It's been offensive since day one. We are not mascots. My children are not mascots. We are people."
The threat of this huge lawsuit comes about a week after the U.S. Patent and Trademark Office deemed the Washington Redskins' name was "disparaging to Native Americans" and canceled their trademarks [5].
Roche has long been protesting the Indians name and Chief Wahoo logo, so he and his groups must have sensed new opportunity with the latest Redskins controversy. Roche is one of the protesters at Cleveland's home opener [6] every year. This year, he was captured in a photo opposite an Indians fan in redface that quickly went viral [6].
Robert Roche, left, is planning a $9 billion lawsuit against the Indians. (ClevelandFrowns.com)
The Indians don't use Chief Wahoo as their primary logo anymore [7], changing instead to a big block C. Chief Wahoo's prominence within the team's uniforms and marketing have slowly gone away, though the Indians have stopped short of getting rid of him altogether. He's still on some caps and jersey sleeves.
There's a contingency of Indians fans, however, who protest the protesters and aim to keep Chief Wahoo around. One group has a Facebook page [8] with almost 1,800 "likes." There's also The Wahoo Club [9], a booster organization for the Indians that's been around since 1962.
As you'd imagine, its president, Bob Rosen, doesn't agree with the possible lawsuit. He told WEWS-TV [4]:
"If just a small amount of people are against it, than I think you're doing a disservice to people that like it ... I'm not insensitive to the issue, but our 1,650 members of the Wahoo Club, anytime we have a Wahoo Club item they buy it up, they love it ... Can you imagine the baseball team in this city not being called the Cleveland Indians? I can't picture that."
(AP)
Unlike the Redskins situation, in which owner Dan Snyder has been outspoken in defense of his team's name and mascot, the Indians have tried to toe the middle ground on this issue. They've taken away Chief Wahoo a bit, but haven't totally denounced him. They've denied wanting to get rid of him, but he's definitely been demoted.
A $9 billion lawsuit — if it ever comes to fruition and isn't thrown out of court early on — would definitely require the Indians to choose a side.
More MLB coverage from Yahoo Sports:
- - - - - - -
Mike Oz [10] is an editor for Big League Stew [11] on Yahoo Sports. Have a tip? Email him at mikeozstew [at] yahoo [dot] com">mikeozstew [at] yahoo [dot] com or follow him on Twitter! [12]