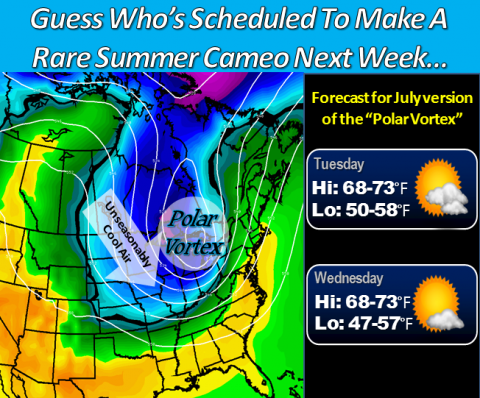 Call it the ghost of the polar vortex, the polar vortex sequel, or the polar vortex's revenge. Meteorological purists may tell you it's not a polar vortex at all. However you choose to refer to the looming weather pattern, unseasonably chilly air is headed for parts of the northern and northeastern U.S at the height of summer early next week.
Click to enlarge. (WeatherBell.com, adapted by CWG)
Bearing a haunting resemblance to January's brutally cold weather pattern, a deep pool of cool air from the Gulf of Alaska will plunge into the Great Lakes early next week and then ooze towards the East Coast.
6-10 day temperature outlook from National Weather Service Climate Prediction Center
Of course, this is July, not January, so temperatures forecast to be roughly 10 to as much as 30 degrees below average won't have quite the same effect.
Temperature anomalies (or difference from normal) Tuesday midday from European model (WeatherBell.com)
But make no mistake, in parts of the Great Lakes and Upper Midwest getting dealt the chilliest air, hoodies and jeans will be required. Highs in this region could well get stuck in the 50s and 60s – especially where there is considerable cloud cover.
GFS model forecast highs Tuesday (WeatherBell.com)
Wednesday morning's lows may drop into the 40s over a large part of the central U.S. Remember, this is July!
GFS model forecast lows Wednesday morning (WeatherBell.com)
The heart of the chilly airmass will probably just skirt the East Coast, but temperatures are likely to be about 10 degrees below normal. Highs may struggle to reach 80 in D.C. next Tuesday and Wednesday with widespread lows in the 50s (even 40s in the mountains).
GFS model 7-day forecast (WeatherBell.com)
(Note, as with any extended forecast, there is some uncertainty here. If the cool air mass loses some punch, highs may still reach 80-85 around D.C., with lows in the 60s, rather than the 50s)
The pattern may last only a few days, but will probably set some records, especially around the Plains and Great Lakes – where water temperatures are still depressed [2] from the frigid winter in which ice remained on Lake Superior into June [3].
What's behind this unusual winter weather pattern primed for the dog days of summer? A lot of it is simply chance (randomness), but Weather Underground's meteorologist Jeff Masters says [4] Japan's typhoon Neoguri is playing a role in the pattern's evolving configuration:
….the large and powerful nature of this storm has set in motion a chain-reaction set of events that will dramatically alter the path of the jet stream and affect weather patterns across the entire Northern Hemisphere next week. Neoguri will cause an acceleration of the North Pacific jet stream, causing a large amount of warm, moist tropical air to push over the North Pacific. This will amplify a trough low pressure over Alaska, causing a ripple effect in the jet stream over western North America, where a strong ridge of high pressure will develop, and over the Midwestern U.S., where a strong trough of low pressure will form.
What amazes me most about the pattern is not so much the forecast temperatures, but the uncanny similarities in the weather patterns over North America seen in both the heart of winter and heart of summer. All of the same features (refer to the map at the top of this post) apparent in January are on the map in mid-July: low pressure over the Aleutians (blue shading), a large hot ridge (yellow and red shading) over the western U.S., the huge cold low or vortex over the Great Lakes (blue and green shading), and then the ridge over northeast Canada (yellow and red shading).
It's not at all clear what this means or what, if anything, it portends. Weather patterns cycling through a certain circulation regime can repeat (and we've seen this pattern multiple times since November-December), but with El Nino forecast to develop [5], the global configuration of weather systems is likely to change.
Related: Extreme Great Lakes ice extent could portend cool summer for eastern U.S. [6]
As news of this cool air episode breaks, you may notice meteorologists bickering over whether this is a "polar vortex" event or not. For their part, several National Weather Service offices are using the term. Writes the National Weather Service forecast office in State College (it's technical, but note the text I've bolded and underlined):
THE HIGHLY ANOMALOUS AMPLIFICATION OF THE LARGE SCALE PATTERN IS A VIRTUAL LOCK BY THE END OF THE PERIOD AS INDICATED BY ALL MEDIUM RANGE GLOBAL NUMERICAL MODELS AND ENSEMBLE SYSTEMS. THIS WELL- ADVERTISED HIGH MERIDIONAL EVENT WILL FEATURE A FULL-LATITUDE RIDGE AND SEARING HEAT OUT WEST…NOT TO BE OUTDONE BY THE RETURN OF THE POLAR VORTEX IN THE EAST OVER QUE/ONT AND THE UPPER GREAT LAKES. CONSIDERING THE MAGNITUDE OF THE UPPER LEVEL TROUGH WITH 500MB STANDARDIZED ANOMALIES ON THE ORDER OF -3 TO -4SD IN BOTH THE DETERMINISTIC GLOBAL MODELS AND THEIR RESPECTIVE ENSEMBLE MEANS…CONFIDENCE IN A PERIOD OF BELOW AVG TEMPS /DURING WHAT IS CLIMATOLOGICALLY THE HOTTEST TIME OF THE YEAR/ IS VERY HIGH FROM TUE-THU OF NEXT WEEK.
And look at this graphic released from the National Weather Service forecast office out of Chicago:
But Larry Cosgrove, an energy meteorologist, says that while the looming cool air mass is "admittedly impressive", calling it a polar vortex is hogwash.
"It's insane," Cosgrove wrote on his Facebook page [7]. "Poor wording combined with misunderstanding of the term make a mockery out of synoptic meteorology."
Cosgrove's argument is that the air mass doesn't meet the "polar vortex" standard – its pressure isn't low enough and the air isn't sufficiently cold and truly Arctic in origin (i.e. not below freezing at 5,000 feet). "[On] TWO counts we fail to reach the standard for calling such an upper low a vortex," he says.
Related: What the polar vortex is and is not, in one graphic [8] | A deep dive into the polar vortex [9]
http://m.washingtonpost.com/blogs/capital-weather-gang/wp/2014/07/10/poo... [10]