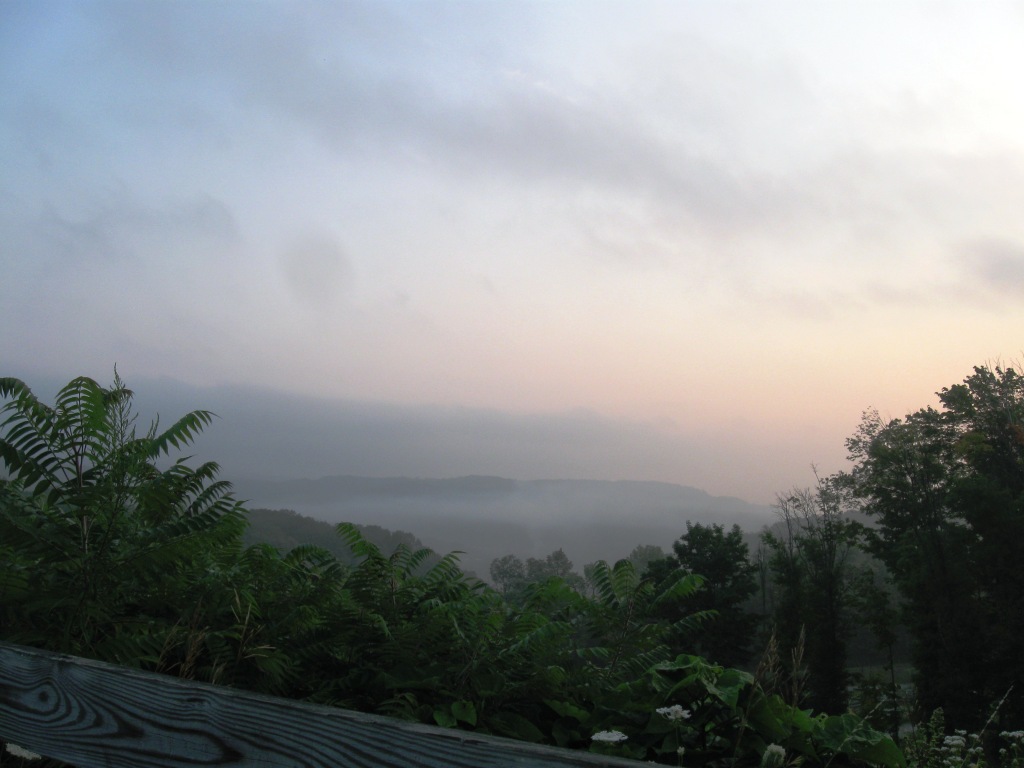 I just returned from a three day weekend in Frostburg, MD. I know that I idealize life there, but it has never let me down as a getaway summer retreat. I have tried in past to make this car-free, [1] but days before my trip - thank you Twitter - I found out that the Amtrak Capitol Limited was running late...very late...six hours...late. So, at the last minute, I rented a car from Enterprise ( met Rhodes HS graduate T. Darden - great outlook on life).
The drive is 4 hours - straight down 80 to 76 to 219 to Rt. 40 - the first National Highway. Once there, I settled in at the Trail Inn run by John and Beth Sayler (love). [2] I put on my swimsuit and headed straight to the Frostburg Pool. I was not disappointed. I took along a thick book - Bully Pulpit by Doris Kearns Goodwin, and immediately felt renewed. The setting for Frostburg Pool is in a glen near Will's Creek. It is the historic location of the community's watering hole and it is a blessed site with refreshing breezes and a constantly swirling cloud show.
I've taken many photos of the pool - so this time - I left the camera behind and just enjoyed the daily interactions of families and their kids. It is a very entertaining place to watch kids being kids. There is no tomfoolery that goes beyond splashing - because the lifeguards are vigilant and the red whistle comes out, if anyone is caught running or getting too rowdy. Surprisingly, the pool does accommodate a range of pool toys - and floats, and accordingly families seem to understand that it comes with responsibility of behaving well. The pool also allows outside food and they serve food from a concession stand. For all three days that I visited the pool, one family LIVED there as well - two women and two kids - staking out their corner and ordering a pizza to share on one evening. The young man was obviously a pool regular and he commented to his mom that I was "new."
On another day, I encountered a mom from China and her 5 (?)-year-old son. She was camped at one of the tented tables with laptop and her books - highlighting and deep in study. As far as I could tell, her son spoke three words of English - hello, okay, bye-bye - but he had no trouble finding other boys to play with during the day. I was amazed and entertained by his strategy to get noticed. He had a cup and he would fill it with water and throw the water at kids until they started splashing with him and chasing him around the pool. He did this with several groups of kids during the day and was never without a playmate. Kids!
I was lucky that it was sunny and beautiful (not too hot) for my three days in Frostburg. I walked and walked and walked - amazed to see well-maintained homes (not showy), clean streets and no sign of discontent. I know that it is not perfect in town. Folks complain about the "economic" depression and I am sure it could get monotonous and boring to have such a quiet town, but as I get older - it is just what I would want in a community. The terrain makes me wish I was healthier. The hills are a work-out and I did see that the biking and running community has grown.
On Sunday a.m. - runners left the Trail Inn by bus and were transported to Meyersdale PA - to compete in a 16.2 mile run uphill on the Great Allegheny Passage [3] trail, then down to Frostburg. I was amazed to see so many people using the trail early in the morning, including cyclists and runners older than me. They put me to shame. Two women ran without any effort and carried on a chat the whole time - passing me going uphill towards the Continental Divide and then returning downhill - still chattering away.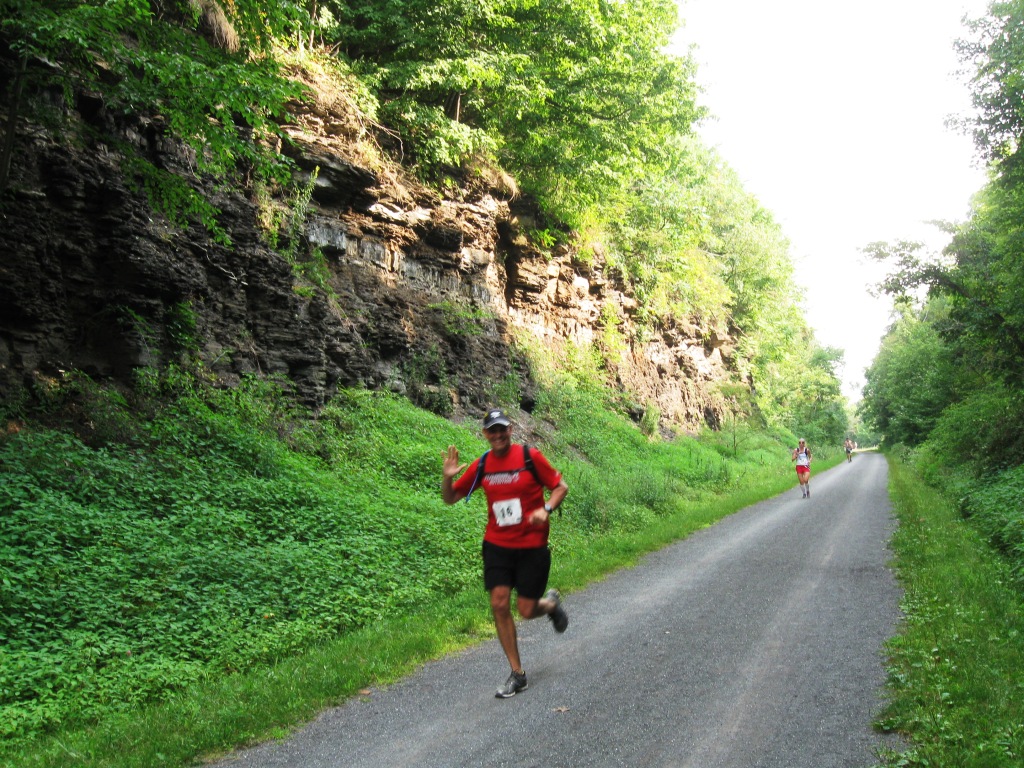 The weekend also included steam train arrivals at the Depot and a Speeder Event - the small cars that are used to maintain rail lines- http://www.narcoa.org/newsite/aboutnarcoa.htm [4] - a big draw for families with kids.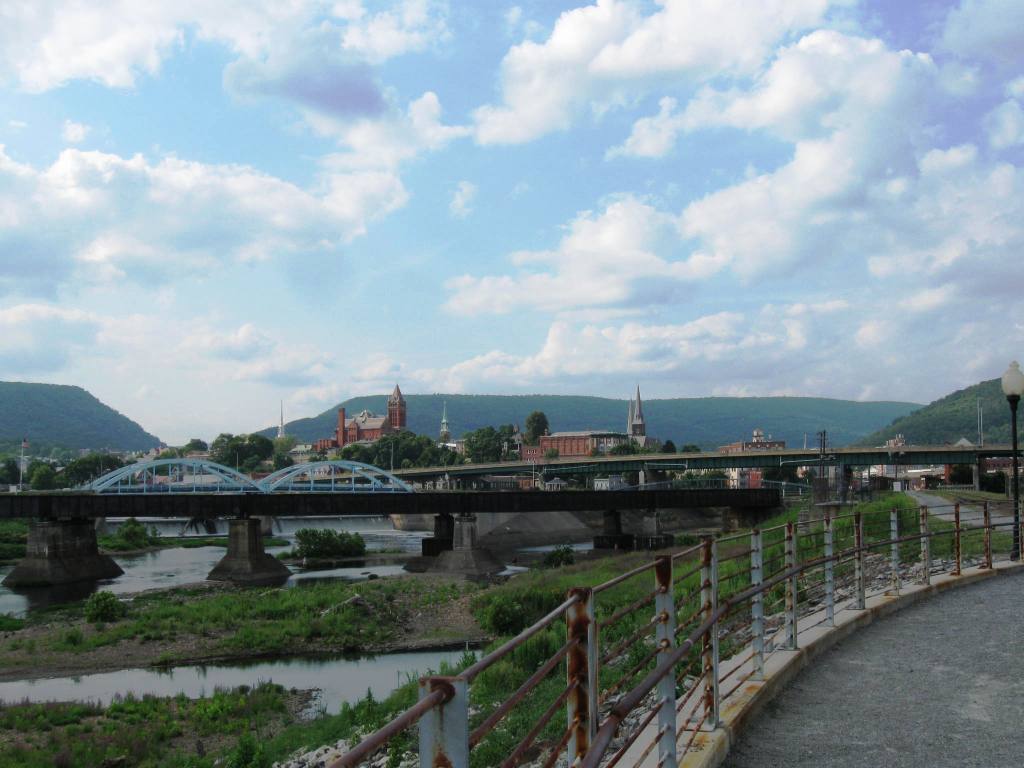 I drove one day to Cumberland to visit Cumberland Trail Connection, the bike store there, and give them a promised Bike Cleveland shirt, but for most part - stayed in Frostburg and walked and walked and walked. We are lucky here in Cleveland to have a more affordable bike-aboard program. The Western Maryland Scenic Railroad [5] is not cheap - I contemplated riding on Sunday - but I would have missed the foot race and I preferred to keep my days free to swim at the pool.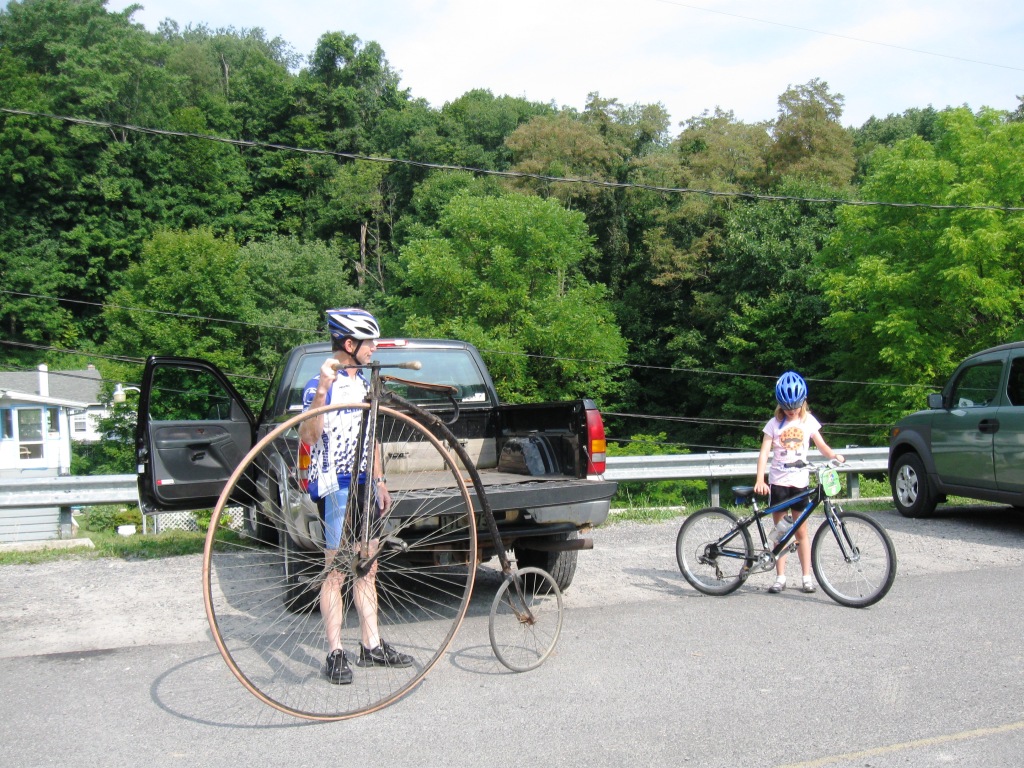 Back in Cleveland - I dropped the car off and headed home on RTA--subjected to crass language and foul smells - is this Cleveland's "culture?." I saw only two instances of "bad" behavior in Frostburg. One - a mom screeching at her child at a clothing store - and two, a tattooed family at the pool, where one of the moms pulled out an electronic cigarette and surreptiously puffed away. Otherwise, the kids seem like kids and parents seem to take parenting seriously.
I would hate to see Frostburg degenerate to Cleveland behavior. I know that we are not all a mess - but I do think that we allow bad behavior to overcome us. Norm used to say that we are all "lead-poisoned" - maybe so. I know that we could and should have more "happy places" in Cleveland. I thought to myself that we offer so much in terms of human interaction. We just don't know how to keep our town "visitor-friendly." I want to be happy here. We have water, we have beautifuly scenery, we have family attractions and great food, we have great seasonal events - what can we do better?